Section » North Ellis County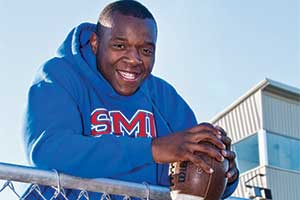 RED OAK, TX —  Jeremiah Gaines is the epitome of a well-rounded, successful student athlete. Not one to seek the limelight, Jeremiah is a laid-back man of few words. Although he is reserved, he is a fierce competitor. Whether blocking baskets on the court or blocking opponents on the football field, Jeremiah brings a dedication and discipline
More Articles

RED OAK, TX —  When you think of a 15-year-old, you don't generally think of him or her starting a nonprofit organization. Some teenagers are focused on stereotypical things, like getting their license or making weekend plans, but 16-year-old Sky Holman has a different outlook. His focus is

RED OAK, TX — Duty, honor and country — these three powerful words were indelibly marked into America's consciousness when spoken by General Douglas MacArthur in his famous 1962 farewell speech given to the Corps of Cadets at West Point. These words usually evoke images of present and former

RED OAK, TX — A chance meeting on an unlucky date may be the luckiest moment in Rob and Julie Minialoff's lives. This dual-country couple has overcome obstacles and odds, and their relationship continues to grow today in what was first Julie's home in Red Oak. "I moved here with my son, Riley,

RED OAK, TX — Americans have always enjoyed watching the Olympics, and the games held in London this past summer were especially exciting. During the Parade of Nations, members of Team USA strolled proudly through the stadium waving to a multitude of cheering onlookers. The best athletes in the

RED OAK, TX — Since he cannot be everywhere at once, the real Santa Claus employs many helpers to assist him as he prepares his Naughty and Nice list. In Red Oak, the No. 1 assistant to Christmas' famed man in red is Jim Watterman, who first began reporting to the North Pole four years ago. "In

RED OAK, TX – College was never on Mike Alford's radar. His father was a welder, and he was to follow in his footsteps. It was a tragic accident, and a few chance encounters, that changed everything. Before he could drive, Mike had traveled to 48 states. He and his dad would pack into their

RED OAK, TX —  Positive role models made a difference in Greg Johnson's life, inspiring him to help others – whether it's as a youth mentor, as a church leader or as a living example of paying it forward. "It started with a young man coming to me and asking if I needed any help at my business.

RED OAK, TX — Watch two chickens and one woman who've made their home together in the 'burbs.

RED OAK, TX — Alan Thomas speaks two languages: English and music. As a precocious preschooler, he learned to read both of these at the same time. His parents were both professional musicians, and he grew up listening to his father teach private lessons in their home. From that foundation, Alan