These recipes were contributed by Valerie Hall, a North Ellis County resident, and originally appeared in the North Ellis CountyNOW May 2015 issue.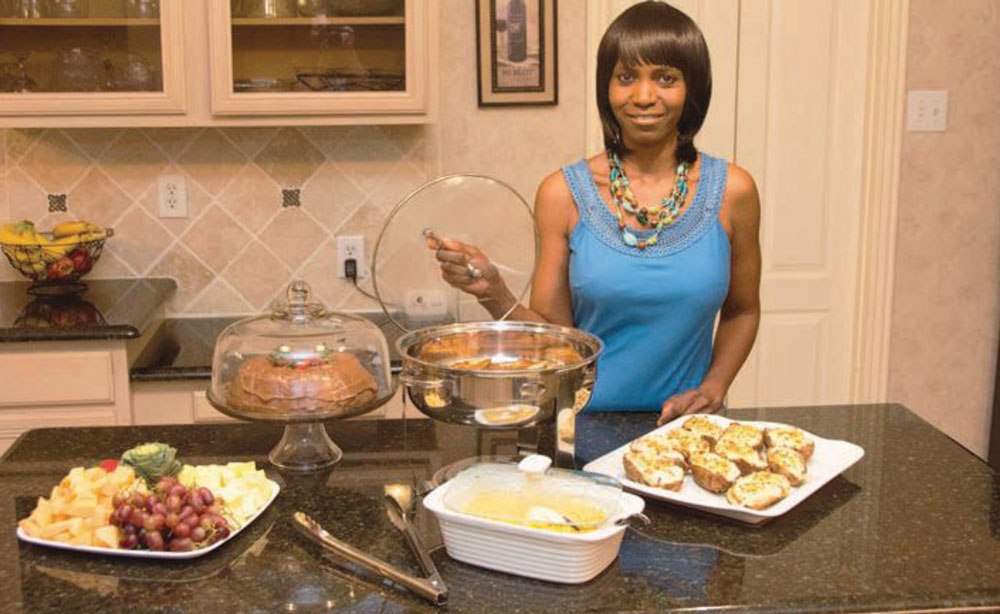 Chicken Tetrazzini
1 stick butter
1 cup celery, chopped
1 cup onion, chopped
8 oz. Velveeta, cut into chunks
1 10.5-oz. can cream of mushroom soup
1 8-oz. pkg. spaghetti, cooked in chicken broth and drained
4 chicken breasts, cooked and cut into bite-sized pieces
Melt butter in a medium-size pot; sauté the celery and onion.
Add cheese and stir until melted; stir in mushroom soup. Mix with spaghetti and chicken.
Spray 13×9-inch casserole dish Place all ingredients in dish. Bake at 350 F. for 45 minutes.
Chicken Tater Tot Casserole
2 cups frozen mixed vegetables
1 10.5-oz. can cream of mushroom soup
1/2 can water
16 oz. sour cream
1 32-oz. bag frozen tater tots
3 boneless chicken breasts, cooked and cut into bite-sized pieces
1 cup cheddar cheese, shredded
Prepare frozen vegetables according to package directions.
Add mushroom soup, water and sour cream to vegetables. Heat thoroughly; set aside.
Layer bottom of lightly greased casserole dish with tater tots. Spread chicken evenly over the tater tots. Pour vegetable mixture over the chicken.
Cover with foil and bake at 350 F for 60 minutes, until bubbly.
Remove foil. Top with cheese; bake for 5-10 minutes more.
Southwestern Style Tilapia 
2 tsp. garlic powder
1 1/2 tsp. chili powder
1 1/2 tsp. fine sea salt
1/2 tsp. ground black pepper
1/4 tsp. cayenne pepper
6 tilapia fillets
2 Tbsp. olive oil (divided use)
Preheat oven to 450 F.
In a small bowl, combine spices. Sprinkle evenly over both sides of tilapia.
Coat a baking sheet with 1 Tbsp. of olive oil; place tilapia in a single layer on the baking sheet. Drizzle the remaining oil over tilapia.
Bake 7-9 minutes, until golden brown, or until tilapia flakes easily with fork.
Twice-baked Potatoes
4 medium baking potatoes
6 Tbsp. butter
1 cup warm milk
1 tsp. salt
1/2 tsp. black pepper
1 1.1-oz. pkg. Concord Food's Potato Topping
1 cup cheese, shredded
Sour cream, to taste (optional)
Preheat oven to 400 F.
 Scrub potatoes under warm water; pat dry. Brush lightly with olive oil. Sprinkle with salt; pierce potatoes with a fork. Place potatoes directly on rack of oven. Place cooking sheet directly under potatoes to catch drippings.
Bake 45 minutes, or until tender when you squeeze with an oven mitt.
Remove potatoes from oven and halve lengthwise. Scoop inside of potato, leaving 1/4-inch around the edge of the potato.
Place scooped potato into bowl; add butter, milk, salt and pepper. Blend until mixture is smooth. Spoon mixture back into potato skins; sprinkle with potato topping and cheese.
Place potatoes on cooking sheet in oven; cook for 15 minutes, or until cheese is melted. Serve with sour cream.
Creamed Corn
10 ears fresh corn, cooked and cut off the cob
1 cup heavy cream
1 cup milk
2 Tbsp. sugar
1 tsp. salt
1/2 tsp. white pepper
1/2 tsp. black pepper
1/2 tsp. Accent seasoning
1/2 tsp. granulated garlic
4 oz. butter
2 Tbsp. flour
 Combine the first 9 ingredients in a pot, slowly bring to a boil. Reduce heat and simmer for 5 minutes.
 In a small pan, melt the butter. Whisk in the flour; mix thoroughly.
Add the butter mixture to the corn; stir and simmer for 3-5 minutes.
Chocolate Chip Cake
3 eggs
3/4 cup oil
3/4 cup water
1 tsp. vanilla
1 cup sour cream
1 box yellow cake mix
1 5.1-oz. box chocolate instant pudding
1 12-oz. pkg. milk chocolate chips
1 cup pecans, finely chopped
Preheat oven to 350 F. Grease and flour a Bundt pan.
Combine first 7 ingredients; beat until smooth. Stir in remaining ingredients.
Pour batter into prepared pan; bake for 1 hour, or until inserted toothpick is cleanly removed. Cool before removing from pan.
Dump Cake
1 16-oz. can crushed pineapple with juice
1 20-oz. can cherry pie filling
1 pkg. yellow cake mix
1/2 to 2/3 cup nuts, chopped
1/2 cup butter, melted
Grease a 9×13-inch pan.
Spread pineapple evenly on bottom of pan; spread cherry pie filling evenly over the pineapple.
Sprinkle dry cake mix evenly over the fruit.
Add nuts. Pour butter all over the top. Do not mix!
Bake at 350 F. for 1 hour.