These recipes were contributed by Sandra Johnson, a Midlothian resident, and originally appeared in the MidlothianNOW April 2012 issue.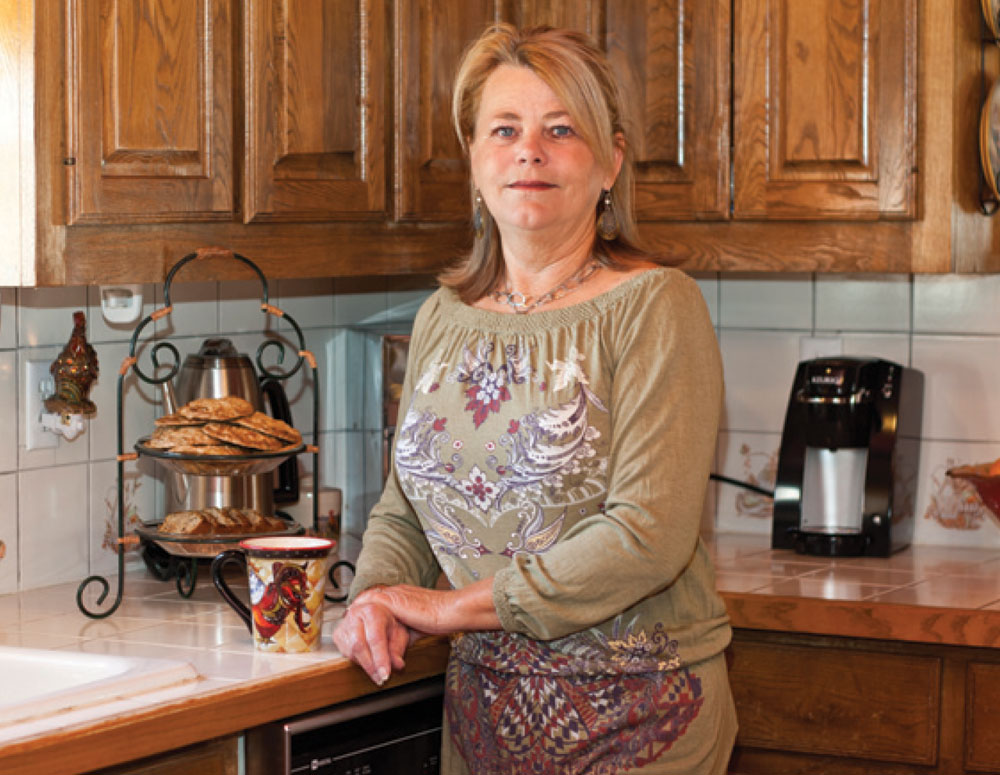 Venison Stuffed Jalapeño
10 large jalapeño peppers, halved and seeded
1 8-oz. pkg. cream cheese
1 lb. venison backstrap, marinated (I use Daddy Hinkle's meat marinade, but you can use your favorite.)
1 onion, thick sliced
1 lb. bacon
Fill peppers with cream cheese.
Cut meat into 1 1/2-inch slices; place on top of cheese.
Place onion on top of meat.
Wrap with bacon slices; secure with toothpicks.
Grill for 15-20 minutes at 375 F or until bacon is crispy.
Chicken Lasagna Florentine
6 lasagna noodles
1 10-oz. pkg. spinach, thawed and drained
2 cups cooked chicken breast
2 cups cheddar cheese, grated
1/3 cup onion
1/4 tsp. nutmeg
1 Tbsp. cornstarch
1/2 tsp. salt
1/4 tsp. pepper
1 Tbsp. soy sauce
1 10 3/4-oz. can cream of mushroom soup
1 cup sour cream
1 4.5-oz. jar sliced mushrooms
1/3 cup mayonnaise
1 cup Parmesan cheese
1 cup pecans
2 Tbsp. melted butter
Cook noodles; set aside.
Drain spinach well; pat dry. Combine spinach, chicken and next 11 ingredients in a large bowl. Arrange 2 noodles on the bottom of a casserole dish; spread 1/3 of mixture over noodles; repeat 2 times.
Sprinkle with Parmesan cheese; top with 1 cup buttered pecans. Bake 350 F for 30-45 minutes.
Chocolate Caramel Sheet Cake
Cake:
1 cup butter
1 cup water
1/4 cup cocoa
1/2 cup buttermilk
2 large eggs
1 tsp. baking soda
1 tsp. vanilla
2 cups sugar
2 cups flour
1/2 tsp. salt
Frosting:
2 14-oz. cans sweetened condensed milk
1/2 cup brown sugar
1/2 cup butter
1 tsp. vanilla
Optional:
1 1/2 cups coconut
1 1/2 cups toasted pecans
For cake: Cook the first 3 ingredients in a small saucepan over low heat, stirring constantly, until butter melts and mixture is smooth. Remove from heat.
Beat buttermilk. Add next 3 ingredients at medium speed, until smooth; add cocoa mixture and blend.
Combine sugar, flour and salt. Gradually add to buttermilk mixture, beating until blended. (Batter will be thin.)
Pour batter into a greased and floured 15×10-inch pan.
Bake at 350 F for 25 minutes or until toothpick inserted in center comes out clean.
Cool cake completely in pan.
For frosting: Place all ingredients in a heavy 2 qt. saucepan. Bring to a boil; stir constantly 3-5 minutes or until mixture reaches a pudding-like thickness.
Remove from heat. Pour warm frosting over cake. Spread coconut on cake and sprinkle with toasted pecans, if desired.
Buttermilk Pie
1/2 cup butter
2 cups sugar
3 large eggs, well-beaten
1 cup buttermilk
3 Tbsp. flour
1 tsp. vanilla
Cream butter and sugar; add beaten eggs.
Add remaining ingredients; pour into an unbaked 9-inch, deep-dish pie crust.
Bake at 325 F for 45-50 minutes or until set.