These recipes were contributed by Sally Tlustos, a Corsicana resident, and originally appeared in the CorsicanaNOW May 2011 issue.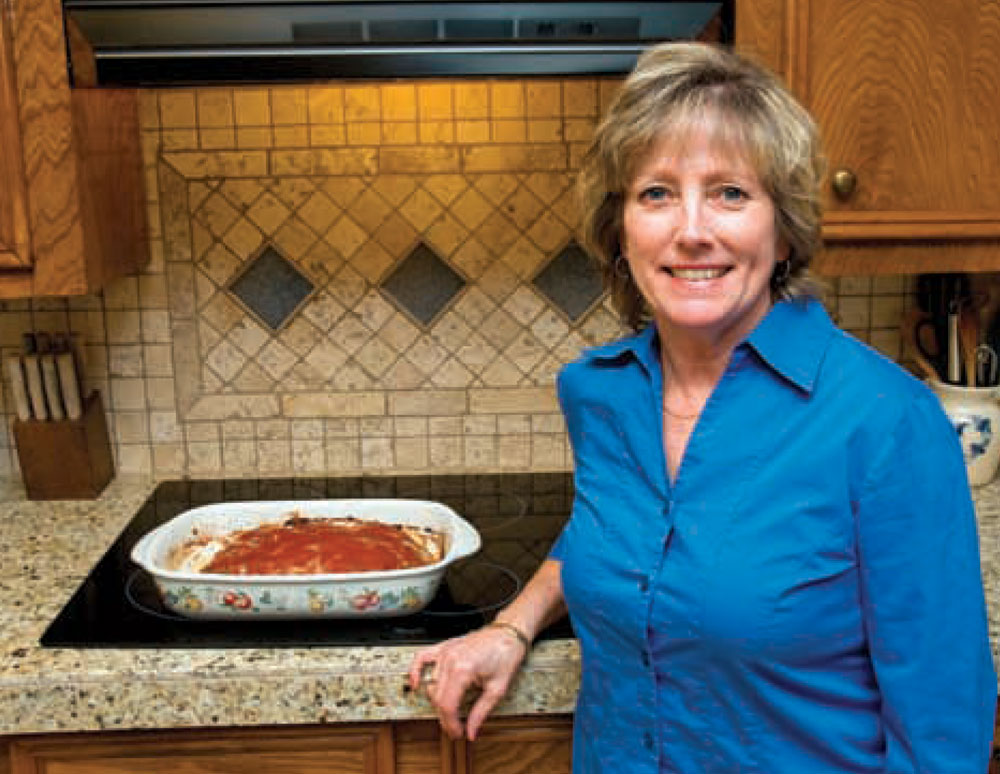 Aunt Josie's Meatloaf
1 egg
1/2 cup onion, chopped
1/2 cup green pepper, chopped
1 can diced tomatoes (Chili, Italian or Mexican style adds to flavor.)
Salt and pepper, to taste
Garlic salt, to taste
1-2 lbs. hamburger
Handful of saltines, crushed
1 8-oz. can tomato sauce
Combine egg, onion, green pepper, tomatoes and seasonings.
Add hamburger and saltines; mix well.
Place in a 9×13-inch dish; top with tomato sauce. Bake at 350 F for 1 hour and 15 minutes.
Parmesan Breaded Pork Chops
4 pork chops, 1/2- to 3/4-inch thick
1 egg, beaten
1 tsp. salt
1/4 tsp. pepper
1/2 cup grated Parmesan cheese
1/3 cup dried breadcrumbs
2 Tbsp. all-purpose oil
Preheat oven to 350 F.
Dip pork chops in combined egg and seasonings, and then in combined cheese and breadcrumbs.
Heat oil in a skillet; brown each chop on both sides.
Place browned chops in a baking dish; bake for 35 minutes, turning chops occasionally.
Black Bean Salsa
2 15.5-oz. cans Goya Black Beans, rinsed
3 Tbsp. Goya Green Pickled Jalapeños, chopped (or to taste)
2 tsp. Goya Minced Garlic (or 4 cloves fresh garlic, minced)
3 Tbsp. Goya Olive Oil
1 tsp. Goya Adobo with Pepper
1 10-oz. pkg. frozen corn
1 cup onion, diced
1/2 cup red bell pepper, diced
1 large tomato, seeded and diced
3 Tbsp. fresh cilantro, minced
3 Tbsp. fresh lime juice
1 Tbsp. chili powder
2 tsp. ground cumin
In a large bowl, combine all ingredients. Serve with tortilla chips.
Jan's Shrimp Dip
1 8-oz. pkg. cream cheese, softened
1/2 cup mayonnaise
1 4 1/2-oz. can cocktail shrimp, drained (I use frozen boiled shrimp, diced.)
1/2 cup celery, finely chopped
1/4 cup onion, finely chopped
1 1/2 Tbsp. lemon juice
1/2 tsp. Worcestershire sauce
Combine softened cream cheese and mayonnaise; beat until smooth.
Blend in remaining ingredients; mix well. Chill before serving.
Banana Boat Pudding
3 1/4-oz. pkg. instant vanilla pudding and pie filling
1 1/2 cups miniature marshmallows
1 cup heavy cream, whipped
Vanilla wafers
2 bananas, sliced
Prepare vanilla pudding mix per pudding directions on package. Cover surface of pudding mixture with wax paper or transparent wrap; chill.
Fold in marshmallows and whipped cream.
Line bottom and sides of 10×6-inch baking dish (or bowl) with wafers.
Pour in half of pudding mixture. Cover with bananas and top with remaining pudding mixture.
Mom-in-law's Cornbread
1 1/2 cups cornmeal
3 Tbsp. flour
1 tsp. salt
1 tsp. soda
2 cups buttermilk
1 egg
2 Tbsp. drippings or butter
Sift dry ingredients into bowl.
In another bowl, combine buttermilk and egg. Add dry ingredients into buttermilk and egg mixture.
Melt drippings or butter in a 13×9-inch baking pan. Add drippings to batter. Mix well; pour into a hot pan. Bake at 475 F for 15 to 20 minutes.