These recipes were contributed by Rene Martinez Bowers, a Burleson resident, and originally appeared in the BurlesonNOW May 2015 issue.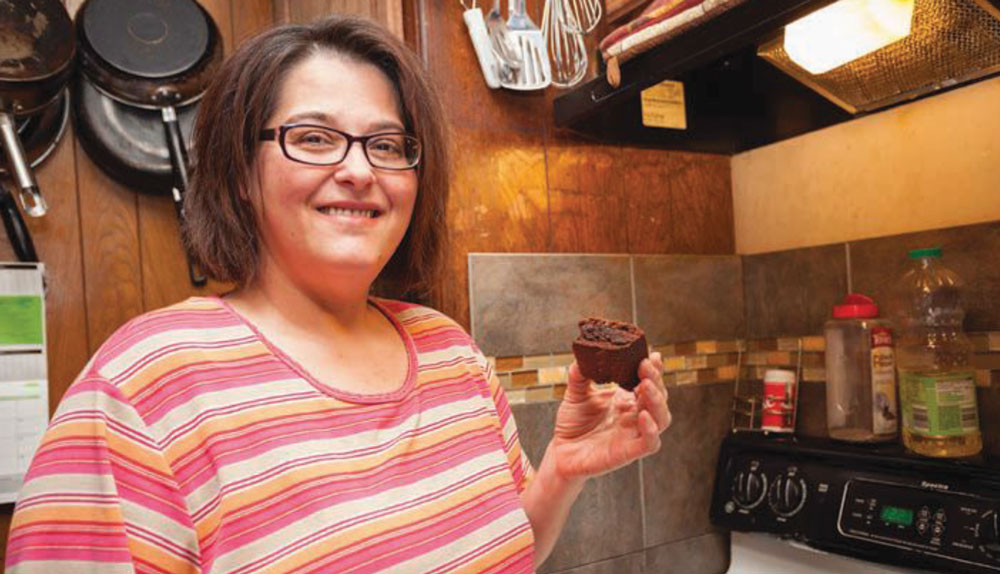 Chicken Tacos 
5 cups water (divided use)
4 leg and thigh chicken pieces
1/3 cup plus 2 Tbsp. oil (divided use)
1 onion, chopped
1 Tbsp. garlic, minced
1 8-oz. can petite diced tomatoes
1 tsp. salt, or to taste
1 tsp. pepper, or to taste
12 corn tortillas
1 head lettuce, shredded
2 large tomatoes, chopped
2 cups cheese, shredded
1 10-oz. jar green chili salsa or picante sauce
Bring 1 qt. water to a boil in a large pot. Boil chicken pieces until done, about 30 minutes.
Drain water and cool chicken about 30 minutes, until easy to handle. Bone chicken, cut into small pieces; set aside.
In large, deep frying pan, heat 1/3 cup oil on medium-high heat. Sauté onion with garlic for about 1 minute. Add petite diced tomatoes.
Add chicken to tomato mixture; stir. Add remaining water until chicken is barely covered. Cook until water evaporates. Add salt and pepper, to taste. Set aside.
Turn fresh tortillas in 2 Tbsp. hot oil until pliable.
Fill tortillas with chicken mixture; top with lettuce, tomatoes and cheese.
Serve with salsa and picante sauce.
Fried Cabbage 
1 head cabbage, green or red
1 small yellow onion, chopped
2 cloves garlic, chopped
4 slices bacon
1 cup water
1 tsp. salt, or to taste
1 tsp. pepper, or to taste
Wash cabbage; cut into chunks. Chop onion and garlic; set aside.
Chop bacon into 1-inch pieces; fry until done.
Sauté onion, garlic and cabbage in bacon grease over medium heat, until cabbage wilts slightly, about 5 minutes.
Turn heat to medium-low. Add water; simmer until done, about 10 minutes. Add a little more water, as necessary, until cabbage achieves desired tenderness.
Stir in salt and pepper before serving.
Roasted Brisket 
1 brisket, size of choice
8 cloves garlic
1 cup Worcestershire sauce
1 cup garlic powder
1 tsp. salt, or to taste
1 tsp. pepper, or to taste
2 stalks celery
1 large yellow onion
12 large carrots
6 potatoes
1 cup water
Preheat oven to 300 F.
Wash brisket; place into roasting pan. Cut 8 small holes randomly into brisket and place a garlic clove in each. Pour Worcestershire sauce over brisket. Liberally sprinkle garlic powder, salt and pepper over entire brisket.
Cut up celery, onion, carrots and potatoes; place around brisket. Add water. Cover with aluminum foil; place into oven. Cook about 6 hours, until meat is falling apart.
Easy Chocolate Brownies 
1 1/2 sticks salted butter
1 cup brown sugar
3/4 cup white sugar
3 eggs
1 egg yolk
2 tsp. vanilla
1 cup cocoa powder
1/3 cup all-purpose flour
1/2 cup chocolate chips
Preheat oven to 350 F.
Grease an 8×8-inch baking dish.
Melt butter over medium heat in a medium pot. Remove from heat; whisk in sugars until smooth and creamy. Add eggs and egg yolk, one at a time, whisking after each. Stir in vanilla.
Add cocoa and flour, stirring to combine. Stir in chocolate chips.
Pour into pan; bake 40-45 minutes. Test doneness by inserting a toothpick in center of brownies. Cool before serving.
Apple Butter Rollup 
8 flour tortillas
1 stick butter
1 jar apple butter
Warm up tortillas.
Spread 1 Tbsp. butter on one side of each tortilla.
Spread 2 Tbsp. apple butter on top of each buttered tortilla.
Roll each; place on plate for serving as snacks.
Cheesy Enchiladas 
1 cup water
2 Tbsp. chili powder
1 24-oz. can Wolf Brand Chili, with or without beans
1 30-count pkg. corn tortillas
8 cups cheddar cheese, shredded
1 yellow onion, chopped
Preheat oven to 350 F.
In a small skillet, simmer 1 cup water with chili powder.
In another saucepan, warm chili.
After water comes to a slight boil, dip tortillas (one at a time) into the water until pliable; place into a 9×13-inch baking dish. Fill each with about 2 Tbsp. cheese; roll. Continue this process until the dish is full of cheese-filled tortilla rolls.
Pour warm chili water into baking pan, just enough to moisten the bottom of the dish.
Pour Wolf Brand Chili over entire dish. Sprinkle with onions; top with remaining cheese.
Bake until cheese melts and bubbles, about 30 minutes.
Cheesy Shell Noodles 
1 qt. water
1 12-oz. bag shell noodles
1 Tbsp. oil
1 small yellow onion, chopped
1 Tbsp. garlic, minced
1 8-oz. can tomato sauce
1 tsp. salt, or to taste
1 tsp. pepper, or to taste
1 8-oz. box Velveeta
Boil water in a large pot. Cook noodles according to package.
Meanwhile, warm oil in a large saucepan over medium heat. Sauté onion until soft. Add garlic; stir. Add tomato sauce, salt and pepper. Simmer about 5 minutes.
Cut Velveeta into chunks. Place into tomato mixture; heat until melted, adding cheese until the mixture is no longer red.
When noodles are done, drain; put back in large pot. Add melted cheese mixture and stir well before serving.