These recipes were contributed by Linda Higgins, a Duncanville resident, and originally appeared in the SouthwestNOW May 2015 issue.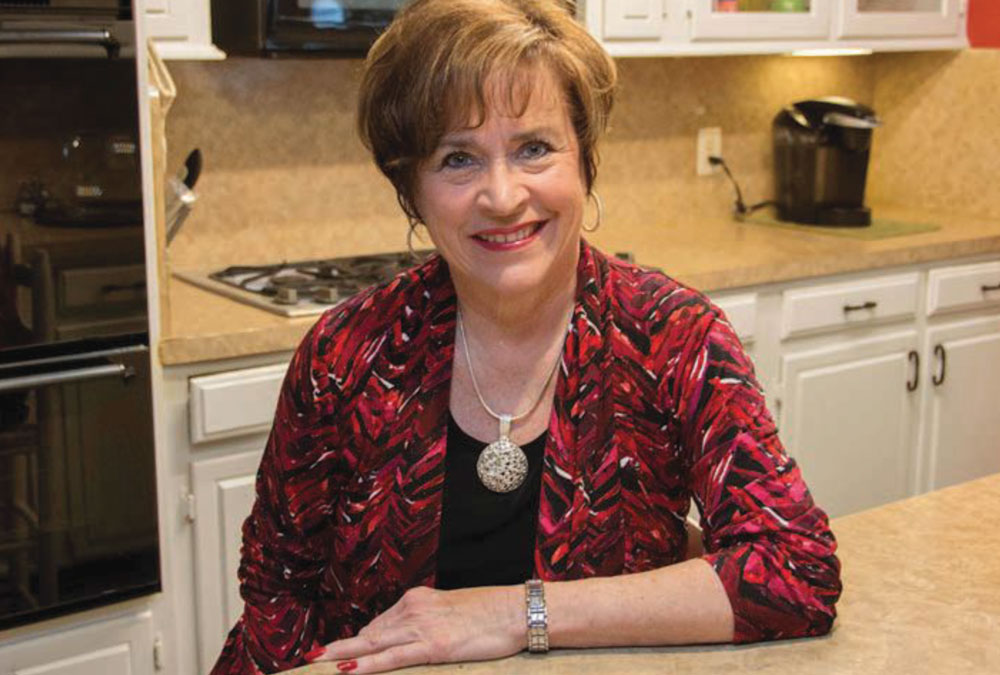 Squash Casserole
This is my mom's favorite!
1 white onion, chopped
3 Tbsp. butter, melted (divided use)
6-8 yellow squash
2 zucchini (to add color)
2 Tbsp. salt
Water for boiling
8 oz. mild cheddar cheese, shredded (divided use)
8 oz. Velveeta cheese, cubed (divided use)
2 Tbsp. black pepper (divided use)
1/4 cup sugar or 2 individual pkgs. sweetener (divided use)
1 sleeve saltine crackers, crushed (divided use)
Sauté onion in 2 Tbsp. butter and set aside.
Slice squash and zucchini into 1/4-inch discs and boil in salted water until soft. Drain and mix with onion.
Spoon 1/2 squash mixture into bottom of 2-qt. casserole dish. Layer 1/2 shredded cheese and 1/2 Velveeta, 1 Tbsp. pepper, 1/2 sugar or sweetener and 1/2 saltines. Repeat to form second layer. Drizzle with remaining butter.
Bake at 325 F for 30 minutes. Saltines should be lightly browned.
Favorite Chicken Salad
3 cups chicken, cooked, cooled and diced
1 cup celery, finely diced
1cup white grapes, sliced
1/2 cup slivered almonds, toasted
2 Tbsp. parsley, minced
1 tsp. salt
1/2 cup Miracle Whip, or to taste
1/2 cup whipping cream, whipped
Mix all ingredients. Refrigerate overnight to blend flavors.
Mexican Chip Casserole
1 lb. ground beef
1 medium onion, chopped
1 garlic clove, minced
1 10.75-oz. can cream of mushroom soup
1 11-oz. can Mexicorn
1 4-oz. can chopped green chilies
1 10.5-oz. pkg. corn chips
1 10-oz. can enchilada sauce
4-8 oz. Colby-Jack cheese
In a skillet, cook beef, onion and garlic over medium heat until meat is browned and onion is soft; drain. Add soup, corn and chilies; mix well.
Layer meat mixture, corn chips and enchilada sauce in 3-qt. baking dish. Top with cheese.
Bake uncovered at 350 F for 8-10 minutes, or until heated through.
Traditional Zucchini Pasta Salad
2 lbs. zucchini, sliced 1/4-inch thick
Salt, to taste
4 Tbsp. extra-virgin olive oil
2 cloves garlic, finely sliced
4 fresh basil leaves, torn
1 lb. penne pasta, cooked and drained
1 cup Provolone cheese, cubed
1/2 cup fresh Parmesan cheese, grated
Cover zucchini slices with warm heated water for 5 minutes. Do not boil. Drain in colander; sprinkle with salt and let sit for 5-10 minutes to thoroughly drain.
Add oil and garlic to a large saucepan; cover and cook over low heat until garlic is golden brown. Stir in zucchini, basil and a pinch of salt. Cover and simmer for 5 minutes. Add pasta, stir well and cook until just warmed through, about 10 minutes. Stir in Provolone. Remove from heat, sprinkle with Parmesan and serve.
Bacon Cheddar Corn Muffins
1 cup all-purpose flour
3/4 cup yellow corn meal
1/2 cup sharp cheddar cheese, shredded
2 Tbsp. sugar
1 tsp. baking powder
1 tsp. baking soda
3/4 tsp. ground cumin
1/4 tsp. salt
4 slices bacon, cooked, drained and crumbled
1 jalapeño, seeded and minced
1 1/4 cups low-fat buttermilk
1/4 cup canola oil
1 large egg, lightly beaten
Preheat oven to 375 F.
Combine first 8 ingredients in a large bowl with a whisk. Stir in bacon and jalapeño. Make a well in the mixture.
Combine remaining ingredients in a bowl with a whisk. Pour into well in first mixture. Combine both mixtures, stirring just until moist.
Line 12 muffin cups with paper liners; spray each liner with cooking spray. Divide batter into cups.
Bake for 15 minutes, or until toothpick comes out clean. Cool in pan for 5 minutes on a wire rack.