These recipes were contributed by Brianna Carter, a Midlothian resident, and originally appeared in the MidlothianNOW May 2015 issue.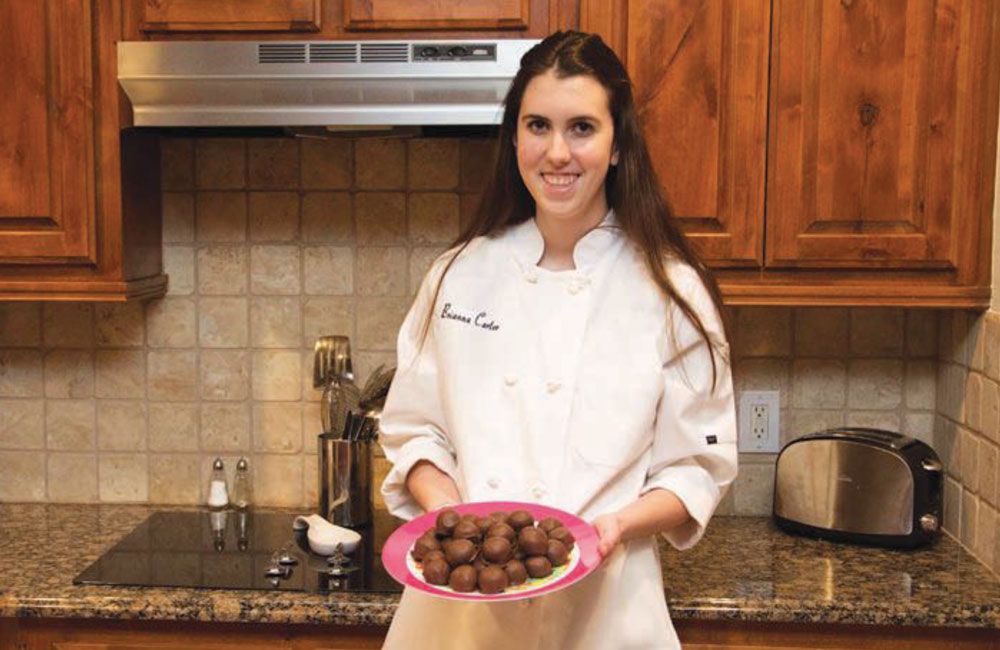 Oreo Truffles
1 8-oz. pkg. chocolate sandwich cookies with white filling, finely crushed
1 8-oz. pkg. cream cheese, softened
1 lb. baking chocolate, melted
In a large bowl, combine crushed cookies and cream cheese. Beat with a mixer on low speed until well-blended. Refrigerate.
Form 1-inch balls by hand. Dip balls in chocolate; place on baking sheet covered with waxed paper.
Refrigerate 1 hour or until firm. To store, cover and refrigerate. Makes 50 truffles.
Ro-Tel Cups
1 10-oz. can Ro-Tel, drained almost all the way
1 bag Hormel bacon bits
1 cup Swiss cheese, shredded
1 cup mayonnaise
2 pkgs. phyllo pastry cups, thawed
Combine first four ingredients and scoop evenly in cups.
Cook at 350 F for 15 minutes.
Fluffernutter Sandwich
2 slices white bread
1 jar marshmallow creme
1 jar peanut butter
Spread a thick layer of marshmallow creme on the first slice of bread.
Spread an equal or greater amount of peanut butter on the second slice of bread.
Add additional layers of marshmallow and peanut butter if you want a thicker sandwich.
Put the two slices of bread together and enjoy!
Sopapilla Cheesecake
2 8-oz. cans Pillsbury refrigerated crescent dinner rolls
2 8-oz. pkgs. cream cheese, softened
1 1/2 cups sugar (divided use)
1 tsp. vanilla
1 cup butter, melted
1 Tbsp. ground cinnamon
Heat oven to 350 F.
Unroll 1 can of dough. Place in bottom of ungreased 13×9-inch, 3-quart glass baking dish. Stretch to cover bottom of dish, firmly pressing perforations to seal.
In a medium bowl, beat cream cheese and 1 cup of the sugar with an electric mixer on medium speed until smooth. Beat in vanilla. Spread over dough in the baking dish.
Unroll second can of dough. Carefully place on top of cream cheese layer. Pinch seams together.
Pour melted butter evenly over top. Mix remaining 1/2 cup sugar with the cinnamon, and sprinkle evenly over butter.
Bake about 30 minutes or until center is set. Cool slightly, about 20 minutes. Refrigerate for easy cutting. Cover and refrigerate any remaining bars.
Cookie Trio
Makes about 48 cookies.
1 stick softened butter
1/2 cup shortening
1/2 cup sugar
1 egg
1 tsp. vanilla extract
2 cups plus 2 Tbsp. all-purpose flour (divided use)
1 tsp. baking powder
1/4 tsp. salt
2 Tbsp. HERSHEY'S SPECIAL DARK Cocoa
48 HERSHEY'S HUGS Brand Candies, unwrapped
Heat oven to 350 F.
Beat butter, shortening and sugar until well-blended. Beat in egg and vanilla.
Stir together 2 cups flour, baking powder and salt. Gradually beat into butter mixture.
Divide dough mixture into halves. Add remaining 2 tablespoons flour to half of the dough and the cocoa to the other half, blending well.
Roll dough into 1-inch balls. Roll together a pinch of vanilla dough and a pinch of chocolate dough for marbled cookies. Place balls on ungreased cookie sheets.
Bake 9 to 11 minutes or until cookies are set. Remove cookie sheet from oven to wire rack. Cool 1 minute.
Press candy piece into center of each cookie. Remove cookies from cookie sheet to wire rack; cool completely.