These recipes were contributed by Angela Montfort, a Corsicana resident, and originally appeared in the CorsicanaNOW May 2015 issue.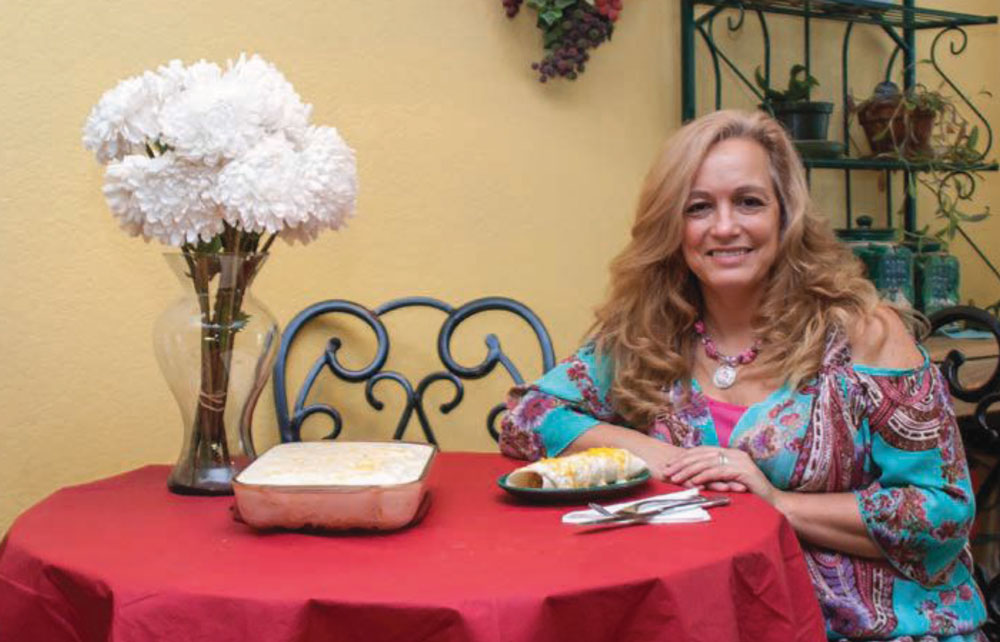 Creamy Chicken Enchiladas Verde
1 cup sour cream
1 cup tomatillo salsa
1 small onion, chopped
2 cloves garlic, minced
2 tsp. oil
3 cups cooked chicken breasts, shredded
1 1/2 cups Kraft Touch Of Philadelphia Natural Mexican Style Four Cheese Shredded Cheese (divided use)
1 4-oz. can chopped green chiles, drained
8 flour tortillas (6-inch size)
Blend sour cream and salsa.
Stir onions and garlic in oil in a large skillet on medium heat 4-5 minutes or until onions are crisp-tender.
Add chicken, 1 cup sour cream mixture, 1 cup cheese and chiles; mix well.
Spoon about 1/3 cup chicken mixture down center of each tortilla; roll up.
Place seam-side down in 13×9-inch baking dish pre-coated with cooking spray.
Top with remaining sour cream mixture and cheese; cover.
Bake at 350 F for 15 to 20 minutes.
Summer Steak Salad
Yields 4 servings.
3/4 lb. beef sirloin steak (1/2 inch thick)
1 tsp. cracked black powder
10 cups torn romaine lettuce
1 large tomato, wedged
1 small zucchini, sliced
1/2 cup red onion, slivered
1/2 cup lite Thousand Island dressing
Heat grill to medium-high.
Sprinkle steak with pepper.
Grill steak 5-7 minutes on each side to desired doneness; cut across gain into thin slices.
Toss steak slices with all remaining ingredients except dressing. Add dressing, mix lightly.
Smoked Salmon and Goat Cheese Bruschetta
Yields 4-6 servings.
8 oz. cream cheese, softened
4 oz. goat cheese, softened
1 clove garlic
1 Tbsp. chives, finely chopped
Salt and pepper, to taste
Softened butter, to taste
12 slices baguette
4-6 smoked salmon
Using an electric mixer, combine the cream cheese, goat cheese, garlic and chives.
Add salt and pepper; set aside.
Preheat oven to 400 F.
Lightly butter one side of each baguette slice; arrange butter side down on baking sheet.
Bake 5-7 minutes or until lightly toasted; allow bread to cool slightly.
Layer on goat cheese mixture and smoked salmon. Garnish with additional chives if desired.
Sausage and Spinach Fettuccine
1/2 lb. fettuccine, uncooked
1 6-oz. pkg. baby spinach leaves
3/4 lb. Italian sausage
1 onion, chopped
1 24-oz. jar spaghetti sauce
1 cup shredded mozzarella cheese
1/4 cup grated Parmesan cheese
Cook pasta in a large saucepan according to package directions, omitting salt; add spinach to boiling water for last minute of cooking time.
On medium heat, brown sausage with onion; drain.
Add spaghetti sauce; cook 10 minutes stirring occasionally.
Drain pasta mixture; serve topped with sauce and cheeses.
Spicy Chicken Lasagna Roll-ups
Yields 6 servings.
1 24-oz. jar spaghetti sauce
1 tsp. Italian dressing
1 tsp. red pepper, crushed
3 cups cooked chicken, shredded
2 cups shredded mozzarella cheese (divided use)
1/2 cup grated Parmesan cheese
2 eggs, beaten
12 rinsed, cooked lasagna noodles
Preheat oven to 375 F.
Mix first 3 ingredients.
Combine 1/2 cup of spaghetti sauce mixture with chicken, 1 cup mozzarella cheese, Parmesan cheese and eggs.
Spread 1/4 cup of chicken mixture onto each noodle; roll up.
Pour 1/2 cup of remaining spaghetti sauce into 13×9-inch baking dish; top with lasagna rolls, seam-sides down.
Cover with remaining spaghetti sauce and mozzarella cheese.
Bake 25 minutes or until heated completely.