As a youngster, Tameji Berry enjoyed spending time with friends and keeping up with the latest fashion trends.
She was an only child in a single-parent household, but she was blessed with a mother who had high hopes and dreams for her daughter. Tameji now lives in a beautiful neighborhood in Ovilla. But growing up, her mother knew that the odds weren't in her daughter's favor. "
When I was young, I was interested in the latest fashions," Tameji shared. "I loved looking at magazines like Vogue, Ebony and JET, and my mother and I enjoyed going window shopping," she recalled, "that was our thing to do."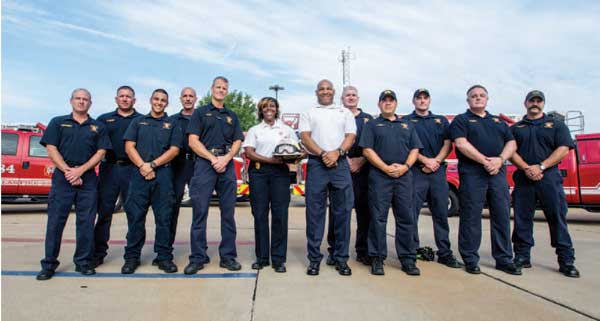 At the time, Tameji didn't understand that she and her mother were doing more than just window shopping. "As I got older, I realized my mother was on a mission — she had a purpose. When she took me on trips out of the Rhodes Terrace projects, she was doing more than just showing me fashionably dressed mannequins in storefront windows," Tameji explained.
Valerie Vaughn, her mother, understood that in order to help her daughter strive for a better life, Tameji needed to see the world that existed beyond their neighborhood. "When my mother and I would go window shopping, she was trying to open my mind up to things I could possibly have one day. She wanted to encourage and motivate me to see a life beyond the projects we lived in. "I graduated from Skyline High School in 1987 and enrolled into El Centro College on a Minority to Majority Scholarship," she shared. "It was an initiative designed to get more minorities into college."
After completing the two-year program, she was accepted into The University of Texas at Austin, and UT-Austin is also where she met her future husband, Mark Berry. After graduating from college and getting married, Mark and Tameji settled down in Dallas. Mark started as a recruit with Dallas Fire-Rescue and Tameji worked in the insurance industry as an underwriter.
But when she saw an ad in the newspaper for a fire inspector, it sparked her curiosity. At first, she was hesitant about applying for the job. But Tameji submitted her application and was excited when she was contacted for an initial screening. And after an extensive round of interviews, she was hired.
Tameji's courage to respond to an ad was the beginning of what has turned into an exemplary career in the Dallas Fire Department. Tameji was hired by Dallas Fire-Rescue in 2000, and over a span of 15 years, she's held three different positions, working as a fire inspector, a peace officer and as an arson investigator. "It's actually pretty common for people to interchange fire investigator and arson investigator, but actually, the roles are quite different," she explained. "A fire investigator only investigates accidental fires — a kitchen fire or if kids were playing with matches. An arson investigator investigates fires that were deliberately set."
When Tameji's department determines a fire was deliberate, they file criminal charges, which is why she is required to have the law enforcement designation as a peace officer. Tameji is aware of the stereotypes, which often invoke images of men fighting fires. She recalled one incident that inspired her to help counter those stereotypes. "We were responding to a fire, and I started putting on my bunker gear," she shared.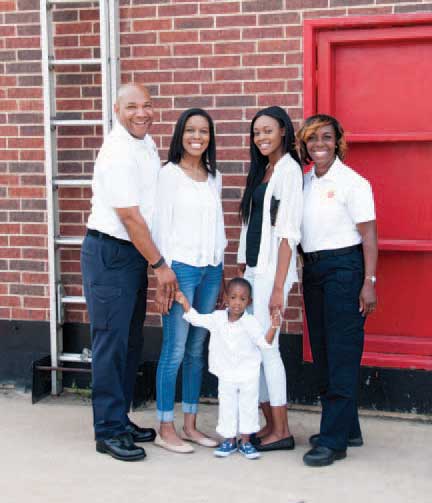 A small crowd had gathered to see what was going on, and when she pulled off her baseball cap, a little girl saw her ponytail. "Her eyes got big and she started shouting, 'You're a girl! You're a girl!'" Tameji became emotional as she recalled the incident because she saw herself in the little girl. "Society tends to categorize career choices," Tameji explained. "So if young people don't have an opportunity to see faces in roles that challenge those stereotypes, those stereotypes are perpetuated."
Tameji rose up through the ranks of the department, and is now deputy chief of fire investigation & explosive ordinance disposal. She is the first African-American female appointed as deputy chief in the history of the department, and the first female assigned as deputy chief over the Arson Division.
Tameji is aware of the unique role she has in the department, and she feels compelled to bring an awareness to young people, especially young females, so they can see they can also have successful careers in her line of work. In fact, it has become her mission to help make sure young women know that it's a career path they are fully capable of embarking upon. "I'm working on a program, a girl's camp, to help bring awareness, especially to underprivileged girls," she explained.
Tameji is a member of the International Association of Women in Fire & Emergency Services, an organization whose mission is to support, mentor and educate women who pursue careers in fire and emergency services.
Tameji hopes that once young girls know about the opportunities, their interest will bridge into the Explorer Program. Mark and Tameji are the proud parents of two daughters, Amelia and Makenzie, and grandparents to 2-year old Avery. They are a close family that loves spending time together, hanging out, watching television and going out to eat. They love to travel and have enjoyed visiting New York, Seattle, Aruba and Costa Rica.

And they are active members of their church, DC3, formerly known as Johnson Chapel of DeSoto. Tameji has a bit of advice for all young people, regardless of the career path they choose. First and foremost is to, "always hang on to your faith." She'd also tell them to associate with two types of people. People you look up to and admire, who are where you'd like to one day be in life — as well as someone who might not be as fortunate. "That way, you're always learning from someone, and you can always reach back and help someone as you move closer to achieving your own goals."
Tameji credits God and her faith with her accomplishments. "I know it's because of His grace and mercy that I've reached where I am today," she shared. "There are many strong, intelligent and courageous young women capable of working in this field. But if you don't have a chance to consider it as a career option, you may never know just how far your aspirations and hard work can take you."Written by Dianne Reaux.