Most everyone has heard the references to Mutt and Jeff, Pete and Repete and Frick and Frack. Well, this is a story of Laura Villarreal and Tina Cobb, two tireless Waxahachie ISD volunteers, who are lovingly referred to by Cathie Robertson, the school's athletic secretary, as Joice and Rejoice.
"Simply put, joy is what they bring to the Quarterback Club," Cathie stated. As they begin their sixth year as award-winning district volunteers, their excitement has not waned. If truth be told, it's grown with each passing year.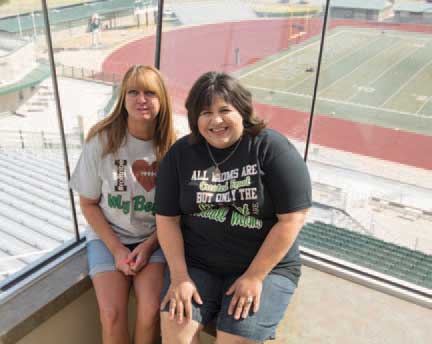 Laura came to the Quarterback Club first, with Tina following closely behind her. Theirs has been a partnership that first began as a way to volunteer some hours with the school district. This partnership quickly grew into a relationship of mutual respect, and the two soon became best friends. "We refer to ourselves as Frick and Frack," Laura said.
"The Quarterback Club is the 'booster club' for football, track and powerlifting, but we fill in wherever and whenever we are needed."
It's this attitude of freely giving that has made them so successful within the Quarterback Club. They hit the ground running the first year, and they've made one touchdown after another, as they work year-round with many other volunteers to make the club and its offerings bigger and better with each passing year. "I had boys in high school, and I needed something where I could still feel connected with them, as well as the football program in which they participated," Laura said, explaining why she became interested in the first place.
"I still have two seniors in the program this year. In fact, I've had a senior in the program for the last three years." Needless to say, this year, although just as busy as years past, will be bittersweet for Laura. "I hope to volunteer for as long as I can and for as long as they let me."
Tina is just the opposite. She has never had a child in the program. She came to the Quarterback Club through a mutual friend. "This mutual friend of mine and Laura's got me involved in coming to meetings," Tina admitted.
Understanding Tina's fear and the panic attacks large crowds can trigger for her makes Tina's desire to be an active participant in the program a monumental victory. "That first year, I never actually went to a game on the field. The first game I finally did attend, my second year, was in the parking lot during a game with Ennis." Tina credits her lack of fear today to Laura, her friend and sidekick. "She gave me the confidence I needed to conquer my fears."
"And now, look how far she's come," Laura said, with an all-knowing smile. "Laura, the boys and the program have been a huge blessing in my life," Tina added, "and I wouldn't change a thing."
Nowadays, Tina has her specific spots on and off the field where she finds the strength she needs to be in crowds of people. The boys she's come to love throughout her years in the Quarterback Club have given her way more than she's given them. "As much as they needed me to be here," she confessed, "I needed them more. I've come such a long way, and I credit the boys for helping me overcome my fear."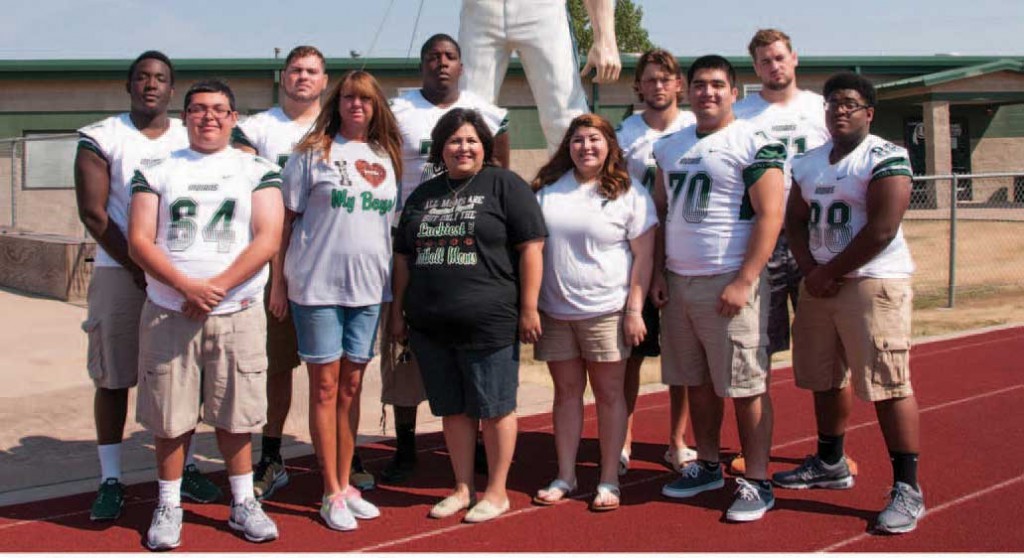 During their tenure on the board, Tina served as president for three consecutive years, and this year marked Laura's first year as the club's fearless leader. People in the football community and the school district know Laura and Tina by name, not only for the number of volunteer hours they give each year that total well over 2,500, when combined, but by the money and overall accolades they have helped bring to the athletic program.
"No one has been with the Quarterback Club longer than we have," Tina said. "We really do put our heart, soul and time in the volunteer hours we spend."
"We look back and remember all the dreams and visions we had for the Quarterback Club that first year," Laura said as she reminisced. "We have seen so many of them come true." The hours they spend volunteering cover such a wide range of responsibilities and capacities, and they both admit they couldn't do it without the other. Emails have to be answered. Programs have to be printed. Items for the spirit store have to be ordered and received.
They are constantly planning for upcoming events that span throughout the year. "As Quarterback Club volunteers, our time serving begins in January and ends in January," Laura explained. "We really don't have much time off, but that's the way we like it." They also appreciate the time other Quarterback Club members give to the program, no matter how big or small. It all adds up to a winning team. Although they have lots of meetings, Media Day and the Dale Hansen Classic, August seems to fly by quickly. As the season progresses, the Quarterback Club moves on to Homecoming and the parade, Senior Night, the banquet following the close of the football season and so many other events which make the Quarterback Club a success.
"It's all these little things that add up to our volunteer hours," Tina said. "The behind-the-scenes volunteer hours do add up." They both admit they tend to be control freaks, so working apart has been beneficial for the overall success of the program, as well as their ever-growing friendship. "We've learned so many new things along the way," Tina shared. "We know we both can't be out of town at the same time. And if we go somewhere together, we are always talking or planning for the Quarterback Club."
When it comes to the Quarterback Club, Laura, Tina and the many volunteers know what to do, how to do it and when to do it. "We are definitely interchangeable," Laura stated, with all kidding aside. "We lean on one another. We receive confirmation from one another. We really are Frick and Frack." "Yes, we do complement each other," Tina added. "We have found it's much better to work together as a team and take the fall together or dance in the accolades together. It really is a team effort." This season began with a new coach and new expectations. In years past, the Quarterback Club worked under the guidance of Coach David Ream.
As the two like to say, "Coach Ream sold his stadium to a new owner — Coach Jon Kitna." They are looking forward to sharing the same magic with Coach Kitna as they had with Coach Ream. Laura and Tina are deeply invested in the Quarterback Club.
They are far from ordinary. As a pair, they are one-of-a-kind. "It's our story," Laura said. "You can have zero or nine children and be fearful of crowds or not. You can be as involved as you want to be, and we want to be involved for as long as we can."
Written by Sandra Strong.