The American cowboy portrays an image of honesty, hard work and integrity.
The cowboy takes care of his own and is proud of his western heritage. Through television and radio programs, poems and music, Red Steagall strives to ensure western heritage isn't lost. Red lives by the values of the Old West — values that also include respect and common decency.
"We learn that set of values from our family, from the Lord and from society," he said. Red's music and poetry share thoughts of being kind and living by the Golden Rule. "Our heritage, traditions of the West and that set of values are worth saving," he added.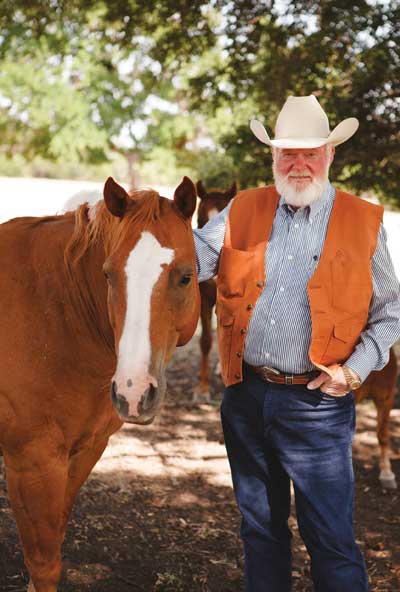 Red was born in Gainesville, Texas, and grew up in the Texas Panhandle. He fondly remembers visiting his father's family in North Texas. "I always loved the trees down here and the grass. We didn't have a lot of both of those in the Panhandle," he remembered.
Red studied agriculture at West Texas A&M University, and five years after graduation, he moved to Hollywood to help a few friends in the music industry. "They knew I was interested in the music business, so away I went," he added.
After eight years in California, Red moved to Nashville, Tennessee, to further his musical career. Four years later, he had an epiphany. "I figured out that bus could go up and down any freeway in the country."
Red returned to Texas, making a home with Gail, his wife of 38 years, in Parker County. "I love the whole area. I'm real partial to Parker County, but I also love Fort Worth and what it stands for," Red shared. "People in this part of the country have a better sense about who they are and have more respect for their neighbors. You get in a big city where everything is hurried, and a lot of that is lost. To me, that's what creates a harmonious society."
After living in the area for nearly 40 years, Red considers Weatherford his hometown. "It has a heart and soul all its own," he said. Weatherford marks one stop on the Wagon Train and Trail Ride, which travels from Jacksboro to the Fort Worth Stockyards as part of The Red Steagall Cowboy Gathering and Western Swing Festival. More than two decades ago, Red and a few friends discussed the idea of holding the gathering at the Stockyards.
"We bit the bullet, got it started, and 25 years later, we're still going strong." The Wagon Train and Trail Ride began a couple of years after the inaugural event. "It's exciting to ride five days with a group of people. You either sit on the wagon seat or in a saddle."
People line the streets of Weatherford as participants ride through the city. "Most people really enjoy it," Red chuckled, "but some of them get very irritated because they can't go by until the riders pass."
Local law enforcement provides traffic control during the trail ride. "We're so grateful to the city of Weatherford for their cooperation and their hospitality." Participants set up camp for the night at Heritage Park. "They all gather up, have a good time, sing some songs, drink a little beer and eat a lot of hot dogs and hamburgers," Red grinned.
The following morning, they continue their journey through Azle to the Stockyards for the Cowboy Gathering, where thousands of visitors soak up the western lifestyle. A Chuck Wagon Cook-off is held for prizes in such categories as meat, beans, bread, dessert and overall wagon.
The Cowboy Gathering also includes a trade show, cowboy music concerts, a ranch rodeo and poetry presentations. The event supports a scholarship program through the Cowboy Heritage Association of Fort Worth. Children in 32 area counties can win scholarships through a poetry contest, a fiddle contest and chuck wagon  cooking. Scholarships are also available for children of working ranch families. "I'm so proud of our scholarship program. We've awarded over $600,000 since we started the program."
While promoting education to youth, Red also promotes an understanding of western heritage in many forms. Following an award-winning career in country music, Red, who also appeared in motion pictures, discovered another passion while attending a cowboy poetry reading in Nevada. "I found where my heart really was. I still love to play dances, and I love western swing, but really, the poetry and cowboy music is where my heart is," he admitted.
He shares his passion with others through his nationally syndicated radio show, Cowboy Corner. His vision became a reality in 1994, when he and Stuart Balcom created a demo tape of the radio program. The one-hour show provides an avenue for Red to share western poetry, cowboy music and more on 155-165 stations in 34 states. "It's been a wonderful, wonderful ride."
Television was a natural progression for Red. His idea for a cowboy music and cowboy poetry television show was picked up by RFD TV. In the Bunkhouse with Red Steagall brought laughter and entertainment to viewers for four years, and Red decided to change the format to include more interviews and mini-documentaries about two years ago. The show is now known as Red Steagall Is Somewhere West of Wall Street. Red travels the state bringing stories of his rancher friends and community members to the air waves. "I've gone everywhere from the northern tip of Texas with stories all the way to the Gulf Coast and South Texas."
His television and radio programs take up much of his time, but Red continues to travel the world playing cowboy music concerts and reciting poetry, which is still close to his heart. He was honored for his designations as the official Cowboy Poet of Texas in 1981, and as the Poet Laureate of Texas in 2006. Red has also been recognized by other organizations, including the Weatherford Chamber of Commerce, with the Outstanding Citizen of the Year Award. Red has been inducted into the Texas Cowboy Hall of Fame, Texas Country Music Hall of Fame, the Hall of Great Westerners at the National Cowboy Heritage Museum, and more.
"All of those are extremely important and extremely humbling to me. It's so flattering," he admitted. Red is driven by life and the opportunities to share his love of the western heritage and cowboy lifestyle with the world.
"I just love life, and I love people. I like to work," he said. In his free-time, he enjoys spending time with his wife and family, riding horses and playing golf. As honorary chairman for the Roundup For Rehab at the West Texas Rehab Center in Abilene, Red also occasionally shares a few stories around the campfire. "I wouldn't know what to do with myself if I couldn't do this," he admitted. "I love it."
Written by Amber D. Browne.