In this day and age of high-tech gadgetry, it's refreshing to find three siblings whose imaginations go beyond the "right here and now."
Caroline, Jessica and Isaac Cross are fine examples of imagination at its very best. Add to this a great love for anything living and you have three, well-rounded, talented and personable individuals. Caroline, at 13, is the youngest of the trio.
Her love for "all creatures great and small" extends to the tiniest insects found in the flowerbeds around her home. "I used to make little paper houses for the roly-polies," she said, remembering back to a time when she was much younger. "I like snails in all sizes, too! I feel I have a connection with them. They're cute, and they wander all about, but they are harmless."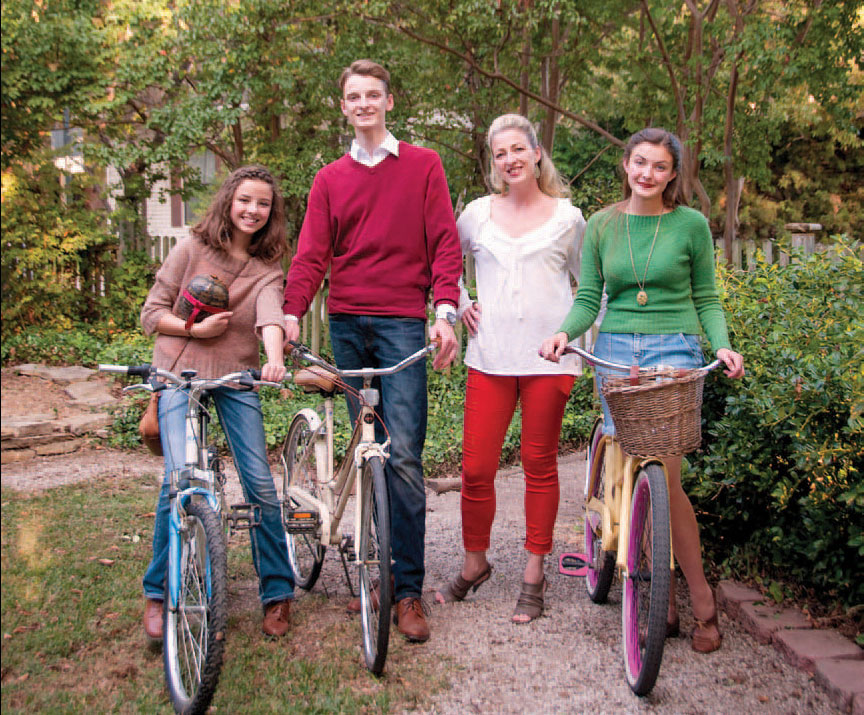 She smiles as she recalls the snail she took into the house one day. She forgot about him but quickly remembered him the next morning. "I found him on my mirror," Caroline shared.
Jessica, age 16, got her cat when she was 9. "We named him Nelix after the cook on Star Trek because Caroline couldn't say Felix," Jessica said. "I got the cat from one of my mom's nursing friends. He definitely grew into his cuteness. He's the ugly duckling that turned into a swan."
Hogan, the family dog, is closest to 17-year-old Isaac. Hogan is a 2-year-old German Shepherd the family adopted from a shelter. "We've been taught how to treat animals," Isaac explained. "We have a deep respect for all life." The family of koi fish also takes up residence in the fish tank in Isaac's room.
All three children have given care and love to many pets throughout the years. "Most of them we've either adopted or accepted from people who are looking for a good home for a pet they can no longer keep," Isaac continued. "And we definitely have to ask to bring home a stray."
On a few occasions when they have been allowed to take in a stray, they've had to return them to their original owners. Needless to say, having to return those animals was bittersweet because it's easy for these three siblings to become attached to a new pet. Caroline's love for all animals came from her dad, Danny, and the many trips they've taken to the zoo. "We've always had a pet since I was little," she confided. "If not, we're looking for one to fill the void."
"We've been raised surrounded by animals," Jessica interjected. "We have grown up in an animal-loving atmosphere." The siblings try to remember all the times they've stopped to rescue a turtle from the road, and they can't really come up with a total number because there have been so many. "Turtles are like dinosaurs," Jessica explained. "The shape of their head looks very much like the head of a stegosaurus."
Caroline has had two turtles in the past few years. The first one was named Hopper. Hopper was found by Caroline's mom, Kitty. Her most recent, and still missing, turtle is named Shiloh. "Isaac was coming home from a workout," Caroline explained, "and spotted Shiloh. She looked battered, so he brought her home to me."
Shiloh found a wonderful place to rest her shell with Caroline, who constructed a red bikini for Shiloh out of floam. The bikini was then attached to the turtle's shell. Shiloh even took a 21-hour road trip with the family to Michigan and was dubbed the "Traveling Turtle" by Jessica. Shiloh only bit Caroline once while she was hand-feeding her.
Caroline, always having a desire to learn more, did some research on turtles in general. She wanted to find out what she could do for Shiloh's sneezing. "I had her outside in the sunshine to help her get better," Caroline said with a bit of sadness in her voice. "She crawled over the top of the box and escaped. I still think she's somewhere around the house in the landscaping." Since Shiloh's disappearance, Caroline wakes up extra early each morning to see if Shiloh is basking in the sun. "She was one fabulous turtle," Caroline admitted, "and I'm still looking for her to return."
The Cross siblings are as exceptional in the classroom as they are with their animals and insects. They each love to read. They also like to put their imaginations down on paper or canvas. Isaac loves to draw with pen and pencil. Jessica loves to paint. Caroline loves to draw the characters as she sees them in the books she reads.
The girls laugh aloud as they reminisce about all the drawing contests with very unique ideas they've enjoyed with one another. Isaac would like to one day do something in the field of history, thanks in large part to Mr. Covington, his history instructor at Global High. "Mr. Covington brought the subject to life for me," he said. "He's a great teacher."
One other quality that Isaac shared about his teacher is the way he greets and shakes the hand of each student as they arrive on campus. This gesture has meant a great deal to Isaac. Isaac is also an avid artist who doesn't limit himself to one art form, thanks to Mr. Mills, another teacher at Global High. "I only took one year of art with Mr. Mills," Isaac shared, "but in that year, he helped me refine my art." Isaac is planning on a position in the world of marketing, where he can put his artistic talent to good use. Jessica has always loved English.
"I love to be in class. I love to read aloud," she confessed. "We read Romeo and Juliet aloud, and I was the voice of Juliet." Jessica is looking forward to working with children when she completes her education.
"I may be a second grade teacher," she said, "or maybe work in a day care center. I know my career will have something to do with kids." Caroline is still a bit young to nail down her future as an adult, but she feels strongly that she will follow in the footsteps of her mom and become a nurse. "I also want to be someone who does fundraising for worthy causes," she said. "I just want to continue to help others."
Science has always been Caroline's favorite subject because she loves animals, but she also loves the way anatomy works. Stepping away from the television, the computer and modern technology is definitely not a bad thing, as evidenced by the maturity found in Caroline, Jessica and Isaac.
These three very close-knit siblings have learned so many things and experienced so much as they've allowed their imaginations to soar. Using the Cross imagination has proven to be a very good thing.
Written by Sandra Strong.