Each of the bright, young men stepped up to the microphone and thanked the audience, which included their parents and the American Legion members who sponsor Boys State, for the opportunity that had been afforded them.
They came as individuals to their part of a program that began in Springfield, Illinois, on June 23, 1935 — an institution founded with the intent to give youth a better understanding of the function of city, district, state and federal government.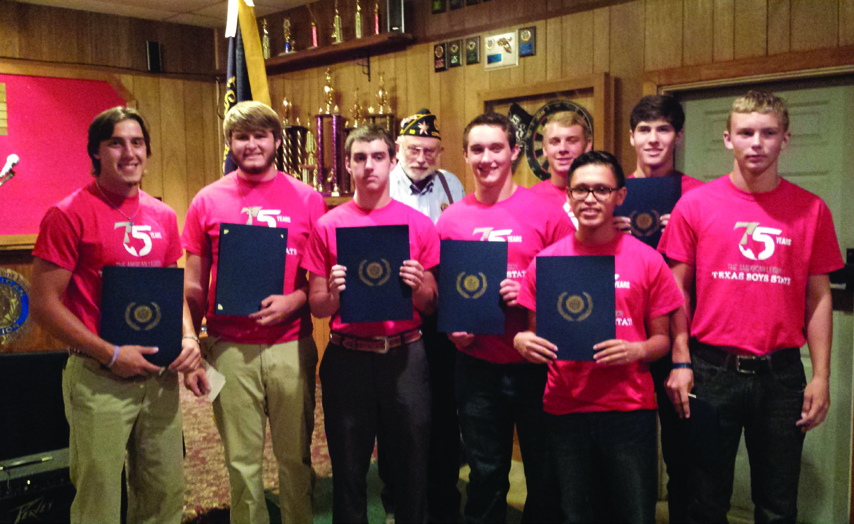 They stood together as a group having been united by a common experience. "These boys are on their way to becoming future leaders," said Corsicana American Legion Post 22 Vice Commander Roger Layton. "To safeguard and transmit to posterity the principles of justice, freedom and democracy …"
These words rang out over the room as the boys, representing Corsicana, Hubbard and Mildred school districts, stood and listened to the Preamble of the American Legion Constitution. They were beginning to understand the responsibility of being chosen to represent their peers and community.
Many of them would admit to not knowing anything about Boys State and why or how they were selected by their school counselors. They even laughed at the thought of being tapped on the shoulder, during class, and being told to step into the principal's office, for a reason unknown to them at the time. Imagine their surprise when they found themselves members of a group headed to Austin to learn about the mechanics of the government system! Nathan Roller, of Mildred, grinned as he remembered the first week of June. "We woke up early and went to bed late, every day!"
Everyone laughed with him. Nathan appreciated being able to see all the original flags on display at the Capitol. "Boys State was great," he said. "We learned how leaders are needed everywhere."
The boys took turns briefly sharing their memories. Ty Tidwell, of Corsicana, spoke of how beneficial the teaching was and how he felt humbled and honored to have been a part of the week. They all wore bright red T-shirts in honor of the 75th year of Texas Boys State. Boys State was totally unfamiliar to John Heard.
After hearing of the program, these tech-savvy students quickly found their answers on Google. "The hands-on learning experience …" John hesitated, then added, "Well, no other organization teaches or helps kids learn about our different forms of government. I ran for justice of the peace."
During Boys State, juniors from schools all over Texas assemble for a week of exercises that teach them about the government system from the ground up. They are divided into groups typifying various bodies of government. Members are given the opportunity to run for office and be elected by their peers. They also participate in sporting activities, such as baseball and basketball. These boys all agreed this was some of the best fun they had.
Tahoe Mickle, of Corsicana High School, was quick to share how much fun he had. "I enjoyed making new friends. I learned a lot about the different levels of government. I ran for a position on the Board of Education." Daniel Barrera proudly represented Corsicana by running for public office as well. "I made lots of friends," he said. "We were encouraged to become better citizens and improve our character. I enjoyed practicing my public speaking skills."
These guys were focused on learning all they could. They all agreed about the importance of local politics and educating themselves more about issues that affect them and their community directly. "It taught us to work well with others, listen to opposing sides of issues, how to debate and understand the there are many sides to politics, and sometimes not everyone who runs for office is interested in what is in the best interest of the people."
This is perhaps where they learned the value of voting and understanding the issues and points of a piece of legislation. Braydyn Gillham, from Hubbard High School, like all the boys, exhibited that his enthusiasm and knowledge have not waned.
Braydyn is taking his newfound knowledge with him. "They showed us how our system works. It's going to help us in college and in our future," he stated. Braydyn spoke with excitement and confidence about the education the local American Legion volunteers have helped them all find.
Roger presented each of these interesting young men with a certificate in honor of their striving for excellence as citizens and leaders of the future, whether it be in the military, business or government, or just as importantly, in their own homes and communities. They are a group of students who have already shown their strengths through hard work, good grades and good conduct.
The meeting ended soon after Roger had the boys sing the "Boys State Official Song," which they had learned the first day at camp and sang each day during their time in Austin. "One thousand young men attended this year's event. I am confident these leaders will prove worthy of the task of being ambassadors to the next group of participants," Roger said with great pride.
The entire Boys State experience provided the participants with a real sense of accomplishment. American Legion members, who have served so bravely in our military, come together at their meeting place and share stories. At this meeting, they were looking into the eyes of a few future representatives they have helped to shape.
Written by Nancy Smothermon.