Royann Farmer retired from Ennis ISD at the end of the 2011-2012 school year, after 25 years of consecutive service. Her career in the field of education began at Travis Elementary in the special education department.
After three years there, she moved to Bowie Elementary, but her time at Bowie was short lived. "Don Walker was the assistant superintendent at that time," Royann shared. "At the beginning of the first semester, Mr. Walker asked me to go to the high school for one day to see how I liked it."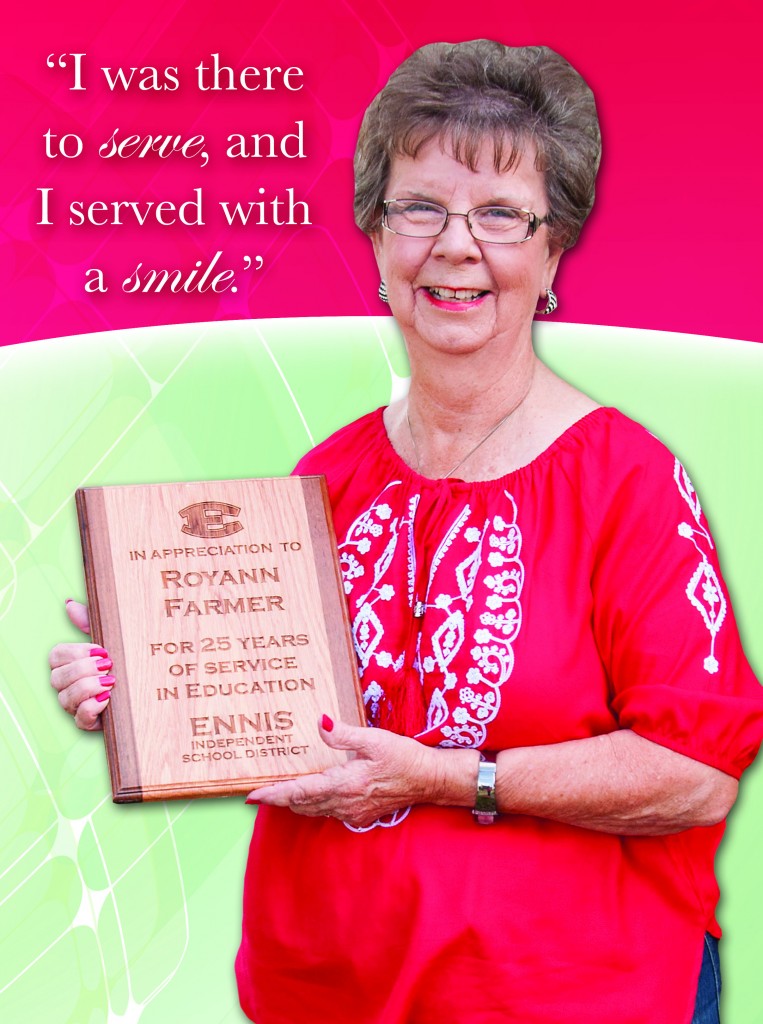 That first day, she worked with Brenda Collier. "I knew it would be a challenge, but Brenda was a dream to work with," she stated. "I feared I'd never get it all down, but I did finally learn what switch on the callboard belonged to what teacher." The principal at the time was Bill Chapman. He also wanted to make sure the transfer to the high school would work out for the good of the whole.
Royann had a daughter who was starting her senior year, and Bill wanted to make sure she would be OK with her mom working in the front office. Of course, she said it would be fine. "And it gave me the chance to see her a few times throughout the day," Royann added.
In the receptionist position, Royann's voice was the first one heard as the phone was answered. Her main duty was to be cordial. She greeted people with a smile and a kind word, and she taught her office aides to do the same. "Getting frustrated wasn't in my job description," she said. "I was there to serve, and I served with a smile."
This 21-year journey at the high school filled Royann's heart with so many wonderful memories. Although no day was perfect, she remembers that most of her days were quite pleasant. "You can make it a good day or a bad day. I had more good days than bad," she said, referring to the philosophy she still holds true to in retirement. "It all depends on your attitude and disposition. I tell my grandchildren this all the time. If you do fail at something, do the right thing and get back up. It's all about keeping a positive attitude."
The transition from small children to young adults seemed to come naturally for Royann. The younger students took more time because their needs were greater, while the older students were more self-sufficient. "I feel you have to possess a passion for the school and its children in order to find joy and contentment in the job you've been hired to do," she explained. "Students and co•workers know when you're being 'real' and when you aren't."
Royann's role as the well-known voice the community came to know and love proved very essential to so many. "I thought it was important to be in service to the children, staff, administration and parents," she stated. "As the campus receptionist, I had so many dealings with so many individuals."
Those same individuals came to rely on Royann's calm demeanor, listening ear and kind, sincere words of encouragement. The changes that were implemented over her tenure didn't bother Royann much at all. She was able to successfully "roll with the punches," especially when it came to technology and heavier campus security. "I always looked for the positive in all things," she said. Peer pressure also grew during her time at the high school.
Sometimes the pressure from athletics, testing and grades was too heavy for some students to handle. "Trying to keep up with others seemed so important," she said, "but I always tried to teach them to be proud of where they were in life — to try their hardest and not worry about what others were doing."
When she'd see these same students smiling later in the school year, it made her smile, too, because it meant they had found some joy deep down within themselves. Several times, she was lovingly accused of being too easy with some of the students she served, but Royann has never regretted the way she treated others. "I am NaNa to so many people, still to this day," she confessed. "So many of my kids are married and now have families of their own." Some would push the envelope to see how far they could actually go, but no one ever broke Royann's spirit or her desire to serve. As she reminisced, she remembered a couple of boys that seemed to find trouble or wait on trouble to find them.
They would be disrespectful, but Royann won them over with her one-of-a-kind brand of patience topped with lots of loving-kindness. "Three years later, on graduation day, those boys, then seniors, stopped by the office to give me roses," she said, with emotion in her voice. "I will never forget that."
The one thing that makes Royann feel her age is seeing students who she helped while they were in high school come back to the campus as teachers. "I've seen so many success stories," she explained. "My greatest pleasure came when I'd see students with an 'I don't care' attitude toward school and life change midstream.
They would go on to graduate and become successful members of the community." Had it not been for her age of 75, Royann believes she would have served the district for several more years. But, spending time with her husband, her 13 grandchildren and soon-to-be 16 great-grandchildren is bringing so much joy to her retirement. "I'm able to take care of things here at home now," she shared. "I can drive family to and from the doctor. I can pick up and deliver kids, when needed. And no one close to 80 needs to be driving back and forth to town every day to work."
Before going to work at Ennis ISD, Royann never took naps. Since retirement, she now eagerly looks forward to her afternoon "power nap." "I enjoy my 15-20 minutes of rest," she confessed. "When I don't get it, it sure does hurt." When the time to leave came closer, Royann told all those around her that she didn't want or need a going away party.
She wanted to walk out the door as if she were going home, much like the way she walked in that first day so many years ago. "I never had a day that was so bad that it made me want to quit," she explained." I met so many wonderful people along the way. I enjoyed every single minute of it."
Written by Sandra Strong.