Classic cars simply have curb appeal — and road appeal. Just ask Jimmy and Brenda Cauthen of The Cruisers Club. Jimmy serves as president of the club, which started in 2001, and Brenda is the treasurer. Both are as passionate about cruising and showing and fixing up cars as anyone can be. Having gone to just about every car show they could find within driving distance, they were with a group of about 15 friends simply talking cars at one of the shows. "I jokingly said, 'Maybe we should just start our own club,'" Brenda recalled, and the race to do just that was on.
Of the eight original members, four remain. "George Bowden really got things going and served as the first president. Jerry Morris came up with our name," remembered Brenda, who has several scrapbooks cataloging their history as a club. "Our first meeting was under a shade tree in our front yard." "Now we are over 100 members," Jimmy stated, nodding his head. "Our oldest member, Jim Eeds, is around 90. Our youngest member, Zachary Page, 16, just got his first car, a four-door tan Chevelle.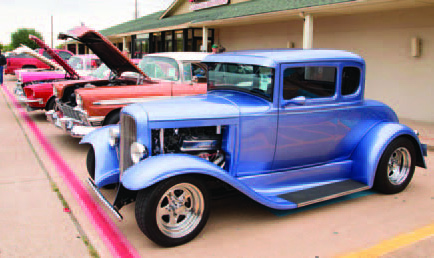 We have a great bunch of people who love to get together and talk cars." Jimmy quickly mentioned the officers of the club: Virgil Martinson, who serves as vice president; Charles Nix, their secretary; and John Bott, events coordinator.
Mention any one of the cars, and Jimmy or Brenda can recall lots of details of the cars' owners. Bring up a name, and the year, make, color and model will follow, along with anecdotes from one car show or another. While Jimmy is most definitely all about cars, he is more so all about people. "We do what we do to raise money for various charity projects," Jimmy explained. "We believe in helping others, so we are for people, especially those in need or in a difficult spot, and we are against things that hurt people, like domestic violence."
Charities they have benefited include local food pantries, Bridges Safe House and their favorite: Children's Health at Parkland. "We love bringing our gifts of money and toys to the hospital. They really need the money more than the toys," Jimmy remarked, "but we just love going there. They have a book of donors, and we are proud to be in that book." The group has also put on benefit shows to raise funds for specific needs.
Of course, car clubs are foundationally about cars. Just saying, cars set off a stream of conversation. Jimmy's love for cars started when he was a young man of 22 and raced a '67 Camaro on a quarter-mile straight away. After seeing some friends get hurt racing, Jimmy turned to showing cars.
"Some people just love cars," Brenda shared. "We call it getting the fever!" Jimmy and Brenda have three cars they show: a lemon ice yellow '69 Chevy pickup Jimmy has had for 30 years, a turquoise '74 Chevy Luv pickup and a candy apple red '70 Chevy Nova, they've had for about 15 years or so. Their friend, John Kirkwood, is one of the club's longest members. He has a 2-door maroon '61 Corvair, which he has owned for about 14 years. Each car is lovingly mentioned, almost like kin would be.
Some of the members' cars are pictured on their website, but are best seen at shows. "Our membership includes about 116 households. Some of those have up to three cars, and one has eight or nine cars," Brenda stated. Shows average 40-50 cars, and their biggest show featured 75 cars. One car of special note is Karen Pittmon's former DeSoto police car which her husband, an honorary life member, once drove. And beyond cars, this group is about relationships. In describing the family-friendly club for their website, Brenda put it this way: "You may ask what makes us so special … just what sets us apart from any other club? Well, maybe nothing at all, but to a lot of folks there are probably many different reasons why we are. It is [a] good ole slice of Americana for one reason. We are a club where God is still God for those who believe, where family matters, and newfound friendships occur often. It is where yesterday's memories are wrapped in today's plans and topped with tomorrow's hopes. It is folks from all walks of life with diverse ideals meeting on common ground to share the love of their hobbies."
The literal common ground where their cars have been shown has included various locales in Cedar Hill, Glenn Heights, Duncanville and Red Oak throughout the years: Dairy Queen, Longhorn Bar-B-Que, Citizens Bank, Whataburger, Albertsons, Sonic, El Chico and now Cancun's, where they meet every fourth Friday at 5:30 p.m. for a cruise in, sharing a meal and a visit. "We're so grateful for all the places and owners who have let us show our cars on their parking lots. Some of these businesses have sponsored us. We definitely appreciate the owner of Cancun's, Refugio Bahena, whom we call Cuco, who has opened his lot to us for three years now," said Jimmy, indicating once more how much he truly loves to honor others.
"And New Horizons Academy behind Cancun's has moved their buses, so we can park our cars on their lot as well. They're all good folk," Jimmy added in trademark fashion. One perk for those paying the $10 entry fee for showing their cars is a 30-percent discount on their meal the day of the show. Each show includes presenting plaques that John K. has crafted. "They all come out a little different," John K. said quietly. Plaques are presented in various categories: Under Construction, Shade Tree Mechanic, Top 15, Best of Show, Manager's Choice and a sponsor award. The club has 20 sponsors — both businesses and individuals. Members pass out flyers announcing the shows. Brenda uses about one ream of paper to create flyers for each season.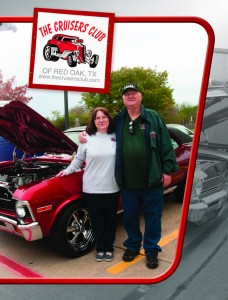 Shows are the second Saturdays March-June and September-November. "October is kind of a Halloween event. November is our toy drive," Brenda mentioned. "We have a silent auction and sell clocks made by John K. We also have a member party once a year." And in December, they all just go cruising — Christmas cruising. Women in the group have created a side club of sorts called the Muumuu Mamas.
"We meet once a month and just have plain old fun girl time going out to eat, to a movie or some other show or activity," Brenda smiled. The women enjoy having something more than just cars and men who love cars in common. Whether it's the women or the men or the cars or the charities, The Cruisers Club pretty much boils down to this: relationships and giving.
Editor's Note: Details about times, places and specific events can be found at www.thecruisersclub.com.
Written by Beverly Shay.