When Waxahachie High School senior Kaiden Maines recalled the night she won Best Actress in the 2015 State UIL One-Act Play competition, the words flowed from her as though she were reciting lines from her latest script.
Channeling her phenomenal creative energy has put the budding thespian on track to a career on Broadway, but her roots run deep in her hometown. As she stands ready to take on the next big role in her life, she knows that her success and memories shared with friends and mentors will last a lifetime. Reflecting on the night of the state performance, Kaiden recalled one memory vividly — dinner.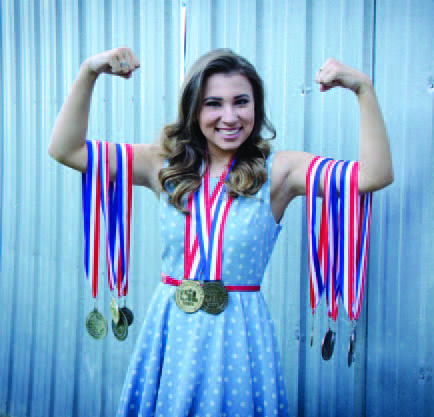 The team had endured a 6:00 a.m. meeting for all eight 5A teams, with rehearsal at 3:00 p.m. When it was almost time to head to the University of Texas campus, WHS Theater Director Andy Reynolds asked if there was anything on the team members' minds. "We wanted to eat," Kaiden recalled with a laugh. "It's my favorite memory of the trip. In full makeup and costumes, we loaded the vans and went to McDonald's for dinner!"
Auditions for the one-act play came after Kaiden had completed her run as Adelaide in the winter production of Guys and Dolls. Andy had chosen Anatomies, a dark comedy that included the role of Mary, who was a young, beautiful prostitute, for the one-act play competition. The part of Mary is the one Kaiden pursued. "I wanted to play her differently than the stereotypical lady of the night," she explained. "I wanted to give her grit and purpose, and I won the role." All cast members had their lines memorized by first rehearsal, and Kaiden said it made all the difference. "From the get-go, it was a different feel than the past years," she said. "We needed to go to state. The seniors really wanted it, and the whole team wanted it for them. We were always doing everything for the good of the team. That's why we went so far. We were a complete ensemble."
Advancing through zone, district, bi-district, area and region, the team was told repeatedly they had something special. When they finished warm-up before state performance, Andy told them he knew it, too. Waxahachie was last to perform, taking the stage at 10:00 p.m. in front of 1,500 people, including all the other 5A teams. "I think state was our best show," Kaiden said. "The crowd was amazing — it fueled our energy. Our final scene ended, and the crowd went crazy. We got a standing ovation, and we were almost in tears. We knew what we had done. We had given a state-champion-worthy show."
Individual awards hadn't even crossed Kaiden's mind. Everyone was waiting to see which team won. As the cast awards were called, Kaiden said it crossed her mind that she might receive honorable mention, like two of her cast mates, with another named to All-Star Cast. As Best Actor was announced, Kaiden still didn't allow herself to think she would win it. In that split second, "It was more of a Could I? thought," she smiled in recollection. As her name was called, she found it "the most surreal moment, feeling complete shock. It was so sweet because it was so unexpected," she shared.
After receiving her medal onstage, she passed by Andy and her other director, Ryan Mullican, and her junior high director, Charity Mullican, giving out hugs to everyone. The team results were announced, as Waxahachie won first runner up at 1:07 a.m., the first time in history that a WHS team had placed at state. Calling it her favorite high school memory, Kaiden praised the WHS theater department and its leaders. "I spent from fourth grade on waiting for what seemed to be the absolute highest you could get — WHS theater," she said. Andy noted that the department's success over the last 14 years was due to the WISD administration's support for the fine arts. "From the very first day I was hired, in June 2002, WISD has had complete faith in me and allowed me to build this department my way," Andy explained.
In fact, Superintendent Dr. Jeremy Glenn traveled to Austin the night before state to take the team out for a steak dinner, as he had promised. Andy also pointed to the addition of Ryan Mullican nine years ago. "Our success as a department can always be traced back to the fantastic relationship I have with Ryan," Andy said. "We make a good team."
He noted the abundance of "super talented kids" in the district, including Kaiden, whom he met when she was in fourth grade. Kaiden's first introduction to WHS theater was Peter Pan, playing an Indian, chosen by Andy at an audition. She did summer productions at Ellis County Children's Theater with Gail Harrell, who is now Kaiden's vocal coach. In fifth grade, she was chosen to play the Munchkin Coroner in the WHS production of The Wizard of Oz, calling it her "big break with the high school kids." In sixth grade, she was an Oompa Loompa in the department's rendition of Willy Wonka, and in seventh grade, she began one-act play at Finley Junior High. Andy said it has been gratifying to see Kaiden blossom into a talented young woman.
Now a senior, Kaiden has appeared in the fall production, Epic Proportions, and will play the Lady of the Lake in the winter musical, Spamalot. She plans to audition for the one-act play and the spring production and will begin applying and auditioning for dramatic academies, conservatories and colleges. Last summer, she spent two weeks at The American Academy of Dramatic Arts in New York City. With students from all over the world, she found she had the foundation she needed. "What I learned at WHS really paved the way for me," she said. "Kaiden has challenged me," Andy noted, "and I have challenged her for over 10 years. Kaiden will do this for a living for the rest of her life. She is a unique talent that rarely comes along in a teacher's career."
She does plan on performing, with her eyes set on Broadway, but there's more. "I want to direct at the collegiate level," she said. "I've been inspired by all my directors. They've shaped me into what I am, and I want to do that for other kids."
Written by Melissa Swedoski.