Carrie Burge entered a big pavilion holding 2,000 people in Argentina.
Years of practicing with a bow and arrow, numerous competitions and a great deal of faith brought her to the international event. Huge Roman-style pillars lined up in two rows, a large fire pit in between them. She stood at the highest point of the shooting area. In the distance, cars drove past a large lake, purple-blossomed trees and a massive monument, which looked somewhat like the Greek goddess Athena.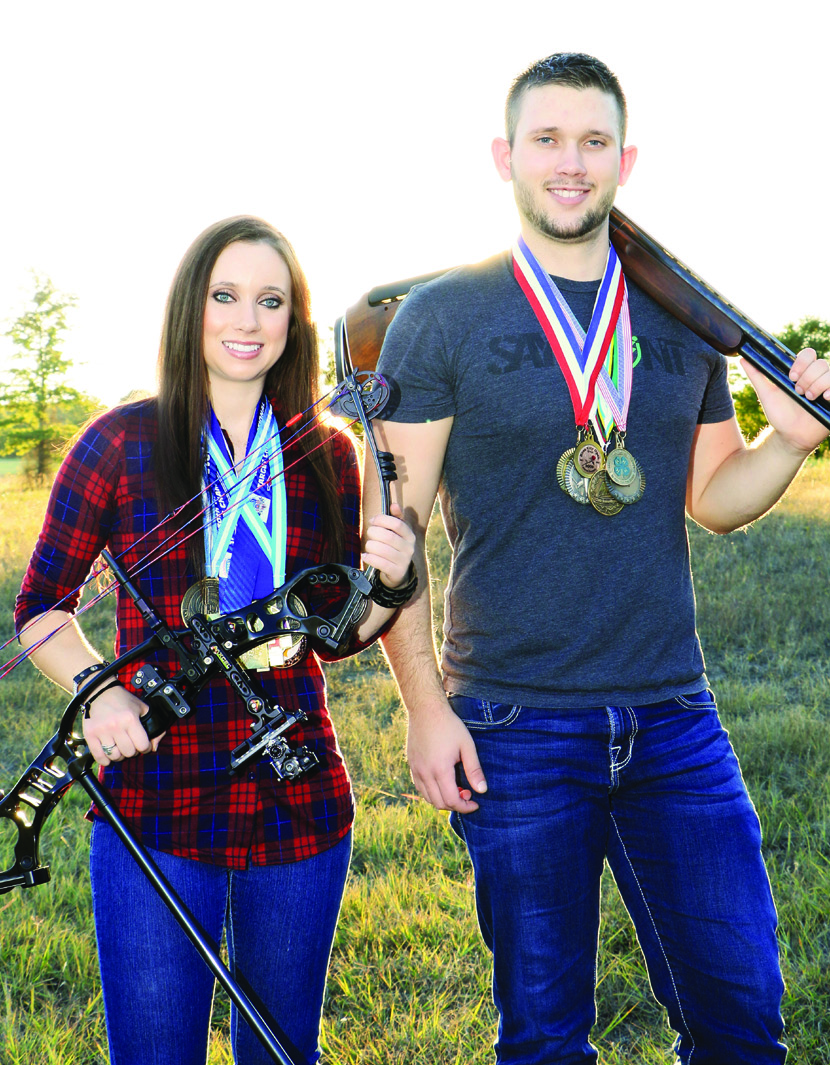 The statue faced the pillars with a stern, yet brave look. "I felt like I was in heaven. I never thought I could be this courageous," Carrie said. "Hard work really does pay off." After hours of stretching, practicing and preparing mentally, the archery competition began. Carrie wrote, "I stood by the fire pit with my bow and a heart full of passion. I watched as crowds piled in from outside of the wall. They flooded in without hesitation. I realized how blessed I was to have this once-in-a-lifetime opportunity. How many people would kill for this moment?"
The international competition left Carrie breathless, her heart pounding with amazement at celebrity treatment. She won a gold medal in the women's individual event. Then, she stepped up for the team competition. Poised for her shot, Carrie pulled up every inch of her small frame and glanced at the clock. Her teammate, Matt Stutzman from Ohio, used 30 of their allotted 40 seconds.
She didn't mind. With no arms, he needed extra time to shoot arrows straight. But to win the international team competition, she had to focus. She released the first arrow, then another. She pulled the final arrow, catching the time left in her peripheral vision. "I didn't have time to get nervous," she said. Two seconds left, she let the arrow fly, praying it would hit the target. It did.
As a child, Carrie watched her big brother, Josh, compete in international bunker trap with a shotgun. Although she enjoyed hunting and being outdoors, she didn't share his passion for competitive shooting with guns. "I wanted that same passion for a sport," she said. At 12, she picked up her first bow and arrow, finding her own brand of hunger but never suspecting she shouldn't be able to pull back a bow. About a year later, Carrie started noticing problems with her wrists. They hurt and didn't look normal.
The doctor diagnosed her with Madelung's deformity, a condition where wrist bones do not grow normally. "She said I shouldn't be able to pull back a bow. To be good at it was remarkable," Carrie shared. Despite the fact that Carrie underwent three surgeries over the next three years, she continued to pursue archery.
By joining the main archery organizations — USA Archery, National Field Archery Association, American Shooter Association (for 3-D shooting) and International Bow Hunters, she was able to shoot many different types of events. Carrie prefers 3-D, though, where the shooter aims at different foam animals in wooded areas. Because of her love of being outdoors, she likes this variety best. Carrie's coach, Jesse Johnson, suggested that she try out for the USA National Para team. At 17, she qualified for the team, having just come out of a cast. Winning gold medals in both the individual and team competitions at the Pan American Games in Argentina secured her spot on the Para Olympic team.
However, the following year, she had to reclassify as a para archer. "Archery put me out of the game of archery," she said. The previous year of pulling back the bow loosened up Carrie's wrist, giving her a greater range of motion. When the results came back, she no longer qualified for the Para Team. Disappointed at the loss of being on because of one setback is like slashing your other three tires because you got a flat," she shared. "After the tears and meltdowns, I remembered my favorite Bible verses, Jeremiah 29:11-12." She recited, "'For I know the plans I have for you,' declares the Lord. 'Plans to prosper you and not to harm you; plans to give you a hope and a future. In those days when you pray, I will listen.'"
Instead of giving up, Carrie looked at her dreams from a new perspective, seeing open doors. At 19, she is certified as a level 2 USA archery coach. She's also a bow technician and pro-shooter for Bargain Hunters, representing them in archery competitions. Although she practices at work, she often spends time on a private course located on the land surrounding the Burge home. In addition, she teaches archery lessons and mentors kids. But Carrie isn't finished competing. She still works with Coach Johnson. "You never fail until you stop trying," she said, quoting Albert Einstein. "Jesse Johnson is the most passionate man. He really cares about the kids and treats them as if they are his own," said Carrie's mom, Valerie.
She sees Carrie's difficulties as a gift. "Because of her wrist condition, I think the Lord specifically opened doors for Carrie that wouldn't otherwise have opened. Being on the national team built her confidence and ability more than anything else ever could at this point in her life," she said. In the meantime, Carrie attends Weatherford College with an undeclared major. She still dreams of going to the Olympics and plans to go for a college team in the near future.
Although she is considering a nursing degree, Carrie really desires a professional career in archery. Her plans for the future include becoming the best she can and never giving up, even after she reaches her goals. Long before the movie The Hunger Games hit the big screen, Carrie loved the sport. The popularity of the books and movies drove many people to hunger to learn how to shoot with a bow and arrow. Carrie loves the series, and the side benefit for her comes from having more coaching opportunities. As she moves forward, she sees the potential for a pro-archery career to become a reality.
With the support of her family, Carrie believes she can reach her goals. "I always thought Josh would go to the Olympics. He won the Junior Division Olympic qualifier his senior year," she said. With a close relationship, her big brother encourages her, cheering her toward the dreams she chases. "The future is an unwritten story. God is the author, and He's already written the final chapter," Carrie said. To follow the path He chose for her, she's more than willing to press toward the goal and win the prize.
Written by Lisa Bell.