Rarely do you find a person who has been in the same profession for over 50 years, and it is even rarer to find that person still passionate and excited about their job.
For Weatherford College Athletic Director and Women's Basketball Coach Bob McKinley, the last 52 years of coaching have been filled with just as much motivation and work ethic as his first year in the business. Bob is one who is quick to point out the success of his players and not himself, but when looking at his accolades over the last five decades, it is easy to see why he has been able to coach for so long. His résumé includes 14 conference championships, Coach of the Year 11 times, and one trip to the National Junior College Athletic Association's Final Four.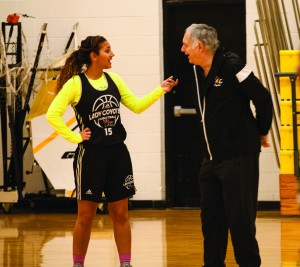 The awards and titles don't stop there either. Bob is the winningest active coach in the NJCAA and was inducted into the NJCAA's Women's Basketball Coaches Association Hall of Fame in 2015.
"I actually didn't go to college, originally, to become a coach," he said. "I had plans of being a minister. One speech class was all it took for me to realize I couldn't stand behind the pulpit. A good friend of mine told me I could have just as much influence in coaching as I could in ministry, so I changed my major." In fact, the players he impacts every season are the reason he stuck with coaching for so long. "I just think that if the players know you genuinely love and care about them, then you can do whatever you want on the court and in practice. They know it's all left on the court because they know I still love them, no matter what," Bob explained. "That's the philosophy I have followed my whole career, and I know performance from my players is maximized because they know I love them." , who keeps track of most of his players through Facebook, is happy to be coaching second generations.
"It really makes you wonder when your old players now have kids old enough to come play for you," he shared. With almost 900 wins under his belt as both a men's and women's coach (some seasons coaching both), there is no doubt that Bob was most deserving of his hall of fame induction last year in Niceville, Florida. He was inducted along with Ricky Gene Ford, formerly of Northeast Mississippi Community College, and Denny Jerome, formerly of Waldorf College in Iowa, during the Women's Basketball All-Star Weekend.
The three men had 2,043 wins between them, with Bob's 872 wins leading the pack. "That was a really special award and one of my fondest memories here at the college. It meant a lot to me because it's a special recognition in relationship with all the other junior college coaches in the nation," Bob said. He also pointed out that WC is unique because it has not one, but two coaches who have been inducted into the NJCAA's Women's Basketball Coaches Association Hall of Fame.
Former coach, Betty Jo Graber, who coached at WC for more than 35 years, was inducted in 1998 in the hall's inaugural class. The majority of Bob's wins have been right here at WC, where he has coached for 39 seasons. "The environment, the city itself and the school system have been the key factors that made Weatherford College our home for so long," Bob stated. "My family and I just really love it here."
Bob coached at Pasadena High School in 1964 and then at Houston Baptist University from 1975-1977 before making Weatherford his home and joining the WC staff. "It's always hard to leave a school when you have good friends there. From a coaching standpoint, the move may not be difficult, but my family always makes decisions together. I was once offered a job in Alaska, and my wife was quick to help me make the decision that we would not be living in that state," Bob said with a smile. His basketball career started early when he was a player for Bowie High School, where his team went to state in 1959. Bob was later inducted into the High School Basketball Hall of Fame.
In college, Bob was the team captain for Trinity Christian University (TCU), where he played and lettered three consecutive years. Bob even had the opportunity to coach his son, Trey, who played at WC before going on to Abilene Christian College (now Abilene Christian University). Now he is head of the kinesiology department at WC. His daughter played basketball at TCU, and both kids live nearby. "I get to see all five of my grandkids almost every day. They have pretty good basketball coaches in their parents, but I don't mind playing and teaching them either," Bob said.
Apart from his family, the players really are Bob's world. "In junior college, you get a new set of players at least every two years, so things change quickly around here. It's always exciting to see them progress and get opportunities to play after they leave Weatherford College," Bob admitted. For Bob, one of the most difficult aspects of coaching is when players don't make the grades, and he isn't able to award scholarships as a result. It is also difficult when he isn't able to bring a player back for a second year. "Those decisions, hard as they may be, have to be made sometimes," he noted. "Discipline problems are easy. They take care of themselves. But apart from that, it gets really hard making calls as a coach." After 39 years in Weatherford, coaching 18 seasons of men's basketball (six of those years coaching both men's and women's teams), Bob has seen a lot of changes on campus, most notably from a physical standpoint. "There have been quite a few new buildings built in the last years, including the addition of our new baseball and softball facilities. It's been exciting to watch the college grow and expand," he said.
Five minutes with Bob is all one needs to know and hear about his passion and love for the sport and the players. Having been called to coaching to make an impact, he is certainly doing just that. With a new group of players every two years, hundreds of players have received the honor of playing basketball for one of the all-time greatest basketball coaches at the junior college level. When asked if there are any signs of slowing down, Bob simply said, "Social Security keeps asking me the same thing. The last time, I wrote down 2024 is when I plan to retire, mainly because I figured that would get them to leave me alone until then."
Written by Lindsay Allen Bob.