Trent Berryman is not a typical young man. He wants to put his name next to those like Bill Gates and Steve Jobs, and the fact is, he very well may do it. Trent has lived in Midlothian since he was a kid with his parents, Martin and Chantilly, and his brother, Preston. He was influenced by many other people throughout his upbringing. "My grandparents came from Wales with nothing and ended up making a great life for themselves," he said.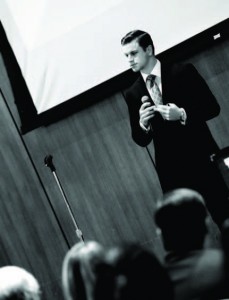 Armed with the guidance of so many people, Trent headed to college looking to become the next great businessman. After three semesters at The University of Texas at San Antonio, though, Trent was forced to leave. "It was Christmas break, and my parents finally made me get online to check my grades," he explained. "I knew I hadn't done well, but I didn't realize I had done that bad."
For some kids, being kicked out of school would be the end, but not for Trent. "I'm not ashamed of it. I just call it my very expensive lesson," he joked. "I figured I could either be done with college, or I could work really hard to make up for my mistakes."
He had to leave UTSA for a semester, and even then, he had a long road to get where he is now. "After only getting to take a few classes for a year, I finally was allowed to re-enroll full time in 2011," he detailed. Once he was back in school, Trent made it a point to do better in his classes, as well as making sure to set himself apart as one of the best students in UTSA's College of Business. "I got involved in several organizations, the most important being the Business Student Council," he outlined. With improved grades and increased student involvement, Trent was making a name for himself.
He also added finance to his business studies, as he explained, "I was confident in my entrepreneurial ability, but I wanted to add that tangible skill of the money side of things." Trent originally studied business management, until UTSA created a new degree in entrepreneurship, which was perfect for him. "My dad always had these great ideas and innovations, but he never had the chance to see them through," he said. "I knew I needed to be the innovator he was while I was young, before I had anything to lose."
Trent began to thrive in the entrepreneurship program, and eventually, he started garnering attention for his efforts. In May 2014, Trent was nominated as a candidate to be named one of UTSA's 100 Best Business Students. "I knew I couldn't graduate in the top of the class because of my early grades," he admitted. "100 BBS was the best award I could get." Combining grades with school involvement, work in the class and other considerations, the award is given to the top 2 percent of the students in the School of Business.
The goal of making the list was part of the reason for Trent joining the organizations and working as hard as he did. "I made the list, and that helped me earn my first-ever scholarship, the Melvin Lachman Memorial Scholarship," he recalled. Going into his last year, Trent had aspirations to study abroad, but thought the cost would likely be prohibitive. But UTSA offered a program that would cover most of the cost for an exclusive two-week study trip. "They selected 20 students to go to India for Business Immersion, and I was lucky enough to be picked for a trip that only cost $400," he described. "The first week was meeting and learning from India's top businessmen, and the second week included lots of the sightseeing and touristy things. I was blessed to be part of that trip."
During his senior year, Trent also had a year-long project that won him an elite prize. UTSA puts on a competition each year where entrepreneurship students are paired with teams from the engineering school to come up with a product, complete with a business plan, which could be ready to develop for distribution and trade. He gained a lot of valuable experience that helped lead him to this success during his junior year. "That project is usually just for seniors in their capstone course, but as a junior, I ended up joining a team at the last minute," he said. Trent and his friend were approached three days before the competition deadline by an engineering team that had just split with their business students, and they decided to give the competition a try. "Most of the groups had been working for months, and we put together a 45-page business plan over one weekend," he laughed. "We didn't even know all of the parameters for the competition. We didn't do very well, but the fact that we were able to do what we did in such a short time got a lot of good attention from people."
That quickly put-together project led to praise from classmates and local businessmen, several of whom now mentor Trent. More importantly, Trent knew what to expect when he competed as a senior. "I saw what the different teams were working on, and I chose a sleep apnea device," he explained. "I told them they had the best product, so they needed me — the best business guy."
Trent is not necessarily the guy with the first idea, but he is proud of his ability to take things and make them better. "I know my expertise can add value to companies that are starting up," he clarified. "But for me, it's not about the money. It's about being able to build something from scratch that can make an impact." Trent and his team won that competition, a victory that cemented the confidence he needs to move forward with his goals. He did all of this while living in a single hotel room. "I was moving into this new complex. It wasn't ready, so they paid for me to live in a hotel my senior year," he laughed. Since graduating in May, Trent has stayed near his network of contacts in San Antonio, while he tries to help launch any number of new companies. "I have designated two years to make something happen," he detailed. "I wait tables at Maggiano's on the weekends to pay the bills, and Monday through Friday, I network. I am currently working with several potential startup companies."
Trent developed a passion for entrepreneurship and innovation from his father at an early age. While kids his age were watching comedies and thrillers on Netflix, he spent his nights watching business documentaries and reading economics magazines. Despite some initial college setbacks, he has become a driven young man, determined to make a difference by helping bring new companies to life.
Written by Zachary R. Urquhart.