Birds, beaches, bottles and beautiful art are all part of Dina Huffman's Mansfield apartment. From her balcony or the picture window in her living room, Dina can watch the birds as they come and go in the green, forested scape that is just beyond her back fence. "These creatures survive the elements and are free to go anywhere they want. I like what the birds represent," Dina said.
A native of California where she worked and raised a family, Dina moved eastward when the economy took a downward turn. A certified escrow officer in California, Dina came to the Dallas-Fort Worth Metroplex to become a sales representative for Reunion Title in Richardson.
Additionally, Dina is bilingual in English and Spanish and is a Texas notary. Family is important to Dina. While one son still lives in California and a daughter lives in Colorado, Dina enjoys living close to two sons and their wives who reside in Richland Hills along with four of Dina's nine grandchildren. She enjoys her once-a-year visits back to California and to Colorado to see family and friends, and likes to travel to other interesting sites. She's been to 15 of the U.S. states, mostly on the East Coast. "My long-term travel dream is to visit Italy, Greece and Spain," Dina, an artist and crafter, said. Baiser, a rescued Maltese and Dina's housemate, sounds the alarm. "Her name is the French word for 'kiss.' Baiser loves to give me kisses," Dina remarked.
Dina adopted Baiser from Collin County Animal Services after 51 puppies, including Baiser, were found abandoned on a road. "It made the news. Now, she's a rags-to-ri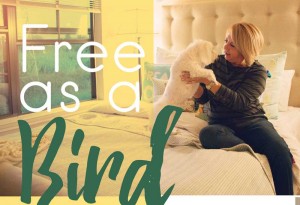 ches story. Baiser lives the life of a princess!" Dina's artist's eye is evident everywhere from the moment family or friends knock on her door, with its welcoming wreath, and get a first look into her living room. Dina has artfully blended colors with her collectables. A wood burning fireplace is topped with a mantel on which she has placed glass bottles, birds and a clock that appears to wind downward.
The hearth is framed with birds seated on a wooden box and a large feather and dried flower arrangement. "Decorating, to me, is color. The colors tell the story as to who you are," Dina revealed. The seating area "pops" with a bright green sofa and a comfortable, oversized leather chair, with matching footrest, from which Dina watches birds, reads and also gazed at the recent lunar eclipse. Within easy reach is an under-the-window shelf that provides a great environment for plants, drinks and food.
A wooden chest serves as Dina's coffee table and is decorated with a silver seahorse and a starfish. Birds and bottles are artfully arranged on shelves above the sofa along with wall hangings, one of which denotes another of Dina's favorite pastimes — playing Scrabble with her grandkids. "Everything blends, but it's all different," Dina explained. Two glass fish sit on Dina's breakfast bar, which separates the living area from the kitchen with its wine theme. "I love Napa and like to collect bottles," she explained. A bird motif that Dina arranged "flies" over the breakfast bar and, her first pastel still life of a bottle is hung on the wall with pride. A built-in desk provides the perfect work space. In what would ordinarily be a dining space, Dina has created a cozy sitting area in which to entertain friends or family. The shockingly bright orange chair stands out in contrast with the brown of shelves that hold her beach collection, bird watching books, plants, candles and a seashell with a bird painted on it. "I have a book that even tells me what the birds' chirps mean," Dina said.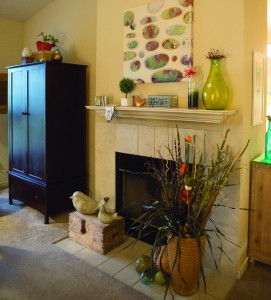 A mermaid clock hanging on the wall provides more color and perfect time. "My best friend in California and I both got a mermaid clock. I just love the mermaid — she's too cute!" Dina exclaimed. French doors open onto a balcony that has become another sitting area complete with the sounds of soothing water from an urn-styled fountain. "I love inviting friends over for a glass of wine while we sit and talk," Dina said. Doors open into what would normally be a storage room, but Dina has created a crafting space to satisfy her creative side. "It's small, but everything is organized, and it works for me," she said. The bedroom is a beach retreat with a shell motif, soft sandy colors and a wreath Dina created with seashells. A metal hat rack is the perfect staging ground for her colorful collection of hats. A futon provides seating and also an extra bed for when grandkids arrive for an overnight stay.
A bath with a garden tub conveniently opens to both the bedroom and sitting area. Here, the beach theme continues with a wall hanging that says, "Unlike swimsuits, flip-flops fit year after year." Sea horses that were meant to frame photos actually frame shells instead — another creative styling by Dina. "I moved here in November 2012, and now this apartment and building have a homey feeling," she said. "I've owned large homes, but I like the coziness of this place, and I've made it my home on a shoestring budget. I always go for the sale!" she exclaimed.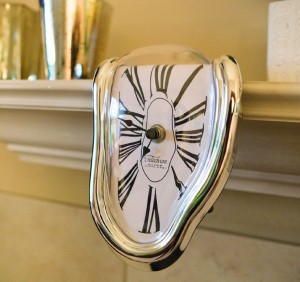 The stone and stucco building fits well into the green space, and Dina has covered parking and an extra space for storage. "I really like the country feeling I get in Mansfield. People are very friendly. Mansfield reminds me of the small town where I grew up — Valencia, California. It had this same kind of small-town feeling back in the '80s," Dina recalled. She likes to do Pilates and enjoys a "pretty well-rounded social life." Work-related, Dina is a member of the Richardson Chamber of Commerce and the Collin County Association of Realtors. "I've met really good people, and there's always something new to do with friends, since this is a new area for me to explore," Dina said excitedly. "This is a new lifestyle I've created," she mused. "It's the first time in my life that I've been by myself, so I've picked out everything in my home and have made this place really mine. You have to wonder, If you have your life to do over, would it be different? Life is always changing and happiness can be found in something that's at first uncomfortable but becomes comfortable."
Written by Virginia Riddle.