Tucked away in her writing studio, Audrey Fahlberg enjoys a calm and colorful world of her own, as she cocoons inside her cottage at Lakestone Terrace. There's a world of stories waiting in Audrey's heart. Hoping to write about her travels in a way that brings to life another world, one that no longer exists, Audrey culls slides made during her travels to over 150 countries. She works from an office that looks much like a museum, filled with collected artifacts from places as varied as Nepal; Panama, S.A.; and, yes, Texas.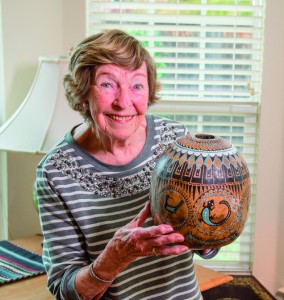 Looking at a gourd dried and painted by a high school art teacher in Lubbock, Audrey remembers Miss Martin. "She taught a wonderful friend of mine, Pascale, who came from Vietnam," Audrey said. "A church in Lubbock sponsored her, and Miss Martin, Pascale's high school art teacher, encouraged her to go to New York. From there, she studied art in Paris." Pascale now lives in Del Mar, California, where Audrey and her husband, Will, lived in retirement. Every year, Pascale travels to Texas to visit Miss Martin. Why not consider Texas a travel destination? "It's a fascinating place," she said.
Audrey's Norwegian parents reared her in Wisconsin. She first visited Texas in her early 20s, while Will trained in both Abilene and Austin before being sent to the Italian front with the 10th Mountain Division as a combat medic in WWII. Audrey has published two books about this time period, one in 2014 called Triumphant Love: WWII, A Blink Into Our Seventy-three Year Marriage. The other is a collection of Will's letters to her and their daughter, Karen, called World War II Letters Home, published in 2015.
Will's messages mailed from the Apennines sometimes arrived a month or two after they were written. "He had to write on his helmet or a board or a rock, with very few opportunities to have decent paper to write on. Sometimes, he would even take a page from a paperback that he had on hand," Audrey said. "His letters did arrive and gave me assurance that he was alive." Audrey lovingly preserved every handwritten love letter, and when sharing them, she added wisdom from her storehouse. Her husband is no longer with her, but she finds joy in every moment. "I learned a long time ago that in this day are all the verities, all the truths, of what is right now. It's very important to have good memories but to live for the moment," Audrey said. "Every morning when I get up, I thank the Lord for another day and how gracious He is to share His love, joy, peace and grace. I wonder what His plan is for me today, and pray it will be a good plan."
She walks, reads, gardens and goes through her slides for the sake of writing her next photo-driven book about travels she made during the 1970s and 1980s. She lived in Houston and owned a 100-employee travel agency, specializing in serving people who were visiting Texas while doing business at places like the Texas Medical Center or NASA. Many times, she and her husband, a doctor and immunologist in Houston with Baylor College of Medicine, traveled together. "He was often a consultant in some of the hospitals in countries where we visited," Audrey said.
She also traveled alone for her second business, a functional art boutique called Corners of the World, which she operated for 30 years in the Texas Medical Center. "I discovered there were so many women in different countries like Kashmir, Bangladesh, India and various South American countries, who had cottage industries making such beautiful things, like wearable garments and jewelry," Audrey said, "but they had no place to sell them." Now, many of those textiles grace her working environment.
As she sorts slides, deciding which best represent the people she met on her travels, she recalls the several cameras she carried on each trip. "They were heavy, very big and had lots of different lenses. Lots of times, I'd have to change lenses, and the light wasn't just right," she said. "That was the exciting part about taking photos. It was enjoyable experimenting with them before I really became what I considered a professional photojournalist."
Although she is her own best critic — "one never is quite as good as you would like to be" — Audrey is ready to show with her photography the people she especially enjoyed meeting who were willing to have their pictures taken doing their menial tasks. In Bhutan, for example, she received permission from each woman selling eggs or sitting at a prayer wheel or holding a baby in her lap, and from the old men sitting quietly.
"I did not have a problem with languages because I love to talk with people through just being there with them," Audrey said. "When I found myself in a place with people who were busy, I could stand back and realize there was one person who stood out in what they were doing and how they looked, someone who looked like they had something interesting to tell," she said. "I wanted to capture that." For example, next to photos of dancers in front of a three-story-tall, hand-painted silk screen, an archer with his beautiful bow and arrows and a 1970s-era, 10-passenger Mercedes bus, Audrey plans to print a story sharing her perspective on the world behind the festival in Paro, Bhutan. Next to photos of a pony trek up a rocky mountainside, Audrey will describe their destination. "We went to the very old and famous monastery — Taktsang — which had been built right into the mountain.
They say they got there originally by riding on a tiger," she recalled. Since she's been to about 200 countries, Audrey's considering producing three smaller books about the places she visited by air and by ship, and many times, even by horses or mules. Just like the travel, Audrey's slide-culling is a process both exciting and painful. "I have a lot of memories and a lot of slides I have to discard because they're not quite up to what I would share," she admitted. She's not using cameras as she did in the 1970s and 1980s, but in planning for her life, Audrey tries to experience something interesting each day.
When her son comes to visit from Del Mar, they get in the car and sometimes drive 200 miles in a day. "I love the open country of Texas," she enthused. "Granbury is such a wonderful place where you can go just a very short way and you'll be right out in the country, visiting cemeteries, pastures, hearing stories from the locals." For Audrey, it's the fellowship, respect and love for one another that makes this a beautiful world.
Written by Melissa Rawlins.