Jillian Arreazola moved to Ennis from Allen, Texas, with her family when she was in the fourth grade. Her journey in the vast world of art began as a sophomore at Ennis High School. Her ability to work with glass has matured over the years to include pieces that are one of a kind in their design and uniqueness. "I needed to choose an elective," Jillian remembered. "The jewelry class looked interesting to me, so I chose Jewelry I as my elective that year."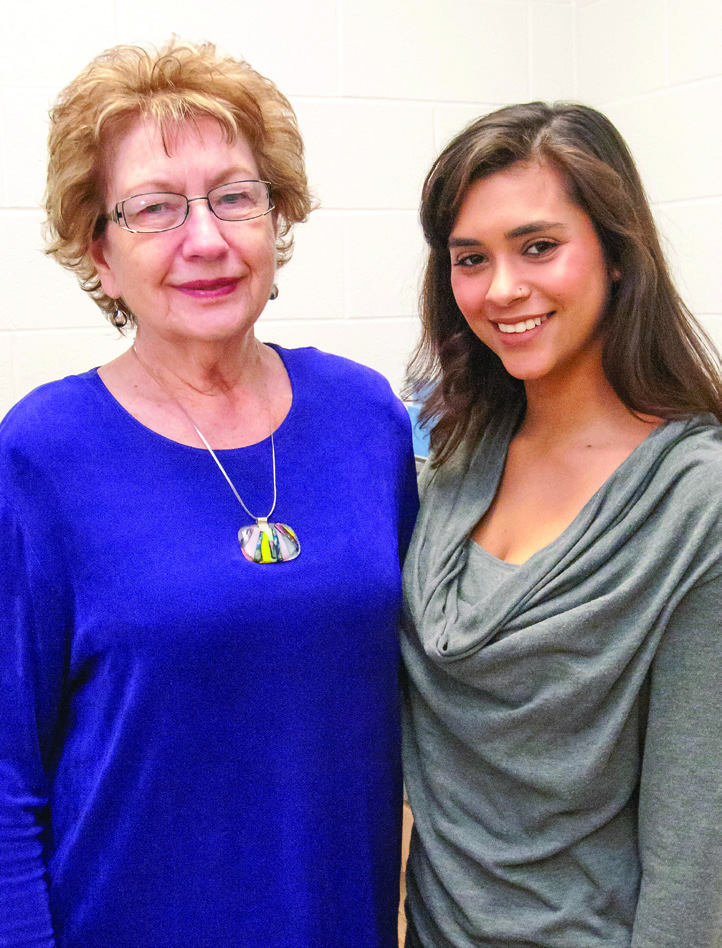 That first year turned into so much more than an AP jewelry course. Under the tutelage of Jeannie Lucky, Jillian was able to master her artistic craft of choice while also making a lifelong friend in the process. "I was with Mrs. Lucky for three years," Jillian explained. "She was my mentor. She stretched me beyond my limits and taught me how to create outside the box."
Jeannie took Jillian out of her comfort zone, thus creating a young artist who has an eye for vivid colors and how well they will blend when fused together. During her sophomore year, Jillian was introduced to glass fusing — the art form that bonds disparate pieces of compatible glass together using heat and gravity in a kiln. The glass is heated in a controlled method at a specific temperature and, basically, cooled in the same controlled manner. Jillian learned the basics of her craft that first year. She learned the difference in the full-fused and tack-fused methods of glass art.
Full-fused pieces have depth based on the number of glass pieces used, but the final object is brilliant to the eye and smooth to the touch. Full-fused glass is baked at a much hotter temperature. The hotter temps allow the glass to melt one color into another. Art lovers can see and feel the different levels of glass used when admiring the tack-fused method. The tack method is baked at a much lower temperature. The levels, sometimes four or more, melt just enough to permanently fuse the chosen glass together, while leaving each level unique unto itself. The limited number of pieces Jillian created as a high school student are masterpieces in and of themselves.
They may not be high in number, but they are off the chart when it comes to brilliance and overall wearable beauty. There is not one pendant that she favors over another. In her mind, they each have some quality that make them all her favorite. "I feel obligated by society to have a favorite," she admitted. "I don't have one favorite piece, but each piece has something favorite about it."
Jillian did gift one specific pendant to her grandmother. It was the same pendant that earned her a fourth-place ribbon at a county art show, but her grandmother still wears the pendant today with first-place pride. Jillian was eager to get back to Jewelry II when her junior year began. She was equally excited to see Jeannie. "She was my encourager," Jillian confessed. "She brought the ability out of me." Jillian totally understood her role in the teacher/student relationship. "Mrs. Lucky could only do so much," Jillian shared, "then it was up to me to move forward in my artistic craft."
Jillian not only moved forward, she was able to take the fused glass methods she had learned to a level that represented her as an artist. She began to experiment with dichroic glass, frit glass, thin wire and charms. Dichroic glass is very glossy and offers a brilliant shine. Frit are tiny pieces of glass that come in all shapes, sizes and colors, sometimes as small as a pea or a large grain of salt. When methods are fused together and embellished with twisted wire and dangling charms, the finished result is nothing less than amazing. By the time she was preparing for her AP Jewelry III final exam as a senior, she had grown in artistic ability, but more importantly, the once shy sophomore had matured into a confident senior with a lofty idea for her final test. "We had to choose a specific theme. Mrs. Lucky's idea was to emulate the painted work of other famous artists using acrylic on glass," Jillian said, also mentioning that this technique has been around a long time. Her goal was to recreate well- known works of art on small rectangular pieces of white glass using a tiny brush and acrylic paints. "Once the painting was complete, the glass pieces were baked in a kiln. This process seals the paint to the glass."
Some of the replicated pieces look exactly like the famous paintings, while others are distorted because of the baking process. "Some teachers expect perfection," Jillian added, "but how does someone critique or grade artwork, since we all see art differently?"
Needless to say, fusing glass is very much like a surprise gift. The artist envisions a piece in their mind as they choose methods, colors and shapes of glass, but once fused, they take on another look altogether. An artist can also re-fuse a piece to try once again to create what they had originally imagined. But, in glass fusing there are no fast and hard rules or guarantees. Surprisingly enough, that's what makes this type of artwork so unique. Never really knowing what you will get when you remove the piece from the kiln is definitely the art of the unknown and unexpected. Since graduating from EHS in 2015, Jillian has had time to reflect on those who have inspired her to take her artwork to new heights. She refers to her mother as her backbone.
Her father paints on canvas with oil as a relaxing hobby. And it was her stepdad who introduced her to the art of photography as a young teen and helped her decide that photography was something she wanted to pursue and learn more about as a college freshman at Texas State University. For Jillian, a larger percentage of her inspiration will always come back to her high school art teacher who, after more than 40 years in the classroom, retired the same year Jillian graduated. "I utilized and took advantage of every single opportunity offered to me in Mrs. Lucky's art classes," Jillian said. "Mrs. Lucky was an expert art teacher who is now a wonderful lifelong friend." "I so enjoyed her as a student. Her confidence level grew each year," Jeannie said. "She had a goal from the beginning, and she never lost sight of it." Currently, Jillian is in the market for a kiln she can call her own so when the artistic bug strikes, she has all she needs to bring the creations in her head to fruition. "I always have a vision of what I hope to make," she said. "It may not always turn out as planned, but the art is in the creating, and all I want to do is create."
Written by Sandra Strong.