The first step toward learning new skills is often the hardest — both for the student and for the teacher or coach. Coach Audrey Marx has found this to be true as the girls' basketball coach when she joined Coach Jody Reese, the boys' basketball coach, at Corsicana ISD's Collins Middle School.
"The kids have to learn the same basketball drills they will use at the high school. Additionally, I want them to become better people overall, learn how to be dependable and how to get along with each other," Coach Marx explained. Drills must be mastered. Making sure these fledgling athletes have a solid foundation is important during the first years of competition in University Interscholastic League sports competition.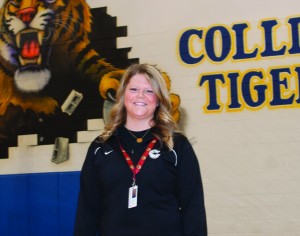 "The girls run from drill to drill and practice layups on full court," Coach Marx said. "A lot of time is spent just teaching fundamentals and how to practice," Coach Reese added. "We also do a lot of running to get into condition." "We are Corsicana High School's farm teams," Principal Darla Nolan quipped. During their seventh and eighth grade years, student athletes are physically maturing and experiencing growth spurts that can cause problems with balance and coordination. Their brains are developing higher-level thinking skills, and their attention spans are lengthening, but keeping students' minds focused can be a challenge for these coaches.
"I have to encourage the girls during practices to watch all the time, even when seated and not on the court playing," Coach Marx said.
Another challenge to coaching this age group is that these athletes come to the court with varying levels of skill. Some, especially on the boys' teams, have played in Little Dribblers and other youth leagues from very young ages, attended basketball camps or played neighborhood pick-up games, while other potential stars have never played but want to be part of the teams. "Last year while coaching the seventh grade girls, I found that only two or three of them had played basketball," Coach Marx said. "I've moved up with those same girls and am now coaching the eighth grade. We learned a lot last year, so we should be better," she added. "The boys have a lot of raw talent, and their skills need to be tweaked a little.
Yet, some of them have never played the game. Then some have played and picked up some bad habits," Coach Reese said. Fixing form, drills and attitudes on and off the court are priorities. I want these young men to become better people in the end. "Last year, the boys tied for first place in our district. I was very proud of our team. The guys bought in, did what was asked and competed at a high level every night we played. They were a great group to coach," Coach Reese said.
A willing and winning attitude that results in effort expended are traits that these coaches are seeking in their young athletes. "I look for girls who are coachable. I like to tell a kid to do something and have her take it to heart and try. Attitude and effort count big at any age and in any endeavor. I would rather have five girls with the best attitude ever than five with great talent," Coach Marx stated.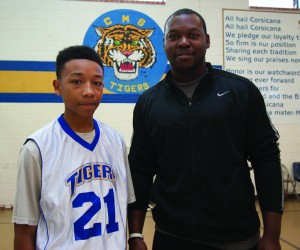 One of the returning boys is just such a student athlete. Emanuel Haggerty, a Corsicana native, has been playing basketball a little over four years. "I like shooting," he revealed. Emanuel started playing in the Corsicana YMCA youth basketball program and in his neighborhood, and like other student athletes, he aspires to play in high school and on into college. "I want to play basketball at the University of Kentucky or Duke University and then in the NBA," Emanuel said. He's learned a lot in his one year under Coach Reese's tutelage. Even though the boys had a winning season last year, one game against Ennis Junior High School stands out in Emanuel's mind. "We played around and lost focus on the bus ride even though Coach told us not to. We got blown out by Ennis during the tournament," Emanuel recalled.
Emanuel likes to eat and play video games, and he admires Derrick Rose, an NBA player. "He seems to have the same mentality that Coach Reese wants me to have by putting God first," Emanuel said. A key element of success for the basketball program is community support. "The majority of the players' parents come to our games and support the program," Coach Marx said. "The teachers are at their students' games and are supportive."
That support helps the coaches and players celebrate even the smallest of accomplishments and gains. Both coaches are products of Corsicana and its schools. Coach Marx played sports and was also the salutatorian of her CHS class. She attended Texas A&M University on a scholastic scholarship. "I wanted to be a coach because I missed playing sports in college, and I've always wanted to be a teacher," she said. She is a newlywed to Caleb Marx, a Corsicana native. Coach Marx said, "Both sets of our families are from here." In her second year as an educator, she teaches Pre-AP math classes and also coaches girls' volleyball. "Last year's volleyball team had really good kids. The talent was insane and resulted in both the A and B teams having very successful seasons," Coach Marx said. "I can't wait to see what my girls, both in basketball and volleyball, can do in high school!"
Coach Reese played basketball for Texas Christian University but an injury sidelined him. He graduated from Texas A&M University-Commerce and teaches seventh-eighth grade PE classes. His parents live in Corsicana, and he recently married Mandy Reese, a teacher at Bowie Elementary School in Corsicana. The coaches agreed keeping basketball fun and focused at this age is important. Winning is not everything, and they try to give all students a chance to develop their skills — not just the "stars." "It's so great to see my athletes' behaviors change. The first couple of games are very confusing, but throughout the season, we start to look like a basketball team," Coach Marx said. "It's a joy to return home and put something back into the community as a positive role model," Coach Reese stated. "We know we've done our job beyond just coaching."
Written by Virginia Riddle.