These recipes were contributed by Bubba Walker, a North Ellis County resident, and originally appeared in the North Ellis CountyNOW July 2015 issue.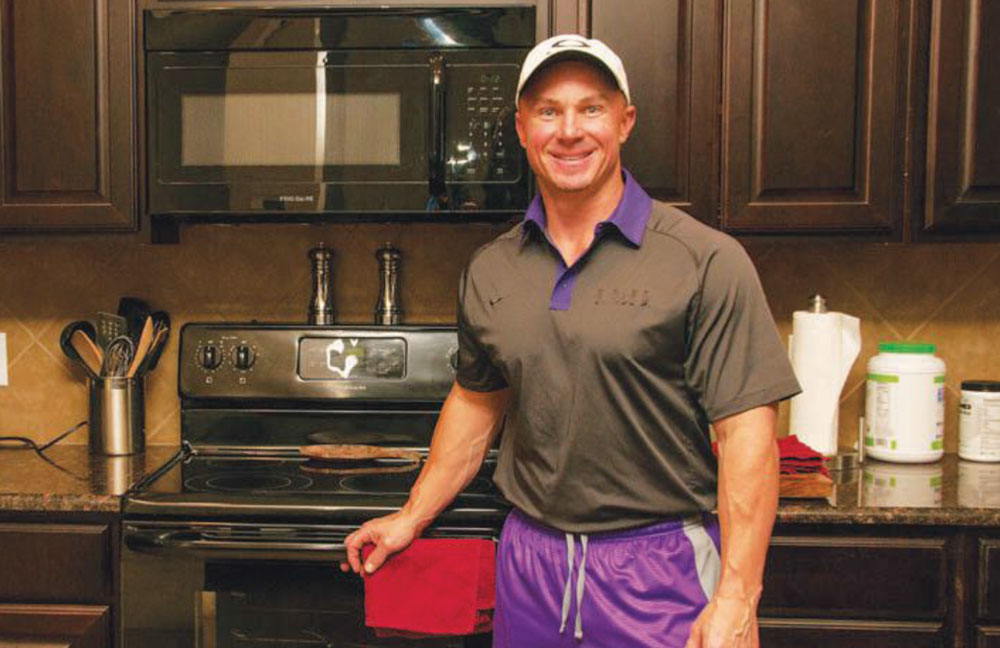 Almond & Lemon Crusted Fish With Spinach
Zest and juice of one lemon
1/2 cup sliced almonds, coarsely chopped
1 Tbsp. fresh dill (or 1 tsp. dried), finely chopped
1 Tbsp. plus 2 tsp. extra-virgin olive oil (divided use)
1 tsp. kosher salt (divided use)
Freshly ground pepper, to taste
1 1/4 lbs. cod (or halibut), cut into 4 portions
4 tsp. Dijon mustard
2 garlic cloves, slivered
1 lb. baby spinach
Lemon wedges for garnish
1. Preheat oven to 400 F. Coat a rimmed baking sheet with cooking spray.
2. Combine lemon zest, almonds, dill, 1 Tbsp. oil, 1/2 tsp. salt and pepper in a small bowl.
3. Place fish on the prepared baking sheet and spread each portion with 1 tsp. of mustard. Divide the almond mixture equally among the portions, pressing it onto each piece of fish.
4. Bake fish until opaque in center, about 7 to 9 minutes, depending on thickness.
5. Heat the remaining 2 tsp. of oil in a Dutch oven over medium heat. Add garlic, stir and cook for about 30 seconds, until fragrant, but not brown.
6. Stir in spinach, lemon juice and the remaining 1/2 tsp of salt; season with pepper.
7. Cook, stirring often until spinach wilts.
Chicken and Fruit Salad
1/4 cup reduced-fat sour cream
3 Tbsp. fruit-flavored vinegar
4 tsp. sugar
1 1/2 tsp. poppy seeds
1/4 tsp. salt
Freshly ground pepper, to taste
8 cups mixed salad greens
2 cups cooked chicken breast, sliced
2 cups melon (cantaloupe or honeydew), chopped
1/4 cup walnuts, toasted and chopped
1/4 cup feta cheese, crumbled
1. In a large bowl, whisk sour cream, vinegar, sugar, poppy seeds, salt and pepper until smooth.
2. Reserve 1/4 cup of the dressing in a small bowl.
3. Add the mixed greens to the bowl and toss to coat.
4. Divide among 4 plates and top with the chicken, melon, walnuts and feta.
5. Drizzle each portion with 1 Tbsp. of the reserved dressing.
Balsamic Vinaigrette Dressing
1/2 cup extra-virgin olive oil
1/2 cup balsamic vinegar
1/4 cup shallots, chopped
1 Tbsp. Dijon mustard
1 tsp. Italian seasoning
1/2 tsp. salt
1/2 tsp. freshly ground pepper
1. Place oil, vinegar, shallots, mustard, Italian seasoning, salt and pepper in a blender or food processor and puree until smooth. Or blend in a large glass measuring cup or wide jar with an immersion blender.
2. Drizzle over spinach, lettuce or your own favorite medley of salad greens.
Pineapple Green Smoothie
1/2 cup unsweetened almond milk
1/3 cup nonfat plain Greek yogurt
1 cup baby spinach
1 cup frozen banana slices (about 1 medium banana)
1/2 cup frozen pineapple chunks
1 Tbsp. chia seeds
1-2 tsp. pure maple syrup or honey (optional)
1. Add almond milk and yogurt to a blender; add spinach, banana, pineapple, chia seeds and sweetener (if desired).
2.  Blend until smooth. Enjoy!
Green Jasmine-mint Iced Tea With Lemon
1/4 cup loose green jasmine tea, or 12 green jasmine tea bags
1/2 cup fresh mint leaves, plus more whole sprigs for garnish
4 cups simmering water
1/2 cup lemon juice
1/3 cup honey
4 cups cold water
1. Steep loose tea, (or tea bags) and mint leaves in simmering (not boiling) water for 2 to 3 minutes.
2 Strain the tea (or remove the tea bags and mint leaves), and pour into a large pitcher. Stir in lemon juice and honey until the honey is dissolved.
3. Add cold water. Refrigerate until chilled, about 2 hours.
4. Serve over ice with mint sprigs, if desired.