These recipes were contributed by RaShaan Owens and Floyd Carter, Southwest residents, and originally appeared in the SouthwestNOW June 2015 issue.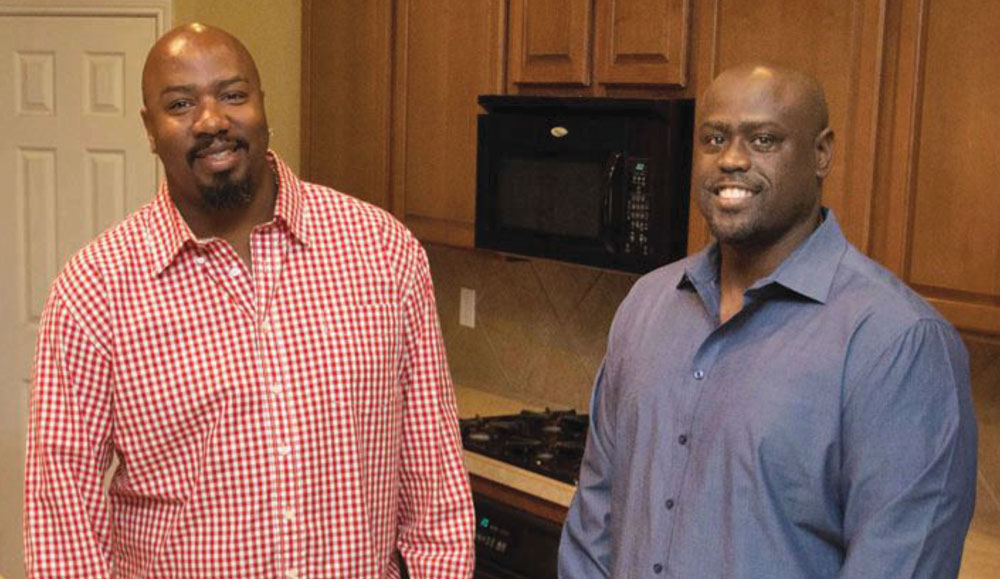 Braised Oxtails With Polenta
RaShaan's favorite recipe.
1/4 cup vegetable oil
10 lbs. oxtails, each cut cross section into 2 pieces
2 Tbsp. kosher salt, or to taste
2 Tbsp. ground black pepper, or to taste
2 yellow onions, diced
4 carrots, diced
4 stalks celery, diced
1/4 cup tomato puree
4 cups dry red wine
4 cups beef stock
3-4 parsley stems
1 sprig thyme
1 bay leaf
Preheat oven to 350 F. Heat oil in braiser or deep cast-iron pot over medium-high heat to simmering.
Season oxtails with salt and pepper; brown oxtails on all sides in oil in batches. Set aside.
Reduce heat to medium; add onions, carrots and celery, stirring until golden brown. Add tomato puree and cook until color deepens, about 1 minute.
Increase heat to medium-high and add wine, stirring until drippings are reduced by half. Return oxtails to pan; add beef broth to cover the oxtails by two-thirds. Add parsley stems, thyme and bay leaf. Cover and braise in oven for 2 hours. Remove bay leaf and serve with polenta.
Polenta
4 cups chicken stock
1 tsp. salt
1 cup Golden Pheasant Polenta
1/2 cup whole milk (optional)
2 Tbsp. butter
1 oz. Parmesan cheese
Bring stock and salt to a boil; gradually add polenta. Reduce heat to low. Continue to cook, stirring occasionally, until thickened and polenta is tender, about 25 minutes.
Blend in milk, if desired; cook for 2-3 minutes. Blend in butter and remove from heat. Blend in Parmesan and serve with braised oxtails.
Drunken Creole Chicken
Floyd's favorite recipe!
6-8 boneless, skinless chicken thighs
2 Tbsp. extra-virgin olive oil (or enough to coat chicken)
Uncle's Creole Season Blend (see recipe below)
1 large white onion, diced
2 heaping Tbsp. minced garlic
4 poblano peppers, seeded and hand-torn into small pieces
1 cup chicken broth
1/2 can beer
1/2 cup cooking sherry
1/2 cup red wine
2 shots Crown Royal whiskey
1 capful liquid shrimp/crab broil
1 Tbsp. mesquite liquid smoke
In a mixing bowl, coat chicken with oil. Generously season chicken with Uncle's Creole Season Blend.
Heat oil in a large pan and brown chicken. Remove chicken and set aside.
Add onion and garlic to remaining oil and seasoning in pan, sauté for a few minutes; add pepper pieces and cook over medium-low heat until onion is translucent and peppers are tender. Add 1/2 of all liquids and lightly simmer, making sure nothing is sticking to the pan.
Return chicken to pan, increase the heat to medium-high and allow liquid to simmer down. Add remaining liquids and simmer until chicken falls apart, about 30-40 minutes.
Serve over white rice with garlic bread and a simple arugula salad.
Uncle's Creole Season Blend 
Makes about 1 cup.
1/4 cup kosher salt (reduce if limiting sodium)
6 Tbsp. paprika
1 Tbsp. each: thyme and cayenne
2 Tbsp. each: ground black pepper, ground white pepper, onion powder and garlic powder
1 tsp. yellow curry powder
Mix all ingredients until well-blended.
Creole Tempura Shrimp
1 egg
1 cup ice water
1 cup all-purpose flour
Uncle's Creole Season Blend, to taste
Peanut oil for frying
Flour for dusting
12 large shrimp, peeled and deveined
Beat egg in a bowl. Add ice water. Sift flour into the bowl and mix lightly. Add Uncle's Creole Season Blend (or use to season immediately after frying).
Heat oil to 350 F.
Lightly flour shrimp, then dip into tempura batter. Immediately deep-fry shrimp until crisp.