These recipes were contributed by Sue Calveard, a Midlothian resident, and originally appeared in the MidlothianNOW June 2015 issue.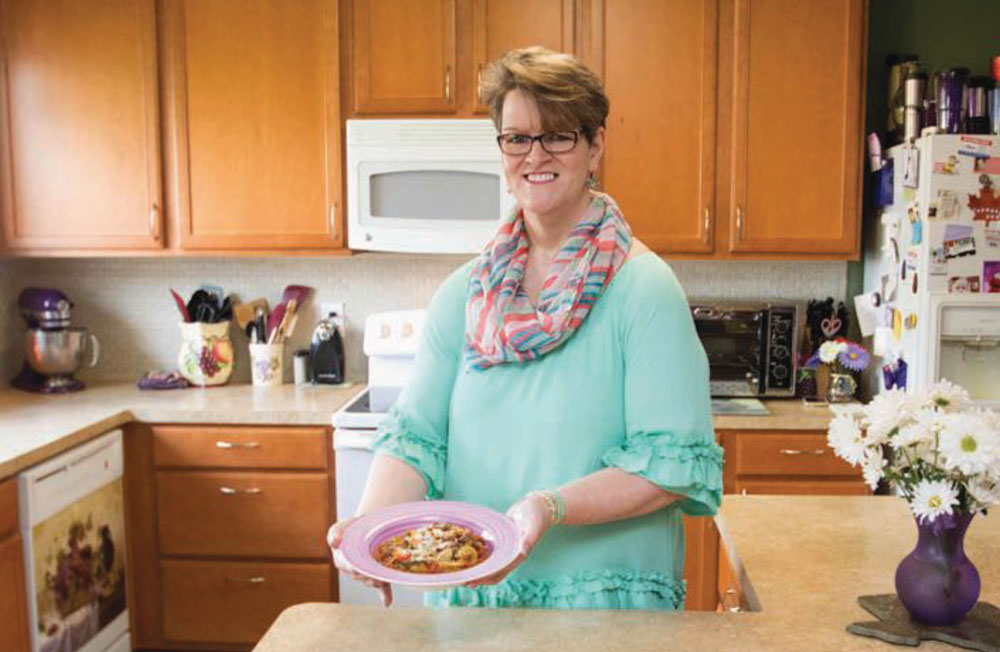 Garden Ragu
This, like most tomato-based recipes, tastes better the next day.
1 lb. bulk Italian pork sausage, ground chicken or ground turkey
1 onion, chopped
3 stalks celery, chopped
1 green pepper, chopped
1 red or yellow pepper, chopped
4-6 carrots, sliced (or a bag of shredded carrots)
1 pkg. fresh mushrooms, chopped
2-3 cloves garlic, chopped
2 zucchinis, thinly sliced
2 small yellow squash, thinly sliced
2 14.5-oz. cans Italian style tomatoes
1 16-oz. can black beans, drained and rinsed
Oregano, basil, salt, pepper, to taste
Cheese, shredded and/or Parmesan cheese, to taste
1. Brown meat in stove-top Dutch oven and drain.
2. Add remaining ingredients and cover. Simmer 30-45 minutes until vegetables are tender.
3. Remove cover; sprinkle sauce with shredded cheese. Serve over rice or noodles or eat plain.
Healthy Pumpkin Cheesecake
1 8-oz. pkg. Greek Cream Cheese, softened
1 scoop vanilla or unflavored protein powder
1 tsp. vanilla extract
1/4 cup plus 2 Tbsp. Truvia Baking Blend
2 eggs
1 15-oz. small can packed pumpkin
2 tsp. pumpkin pie spice
1. In a bowl beat cream cheese until smooth; add protein powder, vanilla extract and 1/2 of the Truvia. Mix well.
2. Add eggs one at a time; mix well after each one. Add pumpkin, remaining Truvia and spice. Mix well. Pour into a sprayed glass pie plate. Bake at 350 F for 1 hour.
Note: To prevent the top of the cheesecake from cracking, put a small oven-proof dish of water in the oven when baking. Serve with a dollop of whipped cream.
Quinoa Salad With Black Beans & Avocado
1 Tbsp. olive oil
1 cup quinoa, rinsed
1 3/4 cup water
1 avocado, chopped into chunks
1 cup cherry tomatoes, quartered
1/2 red onion, diced
1 small garlic clove, minced
1 red bell pepper, chopped into chunks
1 bunch cilantro, chopped
1 16-oz. can black beans, drained and rinsed
Dressing:
1 lime, juiced
1 lemon, juiced
1 Tbsp. olive oil
1/2 tsp. cumin
Salt, to taste
1. Warm the olive oil in a medium saucepan over medium heat. Add rinsed quinoa and toast for about 2-3 minutes until it starts to smell nutty. Add water; stir once and cover. Simmer for 20 minutes.
2. While quinoa is cooking, prepare avocado, cherry tomatoes, red onion, garlic clove, red bell pepper and cilantro.
3. When the quinoa is finished, remove from heat and fluff with a fork. Add black beans and toss to warm through. Let the quinoa cool for about 5 minutes.
4. For dressing: While the quinoa is cooling, prepare dressing by combining lime juice, lemon juice, oil, cumin and salt. Whisk it aggressively. Adjust seasoning as necessary.
5. Add vegetables and dressing to quinoa; mix. Great served warm or cold. You can also add cooked diced chicken or turkey for a complete meal.