The 21st century ushered in revolutionary economic and technological advances, and some would argue these advances helped reduce the stability of the American workforce.
Young adults are learning to adapt to this new normal, and have started to reject the notion that multiple jobs over the course of a career signifies a lack of stability. Many have decided to forge their own career paths, and Cicily Pettigrew of Glenn Heights is among them.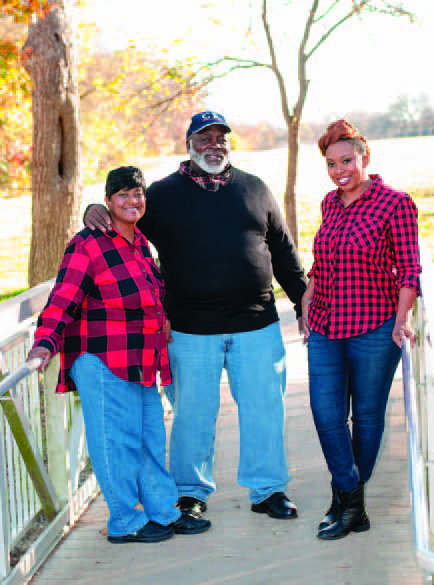 Cicily has always loved art. "As far back as I can remember, I was always drawing, painting and showing everyone what I'd made with my Play-Doh," she shared. Cicily's mother, Sylvia Pettigrew, also noticed her daughter's love of art. "Cicily loved to draw and color in her coloring books," Sylvia shared. "Yes!" Cicily agreed laughing. Sylvia still has a drawing Cicily made when she was about 5 years old. "She drew me and a co-worker going to the mall," she recalled, smiling.
When Cicily was in middle school, a budding knowledge of entrepreneurialism began to emerge. In seventh grade, she was a student at Harry Stone Montessori in Dallas. During this time, she was introduced to graphic design and taught herself how to make calendars. "I'd take pictures of people and their families, go to the store and find design software to create custom greeting cards, which at the time, were on CDs."
But when Cicily learned to make business cards, she quickly realized she was on to something. "A lot of my teachers and other staff members would have businesses on the side. My home economics teacher had a catering business, and our school secretary did taxes on the side. So, I would make their business cards for them," Cicily explained.
She knows that her work back then was that of a child, but she still appreciates being given the opportunity. "It was a positive start for someone so young, and it encouraged me to continue learning," she shared.
At the time, Cicily didn't realize she was exhibiting characteristics of an entrepreneur. "I just knew that if I was going to make something, I needed to know how much it was going to cost me to make, and what to sell it for so I could make a profit," she said. When Cecily entered high school, she attended Yvonne A. Ewell Townview Center. "There was a career program in the marketing cluster, so I took the graphic design courses," she shared.
Cicily's favorite teachers were Ms. Joycelyn Wilhite and Ms. Rochelle Simon. "They introduced me to more sophisticated graphic design programs like Adobe Photoshop and Illustrator," she stated. While in high school, Cicily also discovered that she had a gift for leading people. "I've always had leadership roles," she shared. "I was always serving in some kind of official capacity." She recalled one leadership role in particular because it's how she discovered she possessed initiative. "When I was a senior in high school, I served as the DECA secretary for District 7," she said. DECA is an international organization that is "preparing emerging leaders and entrepreneurs to be college and career ready," per their website. "The DECA District 7 president also attended my school, and our principal sponsored both of us to attend the national  DECA competition in California," Cicily said.
The school paid for their airfare and accommodations, all Cicily and her classmate needed was their own spending money. Two more admirable character traits emerged — independence and initiative.
Cicily didn't want to ask her parents for spending money. "So, I decided to sell candy bars out of my backpack, and I learned that it's really easy to sell if you're selling something your customers want," she shared wisely. By the time she was getting ready to graduate from high school, Cicily knew she didn't want to go the traditional route of working for someone else. There was a brief period of time when she entertained the thought of pursuing a career in sports and entertainment marketing, with dreams of working for either the Dallas Mavericks or Disney's marketing machine.
After graduating from high school, she enrolled in Cedar Valley Community College. "I wanted to learn more about creating designs, rather than persuading someone to buy something." There was also a practical basis for her decision. "I had to pay for my degree, so I wanted to pay for something I didn't know." Cicily had studied marketing for four years in high school, which provided her with a solid foundation in the fundamentals of that subject. "So I said, 'Why not just focus on what I really enjoy doing?'
And that was design," she explained. Cicily decided to major in art. "I learned the fundamentals of art in drawing, painting and ceramics," she said. She finished her associate degree, and then enrolled at the University of North Texas in Denton to continue her art studies. And her experiences while a student in Denton cemented her decision to work for herself, thanks to a combination of having existing relationships with many students who also attended UNT, and the very active Greek organizations on campus. "I found myself doing a lot of freelance work, and I designed lots of invitations and flyers.
From word of mouth, Cicily found herself being busier and busier. Cicily's biggest opportunity presented itself when her father, Mr. Willie Pettigrew, decided he wanted to retire from running Uncle Willie's Pies, Bakeshop and Catering. Cicily was the ideal candidate to take over because she'd been helping her father in the kitchen since she was 4 years old. "I was 21 years old at the time, so I told him to give me one year to finish school, and I'd take over for him."
And in 2011, she graduated from UNT, cum laude, with a Bachelor of Fine Arts, concentrating in drawing and painting, and she's been her own boss ever since. "I can't say that it is all me," she shared modestly. "I have a huge faith in God, and when the opportunity presented itself, I had to be fearless, and not focus on what I couldn't do. I chose to focus on what I was capable of doing." Cicily credits her parents with teaching her to value her independence. "I'm blessed to have them in my life. And her pastor, Rev. Mack T. Flemmings, was another big influence. "He would tell me that you have to have confidence and not settle for anything," she stated, smiling. "I have goals, and I have standards," she shared proudly. And there is no need for her to apologize for having either one
Written by Dianne Reaux.