When entering the home of Raymond and Dotti Holman, the tantalizing aroma of barbecue beckons the taste buds to indulge in meat so tender it brings new meaning to the words "melt in your mouth."
Entering about seven competitions a year, the Holmans have mastered the art of barbecuing. It all started when Raymond's nephew, Chad Dennis, helped him build a pit he could pull behind his motorcycle. "I didn't know much about barbecue then, just how to cook a brisket," Raymond recalled. They lost this first pit when the pin came out as they were driving down the road.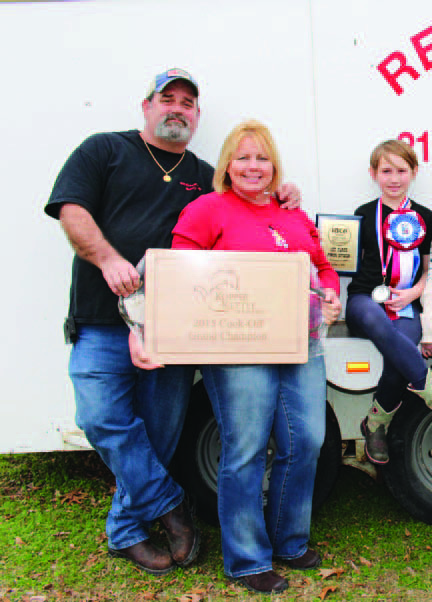 Before they could get it towed, it was stolen. Raymond then decided to build his own barbecue pit. He now pulls his new pit behind his truck to wherever there's a catering event or competition. On this pit, he and Dotti began experimenting with various kinds of meats. Dotti developed her own, unique barbecue rub. Each competition has helped them strive to perfect the taste and tenderness of their meat.
"We've met a lot of good cooks," Raymond recalled. "A man who was Top Nine in the State of Texas gave us some great tips because he was so impressed with Dotti's sauce and rub." They named their business and pit Redneck BBQ after a favorite song of theirs by Blake Shelton, "Boys 'Round Here," which highlights being a redneck.
Many times while at competitions, the pair will refer to themselves "as red necking it." Spending hours at each competition is commonplace because the meat has to be cooked from start to finish on the property where the event is being held. Raymond and Dotti bring their trailer, so they can stay by the cooker for long periods of time. "One time, a man who had won many competitions seemed to get upset with us when we won the competition," she remembered, referring to the fact that he came in a large rig and had a costly cooker, while they were competing with a self-built, less expensive cooker.
The Holmans' grandkids were present and accounted for when they won the competition.
It was a great time with family. Raymond and Dotti are members of the International Barbeque Cookers Association, where they pay annual dues. They have competed in events from Arlington, Texas, to Durant, Oklahoma.
They try to average about one competition a month. They placed third in the first competition where they had a big win. Needless to say, it was quite an award considering the level of competition that was around them. They hope to one day compete at the national level in Las Vegas. They have won monetary awards, as well as ribbons and plaques. Their home is a testament to the awards they've won and includes a beautiful cutting board.
"Competitions are very strict," Dotti said. First, the meat has to be brought to entry where it is inspected. Nothing can be done to the meat until it has been onsite. Entrance fees must be paid, and then each contestant is given the exact time to turn in their cooked entry along with three Styrofoam take-out trays with a ticket taped to the side.
There can be no name on the outside. When it's time to turn in the barbecue, the size of each entry must be exact so every entry looks the same. No sauce can drip or be in the tray, it can only be on the meat. "This way, the barbecue is judged strictly by flavor and tenderness, not by the various ways it can be dressed," Dotti added. One of the key ways to make sure meat is tender is to use a thermometer. Raymond and Dotti took a class on food safety, and from that class, they learned the correct temperature to cook all kinds of meats.
"A lot of people overcook their meat, which makes it tough," she shared. "With a thermometer, you can tell when it has reached the correct temp without guessing." One of Raymond's key elements to good brisket is to "wet age" it.
To wet age means to leave the meat in a fridge below 40 F until it turns a little brown on the edges. "Of course, you must keep the temperature just right, or the meat would not be edible after 30 days," Raymond instructed. "Most of the top steak restaurants have that delicious, tender meat because they allow their meat to wet age." This is also why it may be so expensive. They have competed by cooking chicken, pork spare ribs, brisket and beans. "We would like to begin cooking steaks for competition in the future," Raymond stated.
One of the most interesting creations Dotti has made is her smoked brownies. She actually cooks brownies on the pit. "They have a delicious, sweet, smoked flavor," Dotti said. Her brownies have become a traditional feature of their competition life. Their granddaughters are following in the tradition. Both Brooklyn and London competed in the Mesquite Rodeo cook-off and placed fifth in the state. Jocelyn, just 8 years old, won first place in the IBCA competition at Traders' Village. Before recently moving to Midlothian, the Holmans lived one block from AT&T Stadium in Arlington. Raymond and Dotti would cook barbecue in their front yard. People who would park out and away from the stadium would stop and purchase the barbecue.
They remember it being exciting to meet new people and see them enjoying the food. They even cooked deer meat outside the Super Bowl. "Every competition we have entered has sponsored a cause or charity," Dotti said. "The proceeds from the competitions we have entered have gone to causes such as veterans and children, and we participated in the Cops 4 Kids Cook-off." While Raymond works outside the home managing a transmission shop in Ft. Worth, Dotti is a homemaker and spends part of her time volunteering at Manna House, Midlothian Healthcare Center and at their church. They not only compete in cook-offs, they give back. Raymond and Dotti may call themselves "redneck," but they are also "sweet country."
Their hospitality brings a special warmth to the delicious food they prepare. Friends and neighbors love it when they compete because they bring the food home and share it. "I want my cookin' to be the best every time I cook it," Raymond confessed. They have already entered their first competition for 2016. It will be in Ft. Worth later this month. They have a dream of one day opening a restaurant where their "art of cooking" can be shared with many.
Written by Debbie Durling.