As the weather warms, the crack of baseball bats will soon begin to sound.
It's time for youth league players to step up to the plate with confidence and begin making positive lifetime memories. Serving as president of the Mansfield Youth Baseball Association since January 2008, Kevin Lewis and fellow board members have made many changes over the years.
As a result, MYBA has become one of the largest youth baseball leagues in Texas and the United States. "I'm really proud of what we've put together for the kiddos in this area," Kevin said. By the time the league begins its spring schedule of play in March, about 2,300 players are expected to have registered on about 165 teams.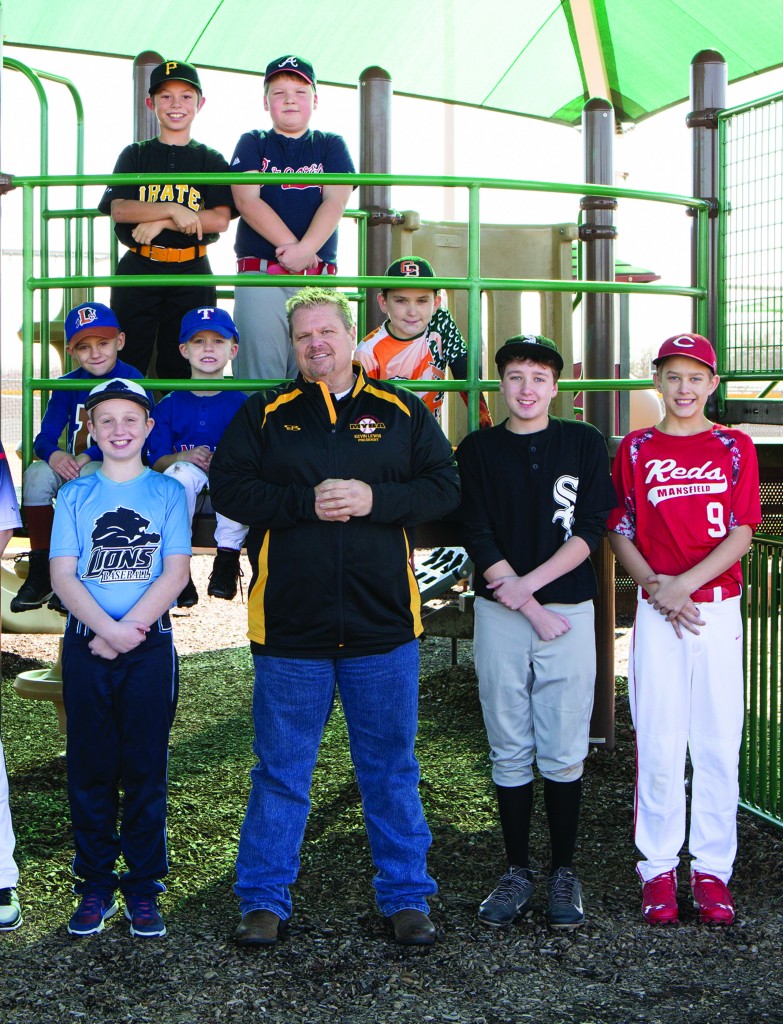 Other numbers are equally impressive — about 5,000 family members to cheer on the players, team moms and coaches, a corps of paid umpires, staff members and an active board of directors and commissioners — will all gather with one mission and motto: "It's All About the Kids." Kids from ages 4U to 16U will gain more than just the skills to play and/or enjoy baseball for the rest of their lives. "Baseball is an experience, and we want these players' experiences to be great in Mansfield. We promote great sportsmanship and ethics," said Kevin, or "Mr. Baseball" as he is called by some folks after all these years.
Kevin became involved as his son, Zach, began his years of playing in the league at a very young age. His predecessor in the president's position warned Kevin that it would take up a lot of time, and his phone would ring constantly. "He was right. In those early days, my phone blew up with every kind of question that could be asked," he said. "I knew things had to change."
A vice president of operations for Taco Bueno Restaurants, Kevin combined his knowledge of baseball from his youth with his knowledge of successful business practices to begin changing the climate of MYBA, to make the president's position manageable and to make the organization financially stable. With the help of fellow board members, areas of responsibility and accountability were formed.
A complete overhaul of the association website was in order, and they began loading most of the answers to every question within an easy-to-find site. The site also includes links to team websites and player/coaches' pages, which are used to connect players and coaches. "That worked wonders," Kevin revealed. "Now being a board member isn't overwhelming, and we have established a good communication system that is informative."
Current sitting board members are President Kevin Lewis, Vice President of Operations Duane Burt, Vice President of Fields Neal Shaw, Secretary Chris Raines, Vice President of Equipment Mike Mills and Treasurer Jenni Witteveen. Before each season starts, mandatory meetings take place. "We explain the rules and regulations, educate people and, basically, lay the groundwork for success well before the season starts. We tell people to email us unless their issue is time sensitive. Then call us," Kevin said.
The board revamped the commissioners who are encouraged to "own" their individually assigned age grouping of teams. "They are the first point of contact. Each commissioner is responsible to make sure the fields are open and ready and to stay on-site to handle game-day problems," Kevin said. Commissioners, who wear green safety shirts, are easy to identify during games. The marketing of the league is being cut back to avoid growing too quickly. "We've seen about a 10-percent growth each season, but we have reached the point that we don't have enough area fields on which to play," Kevin stated.
"We still try to avoid games on Wednesday night and Sundays, but it's hard and even becomes more challenging when we have to reschedule games due to weather." The league uses three area complexes — two of which are owned by the city and one that is operated by a private for-profit.
"We have a good relationship with the city's Parks and Recreation Department," he added. "We've bought all new scoreboards and provided hitting stations at the city's parks. These improvements become permanent fixtures owned by the city." Kevin researched the concessions and made changes that made them profitable enough to hire paid staff.
"We became heroes with the parents, who no longer had to work the concessions," Kevin said. The concessions also fund hardship scholarships, covering the expenses for about 15-25 players each season.
"Those kids probably wouldn't play without this program," Kevin said. Parents can completely register their players online. "We have digitized the process into a well-oiled machine," Kevin said.
There are three skill-level divisions that provide a place to enhance every player's interest and ability. First-time players begin in the recreational division, and more experienced and serious players rise to AA divisions. The rec division draft is handled completely electronically and is totally random. Officials are trained and certified by the league's director of umpires.
They start officiating with the recreational group and work upward with experience. "We pay our officials and have a lot of father-son teams. Many of them are former players," Kevin explained. "MYBA is sanctioned by USSSA Baseball, a national organization that plays straight-up baseball. "Although board members are not compensated, we do have a few paid positions, including our director of tournaments and director of umpires, which are time-consuming and demanding positions. MYBA sponsors the Kyle Lewis [no relation to Kevin] Memorial Tournament each year honoring a fellow 7-year-old player who died suddenly from a parasitic amoeba infection. Players from the Texas Rangers sign autographs, and Kyle's family does a lot to educate attendees about the dangers of the disease," Kevin said.
Background checks are required for anyone who works with the players or takes the field. "Parents have the list of approved people on the website. They are very watchful from the stands," Kevin said. "We also don't put up with dishonesty, conflicts of interest or a culture of profanity." Zach has aged out of the program as have some of the other officers' sons. "We stick around because working with the Mansfield Youth Baseball Association is very rewarding. We've accomplished so much, but still have so much we want to do," Kevin said, as he looks forward to another great season.
Written by Virginia Riddle.