Morgan Lindsey, RN, is the mother of Levi, a 1-year-old boy born at Lake Granbury Medical Center. Before Levi came into the world, Morgan worked in the obstetrics and gynecology unit as one of LGMC's nurses. With her husband, Eric, Morgan planned for a healthy family — and their vision involved books. They each experienced their own worlds expand through books, and they wanted their child to inherit the same resource of literacy. They also discovered research, proving a link to emotional, social and mental intelligence in children who were read to in utero.
In the summer of 2014, Morgan was expecting Levi and learned from another nurse — who read, sang and played classical music to her babies while they were developing — that continuing the stimulation after delivery helps infants understand their parents. "She also pushed that it was important to read to babies and talk to them, but not using baby talk," Morgan said. She now helps Levi learn how to talk by looking at him and, using plain English, describing to him the action she is taking with him in that moment. From the time he was almost sitting up, the couple has spent time every evening reading short stories, an entire baby book or single chapters from longer books to Levi — a habit they began when Morgan was barely in her first trimester.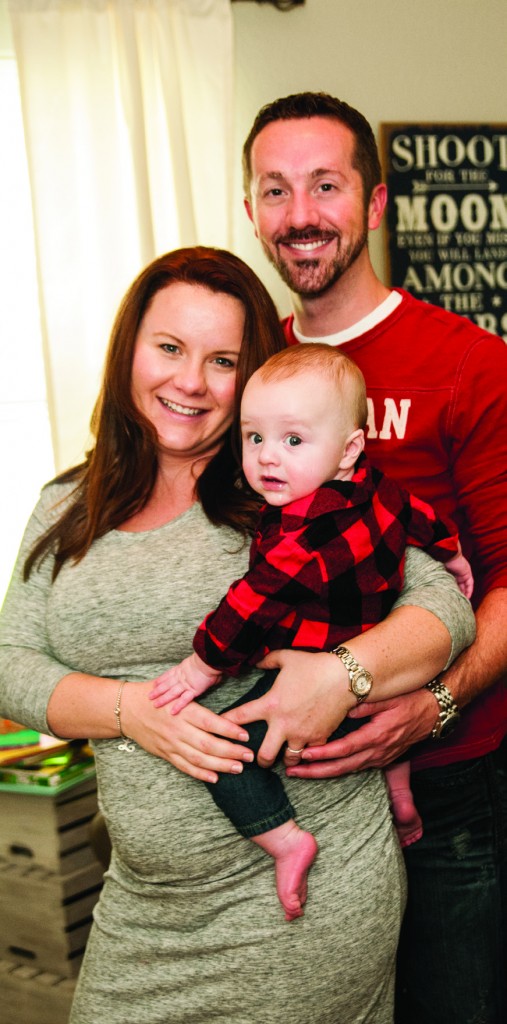 "My husband and I normally read in the evenings before we go to bed. So, Eric would play his guitar. We would sing and do all kinds of things with him," she said, recalling that Levi moved a lot in the evenings when he was still in utero. Whether he was dancing or not, Morgan doesn't know. Maybe evenings were the only time she was calm enough to feel the movements that seemed to coincide with the family's reading or singing. But now, they read to Levi while he's getting his bottle, and he follows the sound of the reading. "He will turn his head to see the pictures or whatever I'm holding," Morgan said.
"We'll play all kinds of music at home, and you can watch his legs moving, and he smiles and gets excited." When he is feeling agitated, music and words also help calm him down. Eric sings a song, "Little Levi, Little Levi, why are you sad? Little Levi, Little Levi, Don't worry, you're with your dad." Very quickly, Levi smiles and is OK. Every multifaceted moment Eric and Morgan spend with Levi teaches the boy skills for a happy adulthood. They provide him with books containing elements he can touch or feel or that make noises, as well as little books that have three words on a page with pictures. Novels work, too. She's reading a six-book series called Percy Jackson and the Olympians, a gift from her brother who thought  Levi would gain from the highly imaginative story laced with Greek mythology. Using a dictionary, Morgan looks up some of the Greek words, pronounces them correctly and then explains them to Levi.
The Lindseys' goal is to give their son different experiences, each promoting his ability to understand more of the world around him. Early childhood literacy is important to Morgan for very personal reasons. "My upbringing in Pasadena was very rough. We experienced violence and child abuse in our home. Reading books at school helped my brother and me use our imaginations to 'get away' from our environment without being able to physically do so," she said. Reading and education eventually allowed her to make a new life for herself by working, studying and becoming a registered nurse.
She is still in school, working toward her MSN, while maintaining a home filled with love for Eric, herself and now, Levi.
"I want to encourage learning and expanding your imagination and understanding every situation in life from different aspects, instead of just what you already see," she said, adding that Eric had a different home life. "His dad worked constantly to provide for the family, and his mother took great care of their three children. She's very intelligent and passed on her love of reading to my husband. His father read two or three books per night. That made it easy for Eric and me to push literacy for Levi and make it something important in our home."
Before Levi was born, they let friends know to bring books to the baby shower. Morgan's girlfriends made an invitation, with a photo of Eric and pregnant Morgan accompanied by a message saying: "One small request that won't be too hard, please bring a book instead of a card. Whether Cat in the Hat or Winnie the Pooh, please sign the book with a note from you!" Now, every book Morgan opens to read to Levi contains an encouragement from a friend.
Many people in Granbury desire to give that gift of literacy to every child. LGMC nurses partner with two community groups to give books to every baby born at the hospital. Morgan, like all mothers of children born at LGMC, received two goodie bags. The precious gift from the Granbury Lutheran Church included a book, a bowl with spoon and a hand-crocheted cap for Levi. The Reading With Baby bag from Friends of the Library for Hood County contained a book and a pair of socks plus gifts intended to encourage patronage of the public library.
Tucked into the front cover of the book, there is always a library membership card, so mothers and fathers can check out baby books. The card has a space where mothers can write their baby's name. Friends of the Library's goal is to inform Hood County residents that the library is a source of education, information and entertainment. The English and Spanish language gift bag also includes a brochure with tips on reading to your baby. "I loved reading to Levi when he was in the womb, and to know that these people all got together to make these gifts has so much meaning," Morgan said. She pours similar love on all the mothers and babies she works with in her current position as the patient educator in Lakeside Physician's OB/ GYN clinic.
Educating patients about what to expect in labor and with their babies, Morgan works alongside LGMC Women's Services director, Rebekah Butler, RNC, producing a monthly workshop for mothers before 30-week gestation. The Birth Day Planning Class covers everything from breastfeeding to the period of purple crying. A later Child Birth Class is taught by a labor delivery nurse, Nettie Davis, with special guest, police officer Dub Gillum, who focuses on car seat safety. While at her desk, Morgan sits on an exercise ball, to strengthen her posture. But in the evenings, she goes home to her cushy chair-and-a-half that rocks. Here, she snuggles with Levi and Eric. Still teaching, still learning, Morgan will always be turning the pages while loving her family.
Written by Melissa Rawlins.