The first thing a visitor to Art Del Barrio's office sees is a large Ennis Lions football poster that reads, "We don't hang it up after five rings." Art proudly designed the poster, and beyond it, in an overstuffed office, he spins multiple plates — first kneeling at a low, secondary computer tapping out event postings, next, juggling phone calls and, finally, managing multiple projects on huge planning boards.
As the communication officer for Ennis ISD, and as the new executive director of the Ennis ISD Educational Foundation, Art is focused on a vision for future education in Ennis. "We want to think outside the E," Art explained with a smile.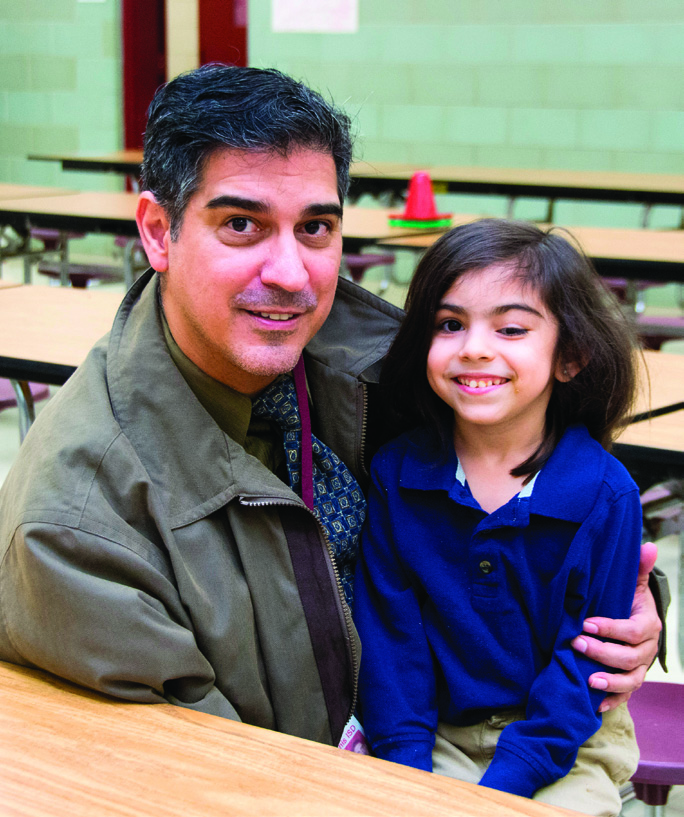 As the captain at the helm of the education foundation, Art hopes thinking outside the E will lead to more funds for the Ennis schools, with a special focus on innovative teaching practices. And as communication guru for the district, he churns out videos, manages social media, handles press releases, issues the weekly pride page, does graphic design, creates ads and snaps photos when he can. In other words, Art is a busy man.
But Art's schedule doesn't dampen his passion. And as far as the education foundation is concerned, he has big dreams. "As an organization, we want to reach new pinnacles and provide educational programming that may not otherwise be funded with limited state funds," Art pointed out. The foundation came to fruition in February 2014 and was established to support all Ennis ISD campuses, teachers and students with dollars that are otherwise not available through state and federal funding. In April 2015, Art attended a training conference hosted by the Texas Education Foundation Network.
The purpose of the conference was for school education foundations to meet, collaborate and learn from each other. For Art, this conference was pivotal. "I came back with a wealth of knowledge," he stated. Art used the new knowledge to establish structure for the foundation. Employing the seminar's managerial chart, he began setting up four committees for the Ennis foundation — the program committee, the finance and governance committee, the marketing committee and the development committee. And each committee has an important job.
But the goal of all of this management is to eventually bring the foundation to a place of financial self-sufficiency via an endowment fund, which is an investment pool set up by an institution and managed so that the principal amount is kept intact, while the interest is available for use, funding the association. When Art says the foundation wants to think outside the E, he means just that. "We hope to seek funding from bigger foundations or larger corporations and creatively ask ourselves how we can bring in money without only tapping into Ennis donors," Art revealed.
Each year, the foundation distributes money to schools via grants for a particular purpose, awarded to individual teachers, groups of teachers or to a school campus. This past year, the foundation gave out over $51,000. This money was divided several ways. For example, $4,800 was set aside to help new teachers get their classrooms up and running, split evenly between 18 lucky recipients.
Among the unique grants funded were a Crime Scene Investigation (CSI) program and art tables to the Ennis High School; a Weatherbug grant awarded to Sam Houston Elementary, which sets up a weather network for the students to analyze weather data from around the country, as well as submit data collected in Ennis; a Science, Technology Engineering and Math (STEM) lab presented to Bowie Elementary; and an Ears in Reading technology grant given to Austin Elementary, allowing students to listen to books and follow along with their eyes. For those interested in applying for a grant, the grant calendar began in December when representatives met with all campuses, to inform them of grant availability.
By January 4, the grant application was available online. Also in January, the foundation hosted two grant writing workshops, so teachers could learn how to structure their application and put the grant together correctly. February and March are times to come up with an idea and research cost and feasibility. This period is an opportunity for teachers to be creative and ask themselves, "What can we do to help our students?" The grant applications are due by April 1 of each year. Once the grants are in, the program committee meets to rate the grants, using a set rubric for evaluation. "If grants are written with students in mind, and if it looks like it's going to help the students and falls in line with district curriculum, the board wants to fund it," Art emphasized. "Our board is a group of great leaders, who share the same vision and care for the future of Ennis ISD."
But back to those spinning plates, vision for the education foundation is not Art's only thought. When he puts his communication officer's hat back on, he sees green of a different kind. In the overstuffed office, there is a green screen on the north wall, a testimony to Art's desire for a weekly webcast news report, coming sometime in the future. His goal of starting by January 2016 was put on hold to make room for education foundation work, but Art is not deterred. "The idea is to broadcast the newscast via our YouTube channel," Art noted. "I already have a virtual news set. I already have the lights. I have an editing program, and with my background in radio, I can really just wing it. I used to do news reporting and high school football games on radio."
And the mention of YouTube brings up the social media presence that Art doggedly developed. "The expense of your own channel is prohibitive, but YouTube is free and social media is free, and it is a very effective method of communication when used properly," Art asserted. In fact, in Art's short time with EISD, activity on the district's social media accounts has doubled. Speaking of background, Art grew up in Mission, Texas, the home of Tom Landry. Art went to Mission High School, where he ran track and played basketball. He earned his degree in broadcast journalism at The University of Texas-Pan American in Edinburg, Texas.
He is a single dad to Marliee, age 7, a first-grade student at Sam Houston Elementary. As to that vision for the education foundation, which Art is calling Legacy 2036, he reiterated the importance of the endowment fund. "We want to have a goal that by 2036, we have $2,000,000 in the endowment fund. If invested properly, a yield of 4 percent will generate $80,000 a year to give out," Art observed. "And that's exciting!" 
Written by Stephanie Marchbanks.