Mary Love Sander's family roots run deep, from Corsicana northward to Dallas. She has remained involved in Corsicana in many ways, most of which reflect her interests in archaeology, genealogy, history and the arts.
"I would have majored in archeology in college, but my family thought if I did, I would end up in some crazy place on a dig and never come home," Mary Love quipped. "I was surrounded by plenty of relatives here and in Dallas," Mary Love said.
A descendent of some of the first settlers of Dallas, Mary Love's grandfather, Lewis T. Carpenter, was a prominent lawyer and businessman in Corsicana and Dallas, so she grew up in both cities.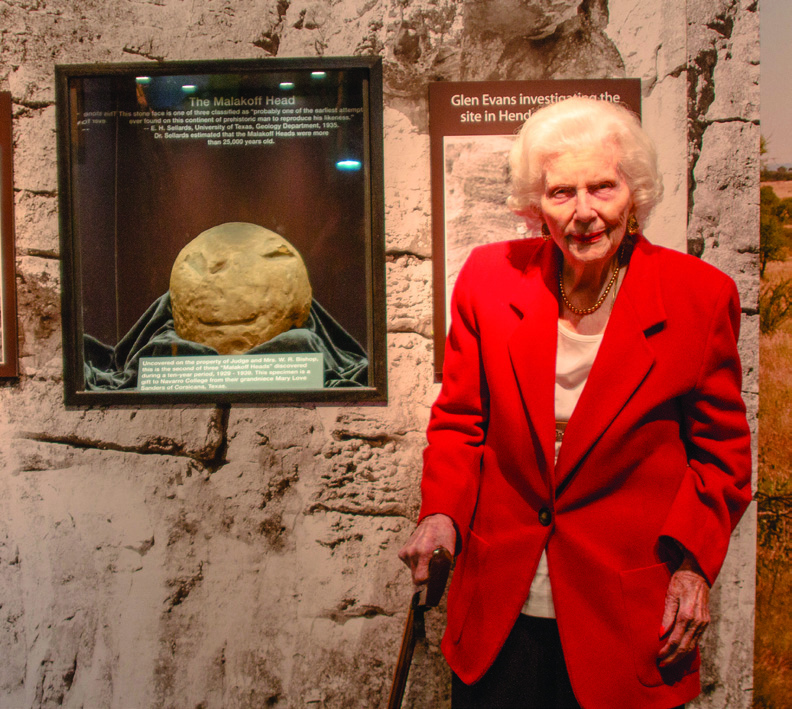 A fondness of music was fostered in Mary Love by attending Dallas operas and ballets with her mother and father and through taking piano and music lessons. Childhood summers spent in New Mexico involved enjoying the out-of-doors on a ranch. Mary Love had recovered from malaria, but doctors had advised time in the cool, dry climate of New Mexico.
"I grew up on a horse, practically, and had a pretty normal growing up time," Mary Love recalled. After attending Corsicana High School and graduating with honors from Highland Park High School in Dallas, Mary Love attended Sweet Briar College in Virginia. She returned to Dallas to attend Southern Methodist University and earned a B.A. in English and history.
Her interests in archaeology were furthered with summer school at SMU-in-Taos (NM) at historic Fort Burgwin. "I have good memories of my time spent in New Mexico," Mary Love said. She returned 30 years later to SMU, commuting from Corsicana, to earn a master's degree. Mary Love married Lynn Sanders Jr. in 1942, and together they raised two sons, Lynn III and Ted, in Corsicana. "We were both from Corsicana, and neither of us could ever remember our first meeting. We were engaged a good while," Mary Love recalled.
"He had gone into the U.S. Army, and World War II started." While her husband served as an officer in the China-Burma-India Theater during the war, Mary Love volunteered with the Red Cross and the American Volunteer Service. Post war years found the couple busy raising their family, working and becoming active in their community and church, First United Methodist of Corsicana. Lynn was the owner of Sanders Grain Company. Mary Love became an active Cub Scout den mother and volunteered through memberships in James Blair Chapter, NSDAR and the Navarro County Historical Society.
She also maintained her interest in archaeology through memberships in the American Archaeological Society, the Society of American of a collection that includes over 15,000 documents from the Civil War era. In the Hunters and Gatherers from the Blackland Prairie exhibit at the Cook Center, a Malakoff Man head, donated by Mary Love, is prominently on display. Mary Love donated the head to Navarro College, and it was previously displayed at the Sanchez Library on campus. One of three Malakoff Man heads found between 1929 and 1935 on land then owned by Judge William Richardson Bishop and his wife, Jessilyn Carpenter Bishop, the head was bequeathed to Mary Love, Jessilyn's grand-niece. A dig, conducted by The University of Texas and Works Progress Administration in the 1930s resulted in the finding of the third head, but no other artifacts were found, leaving the authenticity of the heads one of the greatest archaeological mysteries in Texas, since the site now lies underneath the waters of nearby Cedar Creek Lake. In 1970, a Texas Historical Commission roadside marker was erected on State Highway 31 near Trinidad commemorating the nearby archaeological find. The other two heads found by UT became part of the Texas Memorial Museum's collection and were transferred in 2002 to the Texas Archeological Research Laboratory.
"I was able to see them on display in San Antonio and Austin," Mary Love remembered. Whether the heads are ever proven as being genuine, or fraudulent, or simply as geological oddities, they have provided controversy within archaeological circles over the years. The two heads once owned by UT have joined Mary Love's Malakoff Man head at the Cook Center. "I think the college has done a good job with the artifacts I have donated to them," Mary Love said. Mary Love keeps a busy schedule accompanied by Angela Rhymes. Angela is such a help.
She can talk about anything, remembers everything and brings so much comfort to me," Mary Love said. She enjoys time spent with her family which now includes daughters-in-law, three grandsons and "a bunch of great-granddaughters" and cousins. She continues to play the piano at home. Mary Love and her family were recently honored by Citizens National Bank in July 2015 for their banking and community contributions made to Corsicana. It was also a time of remembrance of her late husband, Lynn Jr., and her late son, Lynn III. "I have a happy life," Mary Love said. "It is filled with a lot of happy times and plenty of family."
Written by Virginia Riddle.