Preserving the past is no small feat when the specimens tower two stories overhead and stretch 30-plus feet long. Dr. Art Chadwick and David Stair make it their mission to put into safekeeping as many dinosaur bones as they can excavate from eastern Wyoming hillsides.
At the headquarters on the campus of Southwest Adventist University in Keene, educating people about prehistoric relics is Dr. Chadwick and David's motivation. Encouraging adults and college students down to primary school students to get involved with discovering the past drives both men to forge ahead. Currently, their enormous task is opening a dinosaur museum in Sales Hall. Scheduled to open in the spring of 2016, the dinosaur museum and discovery center will showcase many of their important finds and allow kids to have hands-on exploration.
Dr. Chadwick holds a Ph.D. in molecular biology. He studied geology at the University of California and was a professor at the University of Oklahoma in the 1970s. He came to Texas to the Southwestern Adventist University in 1983, where he was chairman of the biology department for over 20 years before becoming a research professor. In 1996, the owners of the Hanson Ranch in eastern Wyoming sought out a scientist who was also a creationist to discover the secrets peeking through the landscape they knew existed on their ranch. "I was researching fossil whales in Peru when I got the call to come to Wyoming," Dr. Chadwick explained.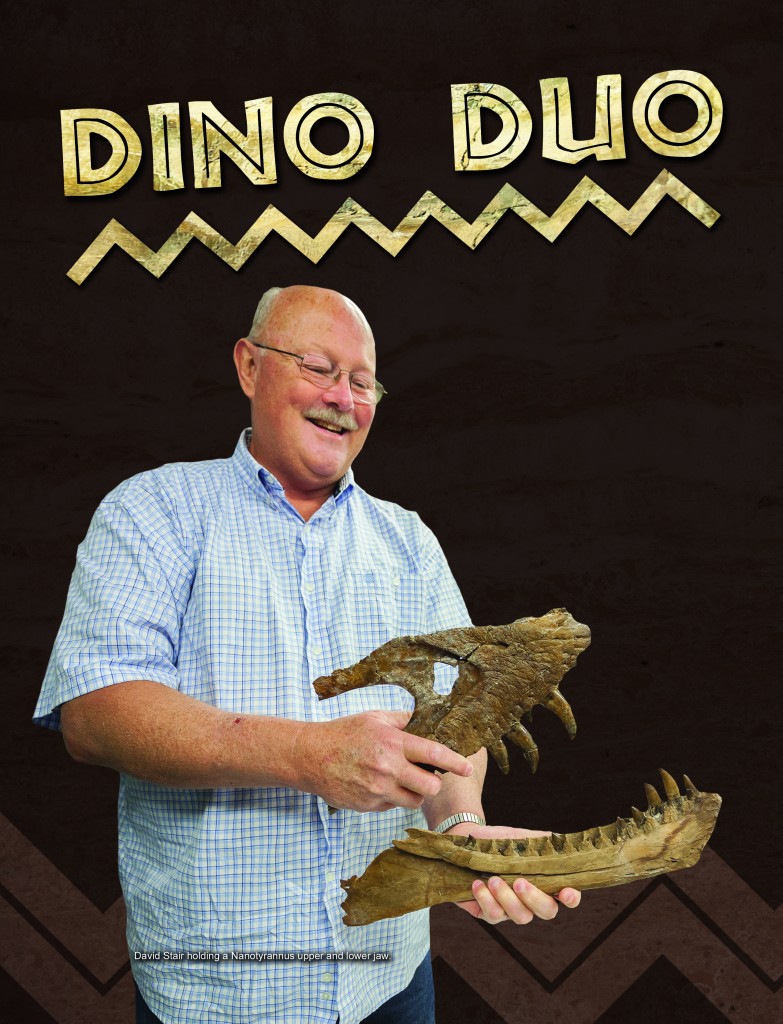 "While visiting the site, I was stepping on dinosaur bones. They were everywhere. I decided to preserve as much as I could from this location." The Hanson family agreed to allow Dr. Chadwick and SWAU to work on the site, and he has been leading the dinosaur project ever since. It was important for the Hanson family to find someone who held biblical views on origins. Since 1997, geology and paleontology classes, as well as people from all walks of life, have traveled to the dig site every June to participate in an active research project while gaining hands-on education.
David, at the time a teacher and principal, also became interested in preserving bones. "I received three degrees from SWAU. I was an upper elementary grade teacher and principal in several places including Jefferson, San Marcos, Arlington and Burleson," David said. "When I retired, I was the upper grade teacher and principal of the Joshua Adventist Multigrade School on Highway 917, east of Joshua. I took a paleontology class at SWAU while working on my master's degree in elementary science." David became involved in the preservation of the bones, and in his free time — when not fishing, oil painting or completing honey dos — he goes to the lab to clean bones with an air chisel and repair bones with special glues and epoxy.
Dr. Chadwick created a class for college credit for students to travel to the Hanson Ranch Research Station in eastern Wyoming to gather specimens found at the dig site. "I went 11 years," David said. "The first students stayed in tents, had no showers and cooked on campfires. Now we have super meals and hot/cold showers." Using dental tools, students scrape through tons and tons of dirt to find fossils. When one is discovered, the specimen is carefully described, measured and drawn in a field book, mapped with GPS to save its exact location and photographed. It is given a number that can be found on a topographical quarry map. Most bones (over 10,000) can be seen in 3-D on a program Dr. Chadwick pioneered and developed for the lab.
Specimens are carefully packed or encased in plaster jackets and shipped to Keene, where they are cleaned and catalogued. "I've been told we have the best classification system around," David said. "Each card tells the exact shelf or cabinet and which drawer the specimen is located in." The bones are scattered across several acres. It is like someone dumped out a 20,000-piece puzzle. The bones are concentrated in certain areas of the ranch. Experts think they were washed into this location by a tsunami, creating a mass grave site. Since the team has mapped the bones, they have made an interesting discovery. "The bigger bones are [deeper] in the ground and the smaller bones are on top," Dr. Chadwick said. "We are like crime scene investigators."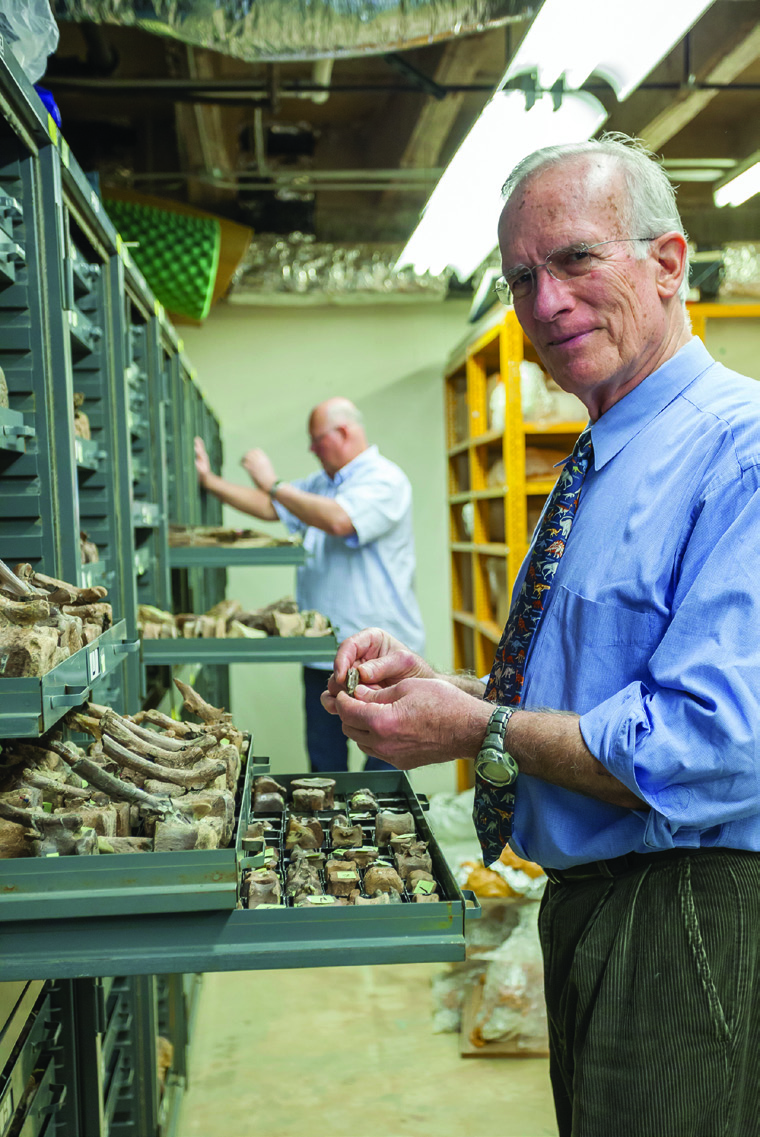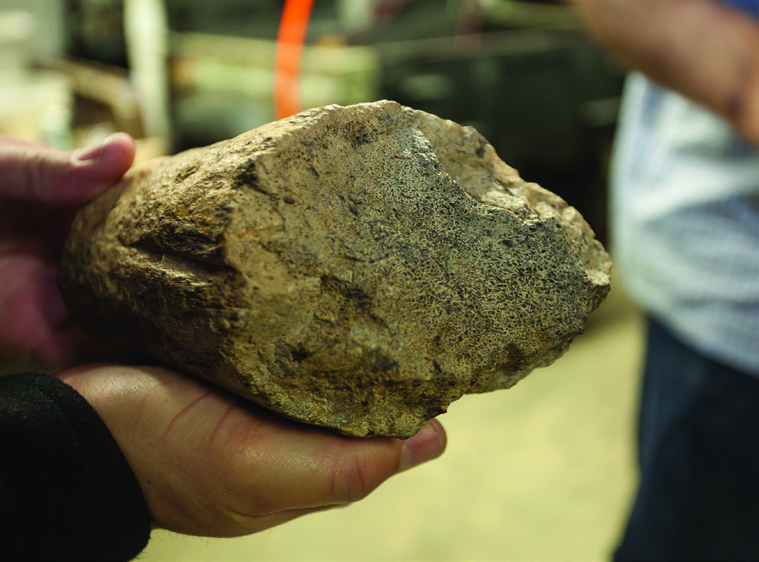 So far, they have recovered over 20,000 specimens from about 20 different species. Some of the most important dinosaur remains and best preserved bones have been discovered at the Hanson Ranch. Several network shows, such as National Geographic and Focus on the Family, have come to film the best specimens. Some creation documentaries have featured their work, their dig sites and bone labs. The most abundant species found is the duck billed dinosaur, Edmontosaurus. They vary in size but are typically 20•25 feet tall. "The largest femur we have found is 54 inches tall," David said.
A Triceratops named Caleb is an impressive specimen. David is presently restoring the skull. "Caleb's skull, nose to frill, is 7 feet long, the two large horns are 36 inches," David said. "It's like working on a puzzle." Caleb's femur is 42 inches long. A Nanotyrannus is represented by a most impressive upper and lower jaw. This is one of the best examples (second one found) in the world. A full size T. Rex is 30-40 feet tall, whereas a Nano is between 12-15 feet tall. Many great examples of dino relics in the lab came from a quarry where David found an exquisite Nano claw.
The quarry is now called Stair Quarry after David. Over the years, many interesting things have been found, such as a Nano bone with bite marks. "It is clearly a T. Rex bite," David said. "It is one of the most unique pieces we have." Other unique pieces involve abnormalities, such as tumors on spinal columns and bone growths. "I could not leave the collection in chaos," Dr. Chadwick said. "I want to organize the bones and make a home for them. I want to make a respectable display to educate adults and kids about science and, hopefully, motivate them to learn more."
The museum will have an auditorium for visitors to see presentations. They can watch preparators clean bones with air chisels. There will be hands-on activities, as well. Since the year 2000, this dino duo has worked together to preserve the dinosaurs, and they have become great friends. They go to schools, churches and Scout camps to introduce children to dinosaurs. Dr. Chadwick will continue to promote his findings, as he speaks all around the nation and at paleontology meetings each year. Dr. Chadwick and David are optimistic that they will continue to uncover some of the best dinosaur fossils in the world at the Hanson Ranch.
Written by Erin McEndree.