This month, a lithe seventh-grader from Crowley's H.F. Stephens Middle School will be in New York City.
Jillian Key is hoping to visit Juilliard, the college she's dreamed of since she was 7 years old. Her mission in The Big Apple is to perform in a musical called Look Up with a troupe of over 50 students from Joshua, Burleson, Crowley and many other communities surrounding Fort Worth. Jillian and the other actors and actresses have been fundraising and saving their allowance money since last fall to pay for their trip.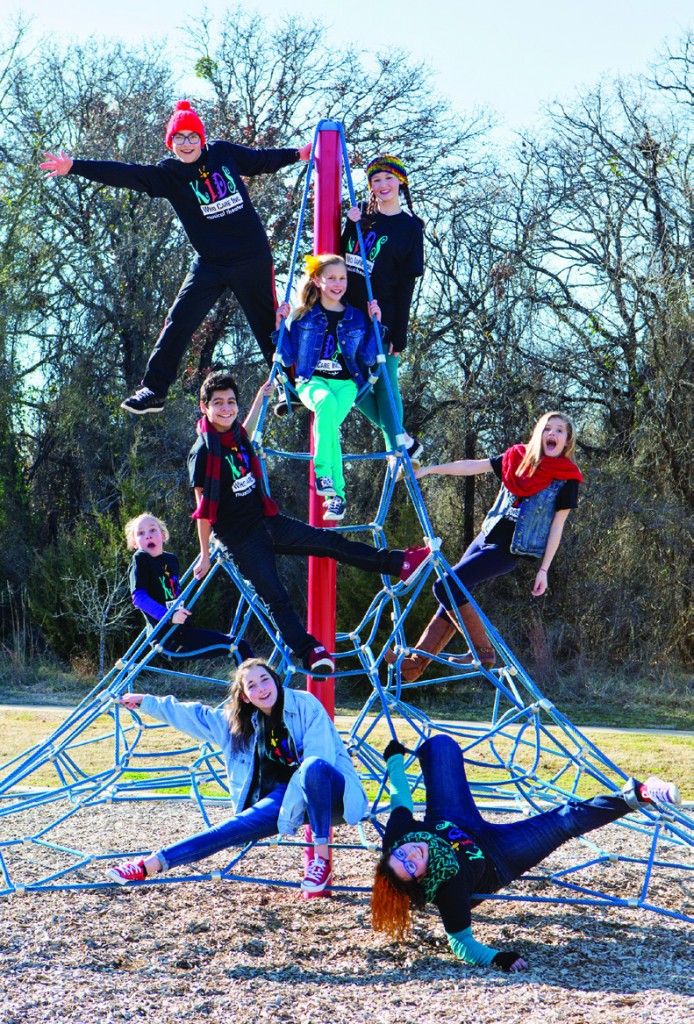 They've also been rehearsing to make an impact from the stage. Jillian has especially worked to overcome stage anxiety, which translates into a quiet, calm stage presence that does not always do justice to the passionate ideas expressed in Look Up, the musical written by Kids Who Care alumni, students, artistic staff, guest writers and associates — including award-winning filmmaker and spoken word artist, Gary Turk.
In fact, it is his essay spoken aloud in "Power Down Look Up," one of Jillian's favorite scenes in the production. This is the 22nd original work from Kids Who
Care, and during the emotional musical, audiences are treated to hilarious commentaries on technology-driven realities, such as the overuse of selfies, the value of emoticons and the plight of social media addicts.
Look Up was produced by the Kids Who Care 2015-2016 Resident Company. The students involved receive college preparatory arts training by industry professionals and have the opportunity to apply to be part of the KidPower Leadership training offered exclusively at Kids Who Care. The Resident Company has toured Look Up since September 2015, with performances live at the Scott Theatre, Sundance Square, Cook Children's Hospital and special engagements with the Fort Worth Symphony Orchestra. In addition to local performances, the company starts their study tour this month and will perform the musical in Manhattan.
"When I'm at home and there's nobody watching me, I will dance, sing and act so loudly, with so much energy. I'll even stub my toes on things, I'll just be dancing so much," Jillian said. "I want to do that on stage better."
Ever since she joined KWC last August, Jillian has received coaching in all of the performing arts, from dancing to singing to acting. She's growing in other areas, too, including time management, self-confidence and communication skills. The more tenured members of her troupe prioritize and stay organized, so they experience very little stress. Even when they travel to perform, they have developed methods for getting schoolwork done and maintaining excellent grades.
Alvaro Aguilar, a 15-year-old Burleson resident who is a student at Fort Worth Academy of Fine Arts, shares 10 hours of his time each week with KWC — not counting performances. "The people are so lovely and so talented," Alvaro said. "Kids Who Care gives me the opportunity to do what I love — make people happy." Through three years with KWC and encouragement from family, Alvaro has learned how to manage his time to rehearse, take additional dance and vocal classes and still make straight A's. His family enforces a rule that when Alvaro has a B in any class, he must bring it up in order to perform.
Centennial High School student Emily Friedman manages several A's and a couple of B's, while also devoting seven hours each week to KWC. "I want to contribute my talent in any way possible to the organization," Emily said. "And I would like to take whatever I can out of the experience, so I can work better and harder to become a better actor, singer, dancer and leader."
A brother-sister duo, Sumner and Jacob Bulgarelli, are each homeschooled and give five to six hours weekly to be part of KWC. "I enjoy the positive atmosphere," 16-year-old Sumner said. "Also, I feel challenged to do my best and more. I gift this time to myself to recharge emotionally and physically
from long hours of school."
Her 13-year-old brother finds KWC to be fun and exciting. He's a good student outside of the troupe, because he works hard — even bringing schoolwork to the theater. If they are running a scene he is not in, then he does his schoolwork.
The Thiebaud sisters, Evie and Macy, spend six hardworking, fun and intense hours at KWC, weekly. Nine-year-old Evie, a student at The Academy at Nola Dunn, is not allowed to participate in the theatrical preparatory work, unless she keeps her grades up in school. "Since I'm only traveling on weekends and very few school days, I'm able to do my schoolwork on most school nights," she said.
Her sister, a 12-year-old student at Elder Elementary in Joshua, always maintains her schoolwork. "People ask me, 'Isn't your musical theater getting you backed up on homework?' But I reply, 'No, Kids Who Care encourages me to do my schoolwork along with musical theater," Macy said. "I am keeping straight A's, and I listen to my teachers. I think Kids Who Care influenced that because of the leadership, goal setting and fundraising skills I learn. These skills won't just help me now, but will help me in my future."
While in Manhattan, Sami FitzGerald will be doing some of her homeschool classes online. A 15-year-old from a family of entrepreneurs living in Mountain Valley, Sami said, "Learning and growing my mindset and helping others are part of everyday living for me. I receive as many blessings, if not more, than I give to Kids Who Care." During the year, when she's not on the study tour, Sami manages her time to get her schoolwork done first, before doing fun things with friends.
Her fellow theatrical students welcomed Jillian into the fold. They sometimes have chaperoned sleepovers when they're not too tired from studying, practicing and performing all week long. The mentoring at KWC empowers the students to know their voices are relevant, and that it's important to make things safe for others. An exercise the students do weekly, as part of their leadership practice, has had a great impact on Jillian. "We always hold hands in a circle and pass the squeeze and say, 'Keep a positive thought because a positive thought cannot be denied.' It's really easy for me when we're performing because the others are always there for you if you're about to fall, or forget to come in with your line!"
In the beginning, Jillian had to rely upon people who were in the scenes before or after hers for help. Not so much anymore. As her mother, Jenn,
likes to say, "Life is full of ad lib, isn't it, kid?"
Written by Melissa Rawlins.