Editor's Note: While final preparations were underway for this article, CorsicanaNOW learned of the untimely passing of Roger "Pops" Tarvin, who will be deeply missed by the community in which he played such an integral role. In extending our heartfelt sympathy to his wife, Linda, their children and grandchildren, we trust the following story, which appears as originally written, will serve as a tribute to Pops' love of drag racing and his love of family and friends that was central to his life.
With her engine started, the Christmas tree changing to green and the air filled with the smell of fuel, a totally focused Sam Ray powers off the line with her car at racetracks as far flung as Colorado, Tennessee, Oklahoma and Louisiana.
Closer to her home in Blooming Grove, Sam is a regular competitor at the Texas Motorplex in Ennis and the Texas Raceway in Kennedale. A racing veteran at age 16, Sam has now participated in the sport for half her life and is a third-generation member of Pops Racing Team. "I love all of it — working on my car, the speed and all the friends I make everywhere," Sam said. Sam, short for Samantha, is not the only young competitor in this family.
Her 9-year-old brother, Brigg, began racing this past year. They follow their grandfather, "Pops," otherwise known as Roger Tarvin; big brother, Cody, now serving in the U.S. Navy; Uncle Wayne Pratt; and mom, Brandy Ray, who serves as "show mom," as well as races with her car, That'ta Girl! Their grandmother, Linda Tarvin, known as "Mimi," and their dad, Jared Ray, are pit crew members and encouraging fans. "Our family has a huge influence on Sam," Brandy said. "Winning a Wally in drag racing is the same as winning an Olympic medal or a Super Bowl ring," Brandy explained.
"Every racer is after the Wally." Sam won her first IHRA Ironman in 2010. Her career totals, to date, include two Ironman trophies and seven NHRA Wally trophies. In one 2013 race, Sam went 11 rounds, which earned her two Wallys at Texas Raceway. This accomplishment was also unique because she was the first racer to win two in the same race and the first girl ever to hold the title at that track.
Brigg has already won his first Wally. The car he drives to compete against much older drivers is covered with winners' stickers earned by his older brother when he drove it. "We pull cards, and that's how the pairings are decided," Brandy explained. "While everyone fears Sam, Brigg is still our secret weapon. He likes the competition on the tree.
Sam is outwardly driven, while Brigg is a silent, driven person. Both the kids become different people when they get the green light." Kids can start racing as young as 5 years of age. Races are run on a 1/8-mile track, and Sam and Brigg race in two different racing classes: Sam with a max time of 7.90 seconds and slower, and Brigg with a max time of 11.90 seconds and slower. "The track distance reduces wear-and-tear on the cars. The track is a straightaway, but kids still have to master turning the long nose of the car before they can drive," Brandy said.
Everyone must pass a driver's test and know the parts of their car before being allowed to compete. Brigg's most memorable moment so far came when he raced against a 7.90 car. "I beat him and won the Wally. I like how fast we get to go," he said proudly.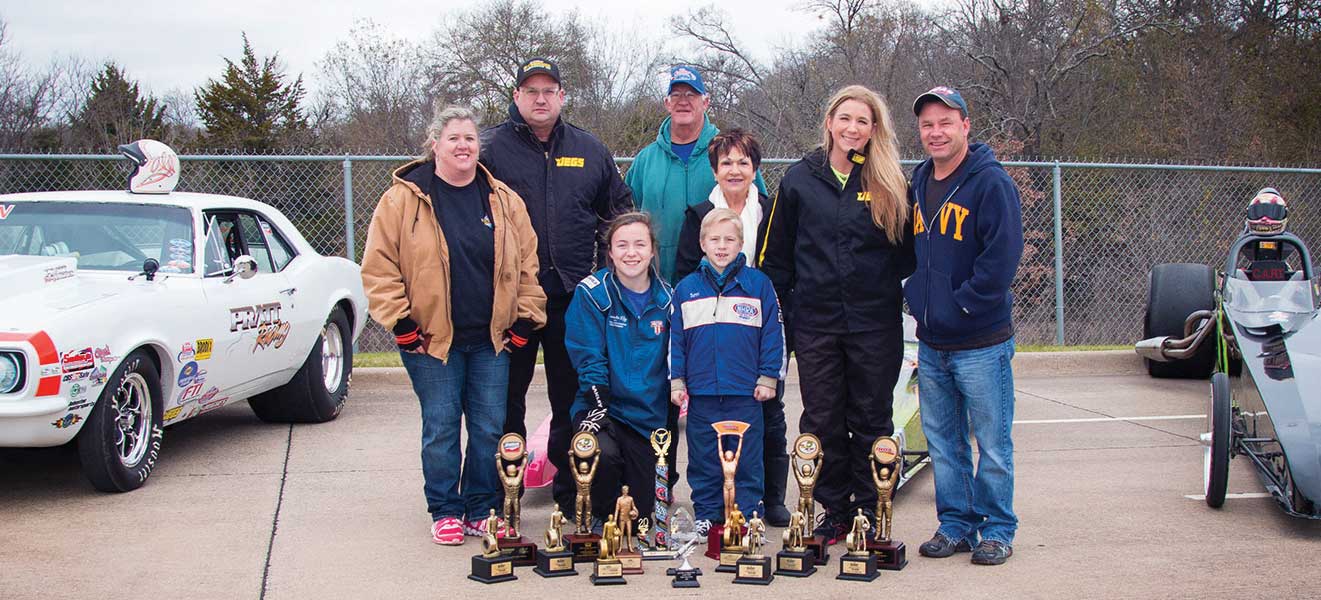 Sam works on her car with Pops who is the master mechanic for the team. He has the engines built, and he constantly maintains them. All the family members, except Brigg who races a gas-powered car, race alcohol-powered cars. "I already know most of the stuff on the car," Sam said. She wears her grease proudly. At the track, team members practice before races that are held on weekends. "It's the little things we do that the kids have to learn in order to get the edge on the competition," Brandy said. Safety is always a focus from the design of the car with its roll cage to the fire suits they wear.
Clothes must be fire-retardant. A neck brace, helmet and seat belts are required. Also, someone must watch how hot a driver is getting, since most of the racing is done in the summer. "Sometimes, we race at 2:00 or 3:00 in the morning because it's so hot," Sam said. Sam designed her own car in bright, hot pink. Brigg's car is named A Very Wyld Joker, and he has a clown painted on his helmet.
His car is painted with freehand art and ghostwriting that shows messages when exposed to the sun. Race days start early and include prayers. "Pastor David at the Motorplex is an amazing guy. He prays with the kids before a race, and we go to the racetrack church on Sunday mornings," Brandy remarked. "We run time trials before each race right before eliminations," Sam explained. Brandy crunches the numbers and gives them to Jared, who then uses them to dial the car. Pops signals when to do a burn out. "Before each of my races, I say a prayer, and when Pops grabs the roll cage and shakes my car, it's my sign to go."
Brigg has his own sign to go — Brandy touches his nose with her finger. Sam described the feeling of racing, "When I hit it, the car throws me backwards. It has a lot of power!" "My car shakes a lot," Brigg added. Off time at the track is fun and relaxing. Sam and Brigg enjoy time with friends they have made in the racing world. "Like every sport, there's some drama," Brandy said. "But win, lose or draw, everyone shakes hands after a race because there's always another race. The camaraderie is great. Everyone is close and ready to help the kids."
Back home in Blooming Grove, this family team leads a normal life. Pops and Mimi own the Taco Shop in Corsicana, Jared is a paramedic, and Brandy is a trauma nurse. Brigg is a fourth-grader at Blooming Grove Elementary School. He plays Little Dribblers and baseball during his off-season from racing. Sam is a sophomore at Blooming Grove High School and has enjoyed playing volleyball, basketball and running track at school and still plays softball and likes to "hang with friends." Studies are important since both of their parents put an emphasis on making good grades.
The family worships together, and Sam and Brigg are involved in youth activities at their church. "Blooming Grove is a small town where everyone knows everyone else," Sam remarked. Home is great, but racing runs in these kids' blood. "The thrill of racing and getting another title is everything," Sam said. "There's really no feeling like going down the track."
Written by Virginia Riddle.