Perched comfortably atop a high chair at the American Legion hall in Ennis, Joe Zhanel is in his element.
With his wife, Samantha, beside him and near the felt-topped tables he loves, Joe chatted about playing pool since he was 5, winning a trip to Las Vegas with his cue stick and life in general. "If you aren't going to put your heart and soul into something, you might as well not do it," Joe explained. "You've got to play with passion." For Joe, heart and soul began at a young age and at the feet of his "pappy," Jack Wilder, of Ennis.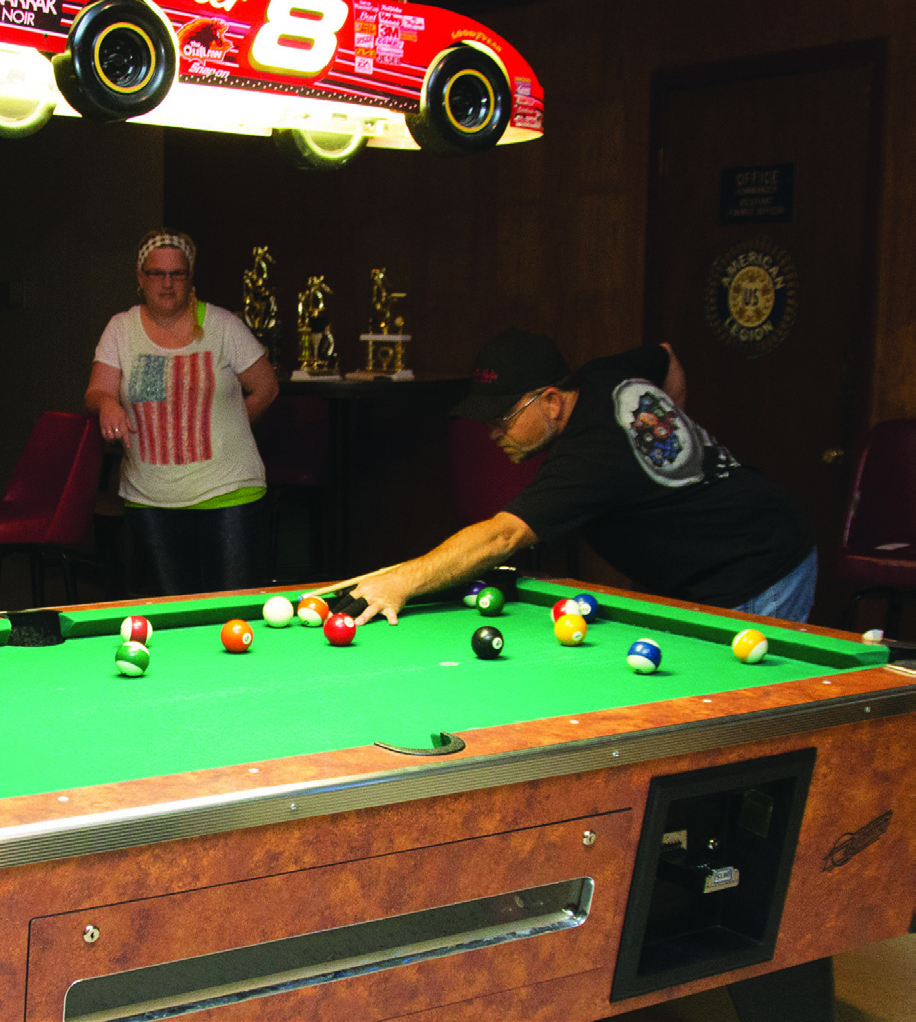 Pappy had a pool table, and Joe roamed around it, begging to join the game. "I pestered my pappy," Joe laughed. "But I wasn't knee high to a grasshopper, and I couldn't see over the table. Being the carpenter he was, he built me a box to stand on and sawed off one of his pool sticks for me to use." The box worked, the cue stick sufficed, and Pappy taught Joe to play. "I had a good teacher in my pappy," Joe explained. "And I knew at that young age I had a passion for pool."
From the beginning on the box, Joe grew and continued to develop as a player. A lifetime Ennis resident, he came to the American Legion with his dad as a teenager, and there he met people who helped him hone his game. Some are still his friends today.
When Joe was 18 years old, he graduated from Ennis High School as part of the class of 1994, and he also took his pool game to the next level by watching videos. A favorite was Tricks To Do With the Cue Ball by Earl "The Pearl" Strickland. "That got me interested," Joe related. "That's when I learned to massé (curve) the ball. I can do crazy things with the cue ball." At age 21, Joe met Samantha, and yes, she was playing pool.
The fateful meeting took place at the American Legion. "She came in with her mom, and when I laid eyes on her, I knew I had to have her," Joe remembered. Today, it's a family affair, and Joe and Samantha play pool together. Married for 15 years, they live in Rice and have two daughters, Taylor (17) and LeAnn (14). Taylor attends Rice schools and is "serious about her books," according to Joe. She hopes to be a pediatric pulmonologist one day. LeAnn also attends Rice schools and already plays pool with her parents. Joe works at Nelson Putman in Ennis.
The spunky, little kid playing with the sawed-off cue grew into a man with a steely determination to win. Every day for over 30 years, Joe has shot pool. When asked what keeps him at it, he didn't flinch. "I like competition," Joe asserted. "I like to annihilate people. I like to see the look on their faces."
Today, Joe plays in two leagues: a Sunday night regular league at the American Legion and a Master's League at the Texas Rose Restaurant & Club in Wilmer on Mondays and Thursdays. Since 2014, Samantha has joined Joe as a league player, both at the American Legion, and also for Monday night nine ball. Joe credits league operators David and Allison Miller of Red Oak for introducing him to the Master's League, which is part of the APA (American Poolplayers Association).
The APA hosts the world's largest pool league and awards over $1,500,000 at their championship events. The APA Master's Championship is held in Las Vegas each year, and Joe won the points division championship in his first season (2015), which automatically won him a five-day, all-expenses-paid trip to Las Vegas to which is getting down on the table by bending at the hip.
Second, use the proper bridge (hold) on the cue stick, holding it loosely, not with a "death grip." Third, after a player has looked to line up the shot, he or she should zone the eyes to the object ball and follow through with a smooth stroke. "Stroke, don't poke," Samantha added. And finally, come speed and control — too fast and the ball goes haywire. Joe always thinks three to four shots ahead in his game and considers angles carefully. "Angles are your friend in pool," he noted. But his best advice to players is to play with heart and have fun. "Putting English on the ball" relates to different points on the cue ball and whether or not a player aims for those points, depending on what he or she wants the ball to do. "Put the Midas touch on it" means to put the brakes on the ball by stopping it dead on the table when hit with the correct speed.
Joe's family is his first love, and although he enjoys other things, such as building furniture and working on his hot rod, his mind is never far from the game he adores. And his trip to Las Vegas is something he will remember forever. "Out of 373 teams, we came in 23rd," Joe remembered. "It was the greatest time of my life."
Written by Stephanie Marchbanks.