Imagine a Victorian-style dollhouse, filled with dolls. Many little girls dream of receiving such an extravagant gift. Few ever consider making that dream life-size. Barbara Williams dreamed of filling a house with dolls.
She joined forces with her sister, Jane Sharp, and Jane's best friend, Kathy White, to realize their dream. Jane and Barbara moved to Granbury, storing dolls in a closet. "It was a shame," the ladies said. "We had all these dolls and no one could see them." Adding Kathy's dolls, the three women had about 650 in their collections. In December 2012, the three friends opened the doors to the Granbury Doll House. The historical home resembles an old-fashioned house for tiny inhabitants. Two stories with large rooms became home to all kinds of dolls, but the museum offers more. Within each room, the "doll ladies" share stories about some of the dolls and a wealth of history about others.
The founders love celebrating holidays. In March, to honor Texas Independence from Mexico, they change displays and hang the Texas flag. To commemorate General Granbury's birthday, also in March, the Confederate battle flag comes out in his honor. The front porch may display a few dolls or seasonal decor. Step inside and be immediately transported to a peaceful world of 2,500 dolls. That doesn't include ones temporarily stored upstairs or in the shed. A collection of dolls, dressed for the season, lines the stairway, representing different eras and styles. One of the front rooms hosts several interesting pieces, including a favorite: Dolly Reckord, made in 1922, and given to them. "She was all peeled and scarred," Barbara remembered. So Jane went to work, restoring the rare treasure.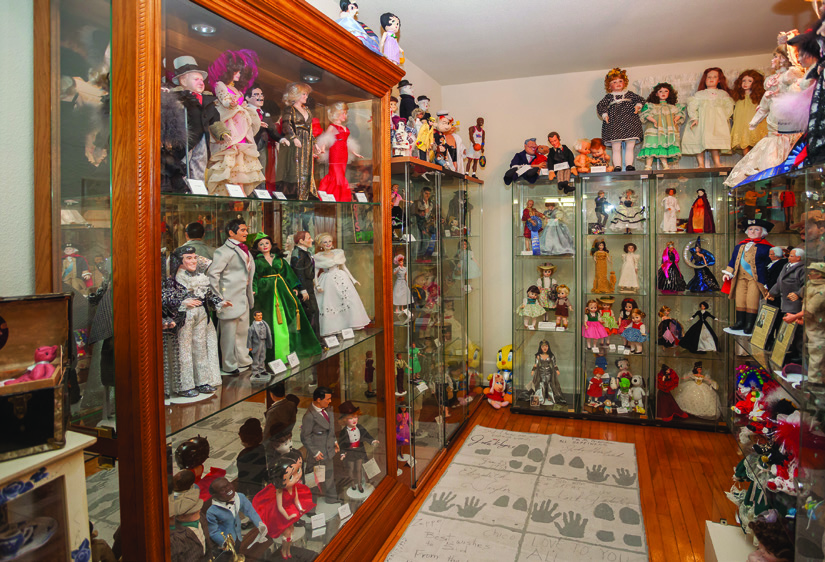 Wearing the original dress, her wind up record player still works and sounds like an old Victrola. A woman called one day and offered two dolls she made and had in her attic. The two ballerinas were portraits of her nieces. In another room, a reproduction of Drury's Lady Grace stands several feet tall, displayed with a small child holding tight to Mom. The celebrity room features famous war heroes, movie stars and political figures. Various Shirley Temple dolls fill one case. Revlon dolls live nearby, with tiny painted fingernails and toenails.
A foreign doll collection contains dolls from all over the world and a display of original GI Joe action figures. Of course, they have a vast Barbie collection, as well. They have some dolls donated by the families of women who made them, beautifully decorated with dancing eyes and detailed characteristics. These special additions appear throughout the museum. Madame Alexander dolls wait for viewing in one area. Nearby, a host of Nancy Ann Storybook Dolls from the 1930s and 1940s reach out to even small children with classic stories and nursery rhymes. In one case, the founders offer a tribute to Princess Diana. Two dollhouses adorn a small area. One of them was built in 1897. The other features working lights and sits on a turntable. The donor also provided decorations for different seasons. So, the doll ladies change decor for different seasons. Two more houses are currently in storage, waiting for space. One of the sweetest displays centers on an antique hospital crib.
Several dolls sit or lie in the bed, while an older child-sized doll with a stethoscope cares for them. Pillowcase dolls from the Civil War period grace a shelf. Dolls even live in the kitchen cabinets, on the countertops and at the top of the refrigerator. "One gentleman told his wife, 'Open the refrigerator. They probably have dolls in there, too!'" the sisters shared, chuckling.
One trip to the Doll House isn't enough. People visit repeatedly even after spending hours there. The doll ladies simply love their work and make a great team. Barbara primarily takes care of the business side. Kathy does a great job of marketing, inventory tracking and communicating. Jane is the official restoration expert. Jane also refurbishes dolls for others. People from all over the world come to visit the Granbury museum.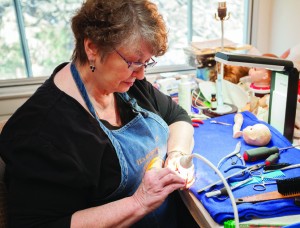 Two girls who live in Dallas came one day with their mother who visited from Thailand. She didn't speak English, but when they entered the foreign doll room, she became animated. Some of the dolls came from Thailand. The ecstatic woman told them the regions and eras of each doll, providing history and culture to share with others. Another time, a family visited. The dad, apparently with a fill of doll museums, reluctantly came with his family. He left early to go get the car but turned back. He told the founders that with all of the places he'd seen dolls, theirs was by far the best. He enjoyed it as much as the females in his family did. Jane and Barbara have two brothers.
One of them, who recently passed, shared their love of dolls and had a collection of his own. The other never collected dolls, but he understood and appreciated their passion. Both brothers always watched for dolls they knew their sisters would love and want to add to  the museum. The nonprofit museum is open
Fridays and Saturdays from 10:00 a.m. until 4:00 p.m. and on Sundays from 1:00 to 4:00 p.m. However, they often work on dolls and displays during the week and try to accommodate those who want to visit on weekdays. If the flag is flying, visitors are welcome. The doll ladies keep the place open through donations and their own money.
They choose not to charge admission, so anyone can come and visit their collection, which keeps growing. Many are displayed with the dolls. Everything they bring in financially helps keep the museum open and any extra goes toward future plans. Almost every week, someone donates dolls — often a collection from a mother who passed. Some arrive in pristine shape. Others need immediate surgery. They never know what they may find on the front or back doorstep. "It's like running an orphanage," the women said. "We just get to play with dolls," Jane added. "We've never grown up, and it's like Christmas morning when we get a box," Barbara shared. "We ooh and aah at the contents."
In 2015, the doll ladies entered some of their collection at the State Fair of Texas and won 24 ribbons. They hope, in the future, to do some remodeling, close in the back porch and open the upstairs for more displays and, perhaps, a place for tea parties. Visiting the Doll House feels amazing, mostly because Barbara, Jane and Kathy share such a love and passion for the occupants of the life-size dollhouse. They all love playing dolls.
Written by Lisa Bell.