This coming July, while many students are getting bored with their long summer vacation, a group of students from Mansfield ISD's Ben Barber Career Tech Academy will be competing to be the first to cross the finish line in Minneapolis, Minnesota, during the Solar Car Challenge.
"We spend a lot of time designing, building and racing our car, and we are so proud to see it doing well," Zach Davis said. To motivate students in science and engineering the Solar Car Challenge was founded in 1993 by Dr. Lehman Marks of The Winston School in Dallas, and it currently attracts teams of students and faculty members from across the U.S. and several foreign countries.
While powering cars with electricity dates back to 1900, using solar energy to power batteries is relatively new. The race is designed to increase alternative energy awareness, and its sponsors, including Earth Day Texas and Lockheed Martin, reflect these goals. This will be the fifth year in which the Shine Runners Racing Club at BBCTA will participate, and it will be a cross-country race. Every year, the race has either been a cross-country event or occurred on a track. This year's race will be run from the Texas Motor Speedway to Minneapolis, Minnesota.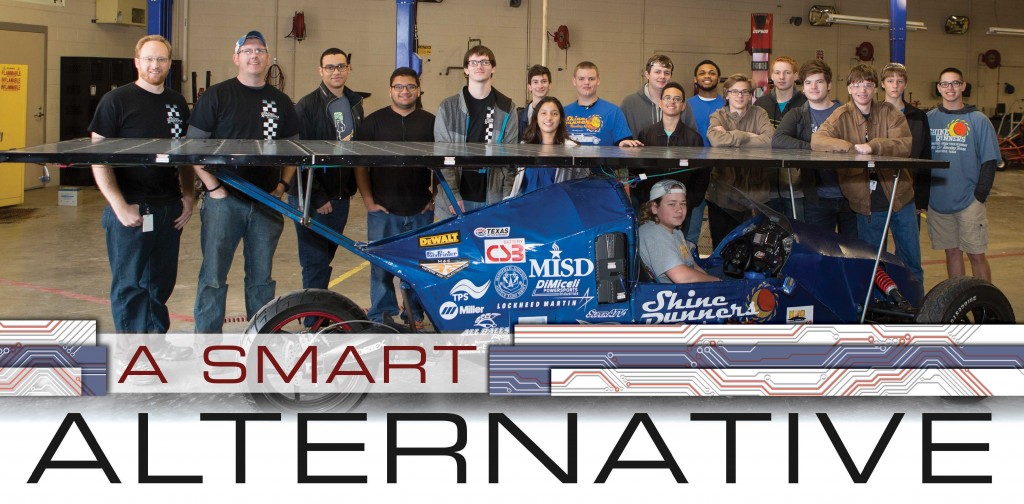 The team's car will travel about 900 miles over eight to nine days. Rob Goodson and Alex Higgs are the BBCTA teachers who guide the project and students from inception to the finish line. Mr. Goodson was recruited into this role by Mr. Jackie Bishop, an automotive teacher at the school. "I was a new teacher, but I jumped in with both feet and have just kept going. Our first year, we placed sixth," Mr. Goodson said. "I recruited Mr. Higgs three years ago, and this whole thing has gotten a lot bigger than we ever imagined. The students learn a lot and really rise to the challenge." Mr. Goodson teaches Principles of Engineering, Robotics, Computer Integrated Manufacturing, Advanced Engineering Design and Presentation and Scientific Research, while Mr. Higgs teaches Principles of Manufacturing, Welding and Manufacturing Engineering and holds a practicum in manufacturing.
These classes prepare the student team members to build the car "from scratch" each year. They design the car with CAD (computer aided-design software) and develop parts with CNC (computer numerical control) machines and 3-D printers. To build the car, students must use welding and machining skills and their knowledge in electronics and circuitry. All team members are cross-trained. Additionally, every team member works to get his or her amateur radio license for communication purposes during the race. "These are valuable skills they can put on their résumés," Mr. Goodson said. "I'm happy when I'm surplus, and the students don't need me. That happens when they begin teaching each other. I get to know them, share their success and see them come back to visit after having gone into a mechanical field of study and work. Colleges, especially Texas A&M University, and industries recruit these kids."
The team is comprised of 10-12 students, and there is never a financial charge to participate. The cost to participate runs about $45,000 total, with MISD budgeting about half that amount and the rest coming from sponsors through word-of-mouth. "The school is behind us," Mr. Higgs said. "Mansfield is very supportive, and parents bring cookies and come to the race," Mr. Goodson added.
The rules are spelled out in a booklet that is about an inch thick. "We compete in the Classic Division because it's less costly," Mr. Goodson explained. One of those rules covers the wearing of wide-brimmed hats due to the summer sun exposure. Team T-shirts complete their competition uniform. "The look gives the students ownership. We are a MISD sports team, but our guys know how to weld," Mr. Goodson proudly pointed out. Most of the design work is devoted to safety features. The cars are designed to run about 30-40 mph, and each car must have a roll cage.
"The first two days of each race is spent in passing inspections, certifying the drivers for safety and the students' skills in loading and trailering the car," Mr. Goodson said. Since public roads are used, students must be licensed drivers. During this time period, the team also works to "get the bugs out." "Tech issues are challenging — lots of things can go wrong, since we always use a newly built car. Some competitors use the same car every year, but our kids are learning," Mr. Goodson explained. "We go back and double check everything," Zach said.
Once ready for the race, the car hits the pavement. "We get a lot of road noise, but the car just makes a little hum." Other noises come from the chain and horn honking to alert people on the roadway. A senior, Zach is team captain and president of the Robotics Club. He is planning to attend Texas Christian University and major in electrical engineering with an eye on building robots for NASA. "I love to win and broaden my knowledge," Zach said. "I also enjoy understanding the process of building the car."
A seven-year veteran of teaching, five of which are with MISD, Mr. Goodson is an environmental engineer and a recipient of MISD's Impact Achievement Award. Mr. Higgs has a degree in applied technology and has 10 years' teaching experience, three of which have been with MISD. "We are mechanically minded but had never raced cars, so we are learning right along with the kids," Mr. Higgs said. "The race is huge and so intense. We are in charge of the students for the whole time." The team has won many honors: Spirit of the Race Award, Best in Show and an award for computer design.
They have been recognized by the MISD school board and received a proclamation from the California State Senate for having traveled the farthest. They placed fourth out of 19-20 cars the last two years. The team exhibits the car in car shows, elementary school presentations and at NASCAR race tracks. "A lot of people are surprised by solar cars," Zach said. "These events show off what the kids can do and gets them out of their shells by having to speak publicly. The kids become pretty well-rounded," Mr. Goodson said. Mr. Higgs summarized the experience, "Building the race car gives the kids hands-on experience. They can solve problems, and in the end, they know they've done something very few people have done."
Written by Virginia Riddle.