The walkie-talkie conveyed the distressing news, "Mrs. Robertson, we need you at the big playground. There is a kindergartener loose." Actually, there was no crisis, just part of a ploy to surprise Mt. Peak Elementary School's kindergarten teacher Elisabeth Pearson. This surprise was months in the making, since the first month of school.
After nine years of trying, Elisabeth learned in April she was accepted into the New York City Marathon. Her life up to this spectacular moment in time had its share of successes and challenges. Born in Jackson, Tennessee, her family moved to Brownwood, Texas, when she was 4 years old. Her dad taught at Howard Payne University until he retired in 2015. Her mother was also an educator, but Elisabeth resisted becoming one. "I always loved it," she admitted, "but fought against it in the beginning. I wanted something different, so I went for my journalism degree but came back to education. I've been babysitting since age 10 because I love working with children." Elisabeth received her education degree at Howard Payne University.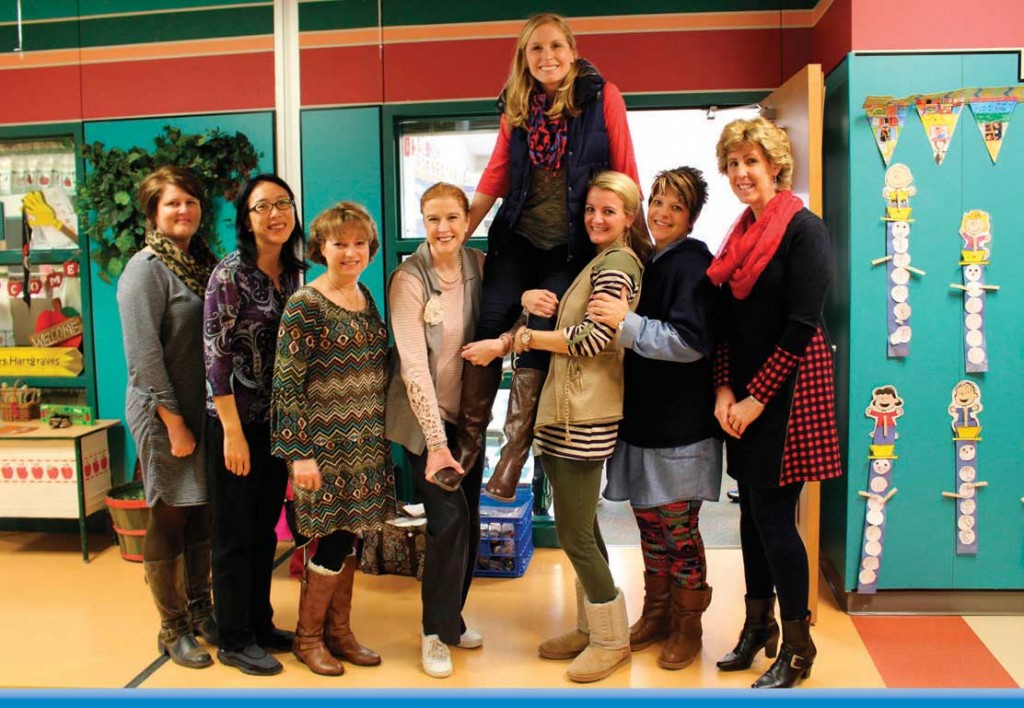 After college, she married Robert Pearson, and they moved to Puerto Rico for four years where she taught in a private school. They eventually made it back to Texas where she has taught in Midlothian for the last seven years. They have two children, Ethan and Claire. Elisabeth began her running career as a way to continue to heal from four years of having the eating disorder, anorexia. "I've recovered from it," she shared. "I started running as a stress reliever to curb the anxiety. I knew it was something that could be done on my own terms. It was something I knew I could do for myself. Running is a solitary thing and gave me time to think, reflect and to pray. I grew to really love it."
Elisabeth started signing up for short races, such as 5K and 10K, and decided one day she wanted to try longer distances. The rest is history! She has run so many half marathons that the number eludes her. New York was her 12th full marathon. A runner doesn't just fill out a form for the New York City Marathon and get automatically accepted. They must earn their way in and hope for a bit of luck. Elisabeth applied for nine years before being accepted. "I'll never be fast enough for the Boston Marathon," she said. "I'm not that kind of runner. This was the race I wanted to do for my entire running career."
The way she learned her wish had come true was when she noticed $300 was missing from her bank account. "Usually, you get an email before they take the money out," Elisabeth explained. But, this time the email came later. When it came, she celebrated with her husband. But it was the school's celebration that was one for the books. "I'm not easy to surprise, but they surprised me on this!" she exclaimed. On October 30, another kindergarten teacher asked if Elisabeth could do her morning duties because she had a meeting with a parent. Elisabeth said, "Of course," and went to the gym.
After dismissing the kids, Assistant Principal Nancy Robertson said she needed to talk to her. "I was concerned about meeting with her because my kids were going to my classroom without a teacher. But she didn't seem too concerned, and she was the assistant principal," Elisabeth laughed. "As she was trying to get her computer open, I became more and more worried about my kids being alone. On the walkie-talkie I could hear, 'Mrs. Robertson, we need you at the big playground. There is a kindergartener loose.' I told Nancy that's probably
one of my kids because I'm not with them right now. She still didn't seem too concerned, but I was getting more and more anxious. She said, "Just come with me," and we walked to the big playground."
As Elisabeth neared the playground, she could see many of the staff outside. One of the fourth grade teachers was standing in front with speakers that had the Rocky theme song playing with a sign that said "Team Pearson" on it. It took a minute for what was going on to register with Elisabeth. When it did, she burst into tears. "I stood there for a minute trying to collect myself," she revealed. "They told me to start walking, and I could see the entire student body out there on the trail.
Every one of my former and current students was there, and they were all high-fiving and hugging me and wearing Team Pearson T-shirts as I went around the entire walking trail. At the end of it, I saw my mom, dad and husband. My two children, Ethan and Claire, and my students were standing in front of them holding a Finish sign because that was the finish line."
The staff continued to encourage Elisabeth even after she arrived in New York. While there, she received text after text and hundreds of messages on Facebook. "That meant so much to me," she shared. "I carried that with me during my run. When it got difficult, I thought of my students standing around and cheering me on. I don't need to be appreciated, but it sure is nice to be appreciated.
The staff was so loving and incredibly thoughtful, and I'm so humbled by it." Another teacher from the district, Nicole Terry, ran the race in 2014. She was able to give Elisabeth great advice about the race and the city, and she also gave Elisabeth a T-shirt with her name on it. "She knew what I was going to experience," Elisabeth said. "Because of the T-shirt, I heard my name being shouted from mile one until the end.
They would say, 'You're doing awesome, keep going!'" Elisabeth was amazed at how efficient the race is and the degree to which the city supports it. "The entire city shuts down for this race," she exclaimed. "It's amazing! I ran through all five boroughs of New York. There were spectators probably 10-people deep the entire way. The only time there were not mass crowds was on the bridges. It's the city that never sleeps, and for them to stop
to encourage runners is just incredible.
I wasn't looking at the spectators but above their heads. We went through so many different areas. Some of the areas were quietly supportive, and some were more rowdy and celebratory. The Orthodox Jewish community was silent. It was really cool to see all the different cultures. I was thinking while running — Don't miss anything! It was a once-in-a-lifetime opportunity."
Written by Betty Tryon.