WAXAHACHIE, TX —  Rhodie Rawls has lived in Waxahachie for the past 30 years with her family. She and her husband spent 12 of those years as foster parents for children in need in Ellis County. Sixty-five foster children and five adopted children later, Rhodie knows her calling is fighting for abused and neglected children.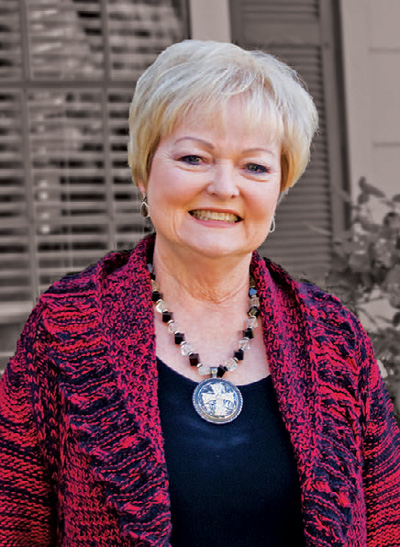 Her passion led to her current position as executive director of CASA of Ellis County. CASA stands for Court Appointed Special Advocates. When children are removed from their homes, the judge working the case appoints a CASA volunteer as their guardian ad litem. This allows the volunteer to become the child's voice in the legal system and fight for the best possible outcome for the child. A CASA volunteer obtains information about the child's case from all involved parties and presents the information to the judge in court.
The goal of a CASA volunteer is to move a child through the system as quickly as possible and into a safe, permanent home. In 1977, Seattle Superior Court Judge David Soukup started CASA as a way to better understand children in the foster care system on a case-by-case basis. "He had all these children who had been taken away from their families," Rhodie explained. "He was having to make lifelong decisions for children without enough information." Today, CASA has spread across www.nowmagazines.com 22 North Ellis Co.NOW January 2014 we really don't have much of a voice. I felt like I needed to be their advocate because often these kids just don't have a voice." At first, Rhodie was hesitant to accept the position.
"I thought my ministry was taking care of little children. That's what I wanted to do, but with CASA I had an opportunity to impact every child in Ellis County who goes through foster care." CASA works well, because volunteers are assigned to children in their own community. After recruiting volunteers, CASA trains them to be, according to Rhodie, a "voice for children going through the system." Volunteers not only visit with the child, but many times will become involved in the child's life like teachers, parents and counselors.
"As a CASA volunteer, you are an advocate for that child," Rhodie added. Volunteers take on only one case at a time and work that case from start to finish. This ensures all children in the system get the undivided attention they need and deserve. "CPS is a www.nowmagazines.com 24 North Ellis Co.NOW January 2014 much overburdened system. Their caseworkers might have 30 or 40 kids on their caseload, and we only assign our volunteers one case at a time, but that's what makes it work," Rhodie explained. "That's the beauty of it." A child who might be just a name on a piece of paper to someone gets the full attention of a trained volunteer who is there to advocate and serve them. "The kids who have CASA volunteers seem to have much better outcomes in the system than those without one. Statistics prove it," Rhodie said. "They don't get lost in the shuffle or linger in foster care." Rhodie believes in the merit of a responsible adult representing a child in the legal system.
"At least we know that somebody is looking out and making the best recommendations to the court, so when the judge has those difficult decisions to make, he has all the "I love kids, and I've always worked with kids. I feel like it's an opportunity to make a great impact on so many little lives." facts about the child," she pointed out. "We're very fortunate in Ellis County. We have a great CPS department." CASA is a program set up to complement CPS and foster programs, and it is working. "In Ellis County, we serve 100 percent of the kids," Rhodie said proudly. "Only a handful of counties in the state have been able to do that." CASA's signature fundraising event for the year is their Share the Love Gala.
The fourth annual Share the Love Gala will take place at the Waxahachie Civic Center on February 15 and is open to the public. A silent and live auction will benefit CASA of Ellis County. The night will also offer fine dining and entertainment. Attending the gala is an excellent way to show support of CASA and its goals for the communities of Ellis County. "We also need auction items and sponsors," Rhodie added. However, CASA has an even more pressing need. "We need volunteers," Rhodie admitted. "We always need a pool of volunteers to pull from because things happen. Right now, almost every active volunteer is on a case, and we're currently training a new group of volunteers."
To become a CASA volunteer requires 30 hours of training after an extensive interview process and background check. CASA volunteers do not need any type of legal or social work background to be considered. As the population of Ellis County grows, the number of children in the foster care system increases causing CASA to have a greater need for volunteers than ever before. Those interested in becoming a volunteer can find an application on the CASA website: www.casaofelliscounty.org.
For Rhodie, becoming involved with CASA changed her life for the better. "I seriously cannot imagine doing anything else with my life," she said. "I love kids, and I've always worked with kids. I feel like it's an opportunity to make a great impact on so many little lives." Rhodie encourages anyone interested in CASA to become involved and start fighting for abused and neglected children in the community. "If not us," Rhodie insisted, "then who?"
Written by Callie Revell.