MIDLOTHIAN, TX — That cold grey morning, thousands stood in the drizzling rain waiting for a national hero to be driven by — Midlothian's own Chris Kyle, the decorated Navy SEAL whose murder shocked the nation.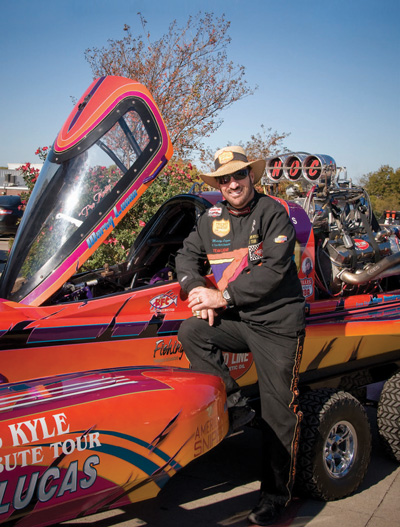 Standing respectfully along with the others was Marty Logan, champion drag boat racer. "I'll never forget it," he shared. "I got up before daylight that Tuesday morning. It was raining, cold and miserable. At daylight, people started showing up. I looked around and was amazed. Everywhere you looked, there were people lining the road. Even the overpasses were covered with people holding the American flag. Seeing the outpouring of support by other Americans touched my heart. When I returned home, I told my wife, Michelle, that we really needed to do something for that family."
The night before the funeral procession, Michelle asked Marty why he wanted to go. "I told her it was just the right thing to do," he said. "He was the real deal, an American hero, and we need to honor him." One of the reasons Marty did the tour was to keep Chris' memoryalive. Marty put into effect something that worked in a really big way. As a professional drag boat racer, he pledged to designate this racing season as the 2013 Chris Kyle Tribute Tour. That means every dollar raised by his racing organization goes to Chris Kyle's family. It includes sponsorships, prize money and merchandise sales of golf shirts, T-shirts and caps — all designed by Marty.
In November, the Tour had earned $77,000. With another race to go and the promise of more sales, Marty's goal is $100,000, and it's all for a man he never met. Although Marty never knew Chris Kyle, he soon discovered they had mutual friends. "When I found out Chris was from Midlothian, it hit home, and I started to do some research," Marty explained. "I saw he wrote the book American Sniper and was the most prolific sniper in American history through four tours of military service. He was a pretty special guy and served his country tremendously. One of Chris' favorite sayings about his fellow veterans was, 'It's our duty to serve those who served us.'"
When he started to read American Sniper, Marty was so mesmerized by it that he could hardly put it down. "That's why it was on the New York Times Best Seller list," he stated. "It really brings to light what went on over there. My favorite quote is, 'Chris Kyle was just a good ole Texas boy who became an American hero.' I don't think that was really Chris' intent. I think he just wanted to serve his country and be the best he could be, and his actions made him an American hero." As Marty, with the help of Michelle, began to plan his fundraiser, he realized he needed and wanted the blessings of Taya Kyle, Chris' widow, on the project to honor Chris. "I wanted to contact Taya the right way," he shared. "So, I contacted mutual friends and finally found the right guy. I told him that I wanted to donate 100 percent of every dollar raised."
After getting consent from Taya, the Chris Kyle Tribute Tour began, with the first race only two days later. They were able to raise $4,000 the first weekend. Since their first meeting, Marty and Michelle have become great friends with Taya and her two children. "Taya is a tremendous lady who has held it together in the face of an incredible amount of adversity, which no one should have to endure," Marty said. "I've told Taya I feel cheated that I never got to meet Chris. I think we would've gotten along great."
One of the reasons Marty did the tour was to keep Chris' memory alive. Marty has just the kind of big personality, along with his phenomenal skill as a racer, to accomplish this in a big way. He has won six world championships as the owner and driver of the House of Colour Motorsports Pro Modified Hydro drag race boat. Racing is natural for Marty, as he has always loved boats and speed. His first race as a youth was in a 15-foot ski boat. In the 1970s, he bought a jet boat. "I've been around boats all my life," he observed. "In the beginning, my friends and I would go on rivers and lakes and just race. The boat got too fast and the danger level too high, so we decided to go to organized, sanctioned racing, with rules and safety equipment. Safety is a huge factor."
Marty was in his late 20s when he started racing. He graduated from college in 1979, and shortly thereafter, he purchased his first race boat. It was a Contender Custom Tunnel outboard, which could reach 85 mph. His time at University of North Texas had nothing to do with racing. He pursued and earned a business degree in administrative management. "I chose that major, because I thought it would look good on a résumé," he laughed. Marty became serious about racing in 2000. One of the organizations he is affiliated with is Lucas Oil Drag Marty Logan shares his love of racing with his twin sons Michael and Tucker. www.nowmagazines.com 12 MidlothianNOW January 2014 Boat Racing Series. "It is the premier organization on the planet. They have stepped up and taken drag boat racing to the next level," he said.
Almost any Saturday, he can be seen racing on CBS Sports, NBC Sports, Fox Sports One, or MAV TV. Marty's current team is House of Colour Motorsports, named after his business House of Colour Auto Truck and Collision Service Center in Dallas. He has owned three Pro Modified Hydro boats since 2006. The boat used for the tour is decorated with several Chris Kyle decals. "I absolutely love getting in that boat to race," he declared. "That's my seven seconds of heaven and is the most peaceful place to me. When I close the capsule lid and go down the track, I don't have to talk to anyone. I don't have to answer any phones. I just do what I do. It's my passion."
Marty is able to do something he loves, which allows him to give back in a tremendous way. He takes it all in stride when others praise him for donating all the proceeds of his winnings to Chris Kyle's family. "We're doing this because it's the right thing to do," he said. "Not only are we honored to do it for the Kyle family but it is one of the biggest blessings I've ever received." You can purchase 2013 Chris Kyle Tribute Tour merchandise on martylogan.com. All proceeds will be donated to the Kyle family.
Written by Betty Tryon.