MANSFIELD, TX —  "I practically live in a bowling alley," E.B. Holschuh laughed. As the bowling coach of the Frontier High School Bowling Club and a league bowler himself two nights a week, E.B. has found joy in rolling a perfectly round ball down a slick lane. "It's 10 frames of you trying to knock down 10 pieces of wood with a spherical object," E.B. said. "On a piece of paper, it just seems so easy. But you try to do it in real life, it's not that easy."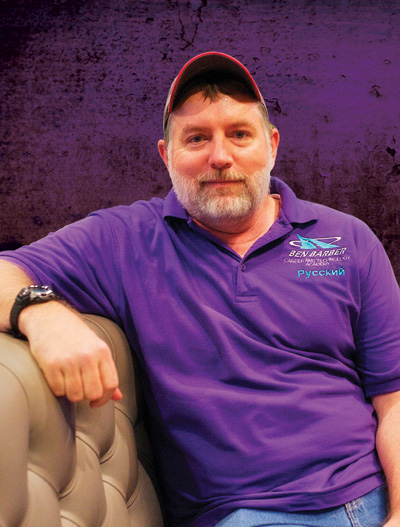 Bowling first piqued E.B.'s interest after he retired from the Navy. He and his neighbor, also a Navy retiree, decided to join a bowling league as an excuse to get out of the house and relax. The casual fun, however, quickly turned to a fascination with the game. "After a while I learned more about bowling, and I wanted to get better," he described. In time, E.B. worked his way up to joining the local Thursday night Businessmen, a highly competitive league at Spare Time Lanes in Arlington.
Because E.B. has been teaching Russian at Ben Barber Career and Technology Academy and AP English at Frontier, the district coordinator for the Arlington-Mansfield High School Bowling District approached him about getting involved in 2010. Bowling has been Frontier High School's sole sport for the last three years, and E.B. also serves as the district's assistant coordinator. As assistant coordinator, E.B. reports scores from district competitions to the Texas High School Bowling Club headquartered in Austin.
"The kids at Frontier don't have extracurricular activities like football or choir. They give that up when they come here," E.B. explained. "So, bowling is a good way for them to do something athletic and have team spirit. We joke around here that I'm the first athletic director of Ben Barber and Frontier." In its first year, 40 students signed up to bowl. Weekly practices and competitions are held at Alley Cats in Arlington and Forum Bowling Lanes in Grand Prairie. Students practice on Monday after school and compete the next day. Scores from the competitions accumulate throughout the bowling season, and the highest-ranking boy, girl and team in the district go on to regional competition in March. Although the club is not a University Interscholastic League (UIL) team, they still adhere to many of their rules, so if students aren't passing, they aren't bowling. The Frontier club has had some success moving on into regionals, even surprising E.B. with an extravagant dare.
"The Frontier girls asked me last year, 'If we make it to regionals, will you dye your hair purple?' I really didn't think they were going to do it, so I said, 'OK,'" E.B. laughed. "And of course, they won. So I dyed my hair purple and went to school like that. I didn't even know how to dye it. My youngest daughter had to show me how to do it." At practice, E.B. teaches the students to take bowling more seriously than a casual night out with friends. He helps students find the right ball weight and how to approach the lane correctly.
"The kids try to throw curve balls or power the ball down the lane," he explained. "There's a way to roll the ball the same way every time, and the odds are with them. I'm trying to break all their old habits and teach them the real way to bowl."
In addition, E.B. teaches the students to have a goal before they deliver the ball. "I don't want them to throw the ball down there willy-nilly. If they leave pins, they need a plan, like how they are going to stand and what they are going to do." In November, E.B. was certified by the United States Bowling Congress (USBC) as a Bronze level coach. "Bronze is the level recommended for high school and collegiate coaching. You have to complete basic level certifications and then attend a conference," he explained. E.B. has pursued his passion for bowling throughout the years because of the challenge it creates. "Bowling is a mental game, and that's why you need to make sure you do the very same thing every time," he explained.
"There's mental anguish to it." E.B. stays focused in his games by concentrating on shoulder placement, correct hand and wrist movement and planning how to knock down the pins. "There are few things in life that really get my goad," he shared. "Bowling only frustrates me when I make mental errors." Such a demand for concentration is not at all unfamiliar to E.B., who has also competed in a Scrabble tournament. "It's exactly like playing one-on-one in chess," he explained. "But it totally ruins you when you're playing at your Grandma's house for Thanksgiving where everybody is just doing it for fun." As with Scrabble tournaments, bowling allows E.B. to concentrate on his own game, even when playing with a team. "I like how bowling is a singular experience. I want to perfect what I'm doing. It's a personal challenge to try to get better and better," he explained. In this pursuit, E.B.'s average score is about 190, and he would like to try competing in a sport league this summer. "
In a sport league, you bowl under the same conditions professionals do. When they aren't touring, they bowl in these leagues." He also hopes to someday bowl a perfect game — scoring 300. "I've gotten close two times in practice," he shared. His highest score so far is 279. Just as he continues to push himself, he also pushes his bowling students. At many practices, E.B. challenges his students to a game. If any beat him, he buys the team a pitcher of soda (and sometimes even if they don't beat him). Even though the bowling program is in its infancy at Frontier, opportunities still exist for students to earn college scholarships. "There are certain schools that pay big money. Stephen F. Austin State University has a good bowling program for women," he explained.
No students from Frontier have made it that far yet, but the sky's the limit! For E.B., satisfaction is watching the students grow as bowlers. "I love watching them improve. When they come to try out, they bowl three games, and their scores are usually around a 50 per game," he explained. "I try to get those kids above 100. The first time that happens, they get really excited. It's very rewarding. I hope I'm planting a seed. It's good for the sport, to encourage the kids to bowl in a league or intramural in college. I want them to love bowling."
Written by Mikaela Mathews.