GRANBURY, TX —  Our teachers juggle many tasks, from classroom instruction to tracking attendance. When Coach Leta Andrews' students are absent consistently, she follows up with parents and counselors to achieve her greatest goal — seeing young people come to school happy, ready to meet the challenges in front of them every day.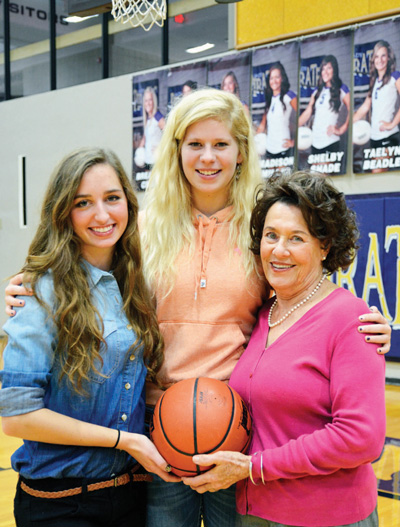 "There's a lot in teachers' hands, but also a lot in the hands of students and the parents who encourage them to come to school," said Leta, the award-winning coach of the stellar Lady Pirates basketball team and coordinator of all girls' athletics in the district. Desiring to see each athlete grow academically, she encourages personal goal-setting. "Get up, come to school, learn and grow. Pay attention. Show respect. Be productive." She knows teachers can't do everything for the students. "They have to want it themselves, to have that desire to reach for the stars," Coach Andrews said, looking over the purple rims of her reading glasses. "When students are successful in the academic area of their daily routine, they will be successful in their chosen sport."
Her basketball players have been successful, year after year, so much so that Mrs. Andrews became the nation's winningest high school basketball — By Melissa Rawlins coach on December 7, 2010, when the Lady Pirates won Coach Andrews' 1,334th game. She attributes her young ladies' success throughout the years to their strong commitment to their high school education. "
The fun part of that," she said, "has been participating in a sport and tasting the fruits of success." Coach Andrews knows just how that tastes, since she played and won many games of high school tennis and basketball for Granbury High School in the early '50s. She played the six-player game of basketball, making forever friendships with her teammates — some of whose grandchildren have played for the Lady Pirates. Born in Hood County, Leta progressed through all 12 grades in the Granbury ISD with encouragement from parents who taught her to work hard and complete each task well — whether responsibilities at home, academics or athletics. She refined her discipline and self-control through sports. Leta was one of 49 graduates in the class of 1955. Leta and David married and reared three daughters as David moved from teaching posts to school administration positions in Tolar, Gustine, Comanche, Calallen and, finally, Granbury. For the past 24 years, she has coordinated athletics in Granbury ISD. Before that, she taught English, as well as physical education.
She credits her success to a good decision she made at the onset of her career. "The choices you make down the pathway of life will be your life. If you make bad choices, then you'll probably suffer from those choices," said Coach Andrews, whose initial college degree was in elementary education. "I did some observing, some mentoring, some student teaching, and thought, I can't do this. There's no way. Elementary education is not what I want to do. I told my husband I wanted to do something else, and even though somebody needed to put beans and potatoes on the table, we pinched pennies until we completed what we were on fire to do." David taught social studies while his wife earned another degree in English, health and physical education. She wanted to focus on sports, which she enjoyed and believed could make a difference in young people's lives.
Now, Coach Andrews teaches her students to care for their bodies through exercise and proper diet. "Life is movement. And it is the good nutrition I put in my body that makes me want to do those 5K runs I've done nearly all my life," she said. "I've only been blessed with one body, so I have to take care of it." Thriving in what she considers "the best job of anybody in the world," Coach Andrews eats the fruits of her success daily. "The prize I earn every day is the preparation to win that prize," she explained. "If I don't teach well, coach well, there's not a prize to enjoy." She learned much from her husband, copying his excitement and enthusiasm to help her students hunger for the knowledge she shared with them. She cherishes other mentors as well. She met John Robert Wooden, the former basketball coach for the University of California, Los Angeles, when she was named 1993's Most Outstanding Teacher-Coach of the Year by The Walt Disney Company.
That same year, they named Wooden the Honorary Teacher of the Year. "When I get down and out, I pick up his book Wooden, which he gave me the first time we ever met," Coach Andrews said. "Wooden says even though you're just a common person, you have to believe in what you are doing." Recalling the parents and children she has coached since 1962, and the many goals she has set with individuals and groups along the way, Coach Andrews reviews her lifetime on the court, and just as speedily returns her focus to today. She shares a truth Coach Wooden helped her understand: "You can die tomorrow. While you've got today, learn things that will help your students and your athletes." Coach Andrews learned the value of patience early. Students in her first English classrooms sometimes needed her to re-teach lessons.
"That's the greatest gift I've learned, and I carry it with me everywhere I go," Coach Andrews said. Secondly, she learned success requires preparation and planning. "You have to follow through with your plan, committing to do what you have planned. At the end of the trail, there will be good things for you." The lesson this coach has learned lately is the necessity of seeking wisdom. "The Bible teaches that to gain wisdom you pray for and you seek out wisdom," Coach Andrews said. "Wisdom helps me to understand my athletes, who are all different and come from different walks of life. More and more I understand it is wisdom I need to help my young ladies." Off the court, young Lady Pirates come to their coach's office for celebration, coaching, counseling and tender loving care.
She keeps a collection of nail polish on her desk next to her Rolodex. She gets the bright yellow, deep purple, cherry red, plush pink, pure white and sleek coral shellacs at Sally's Beauty Supply for 50 cents. The girls know they're welcome to dip in anytime they wish. "My door is always open. I'm here to serve these young people." Coach Andrews visits every table during lunch time. The huggingest teacher in the world puts her arm around the young men and women, letting them know they are loved. This Lady Pirate's job will only be done when she quits learning how to love.
Written by Melissa Rawlins.