DESOTO, TX —  Jerry and Janice Hall and Dorothy and Tommy Brock ride with the Patriot Guard Riders out of respect for soldiers who made the ultimate sacrifice for our freedom.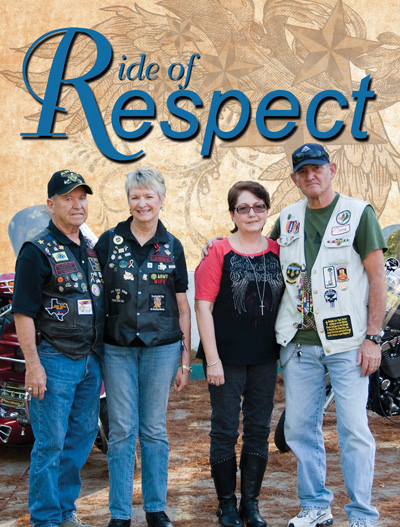 Army veterans Tommy Brock and Jerry Hall will never forget returning to America from the Vietnam War and the negative public opinion returning soldiers faced at that time. With increased threats of protests at the funeral services of fallen soldiers following September 11, 2001, they both promised they would not let that happen again. Both joined Patriot Guard Riders, a nonprofit organization which ensures dignity and respect at memorial services honoring fallen military heroes, first responders and honorably discharged veterans.
"Coming home from Vietnam was difficult on soldiers," Jerry said. Jerry joined PGR shortly after the organization formed. He and his wife, Janice, began traveling to funerals whenever their work schedules allowed. Many of the funerals were local, but the Halls would travel as far as Austin sometimes to escort a fallen soldier. "At first I had a smaller motorcycle, but it wasn't keeping up with all of our traveling," Jerry said. "I ended up buying a trike to keep up with the other riders. Janice rides with me to most of the funerals." Tommy had just retired when he learned about PGR in 2011. He was at a bike shop talking to a guy about finding something to do with all of his newfound time. The guy happened to be a member of PGR and invited him to come along. His 14-year-old granddaughter rides with him whenever she can. "Joining the PGR just felt like the right thing to do," Tommy said. "We are there to pay our respects, and I wish I could go to all of them. In the beginning, I was told to set a radius and stick with it. If not, I'd be at funerals all day."
Riders must be invited by the family of the deceased in order to attend. What began as a way to protect the grieving from protestors now serves more as a gesture of support and respect. Some funerals have as many as 200 riders show up to escort. "We are not there to remind people of what it means to make a sacrifice to this country," Jerry said. "We are there to show the families of our brother or sister in arms that they have our support." When a soldier is killed in action, PGR is with the family from the time the plane lands until he or she is laid to rest in the cemetery. After the soldier is escorted off the tarmac, PGR then travels to the funeral home, returns for the visitation, respect the soldier's sacrifice is one of the many things we can all do. It is the most emotional thing, and one that will change your life."
What began with the American Legion Riders chapter 136 from Kansas stepping in to stop a funeral protest in 2005 has turned into something larger than anyone could imagine. From the placards on their bikes and cars to the large flags adorning their bikes, PGR members are recognized by the community even when they're not attending funerals, but it took a while for this to be the case. "Often when I'm filling up my bike at the gas station, I will have someone come up to me and thank me for what I'm doing," Tommy said. "It still surprises me when someone recognizes I am with the PGR." Thousands of riders, young and old, now ride and spread the word about their efforts. Not all riders are veterans, but all are brought together by their love of country. With hundreds of services happening each day across the country, PGR needs more and more volunteers. "We're looking for more people to join us all the time," Jerry admitted. "Even if you can't ride a bike, there is a place for you." The members of PGR are there for families during their worst days, and they are also there when one of their own is facing a battle. In April 2013, Jerry suffered a heart attack. Within a short period of time, members of PGR rallied around the Halls, offering their support.
"PGR has become family," Janice said. "We see many of the same people at the funerals we go to, and they turned around and were there when we needed help." The day-to-day work of PGR volunteers takes a serious and respectful tone. Riders do not "hoop and holler" down the highways. They are reverent and silent. Their attitude says it all for 51 weeks out of the year. However, one week a year, PGR members drop everything to help the children of fallen soldiers at the Snowball Express.
The mission of Snowball Express is to bring together for one week children from all over the world who have lost parents in the military. American Airlines flies the children in on special planes. They stay in a hotel and have a week filled with fun events. One of the things the children remember each year is PGR with their vests and bikes. Many remember them from a parent's funeral, and this is a way for them to reconnect. "We live for this week each year," Janice said. "What we do on a day-to-day basis for PGR can be heartbreaking, but seeing these kids light up each December makes those hard times worth it. One year, Jerry Jones let the Snowball Express use Cowboy stadium. Activities were planned for all of the children, and PGR was allowed to ride onto the track around the field as a surprise for the kids. They all loved it!"
The impact PGR has made on the families of fallen soldiers is great. Children of fallen soldiers remember the day members of PGR were there with their big bikes and flags. Both Jerry and Tommy know there will always be a need for them at PGR, and they plan to ride until they no longer can. "I can't imagine not having joined the PGR now," Tommy said. "I would do this all day every day if I could."
Written by Sydni Thomas.