BURLESON, TX — Stories of blind people achieving more than anyone expects inspire and encourage others to do great things. For most, such tales are little more than great stories. For Tonya Harden, the accomplishments of blind and visually impaired students mean she, with a team of other professionals in the Burleson ISD, has done her job well.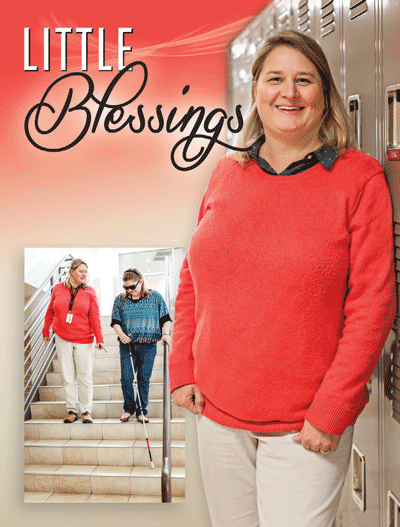 Tonya Harden helps Callie Marshall navigate Centennial High School hallways. As the orientation and mobility specialist for the school district, Tonya works with visually impaired students. The orientation part of her job means teaching children where they are within their environment. The mobility side involves helping them learn how to get where they want to be. "I never knew such a degree existed until I stumbled on it," Tonya said. A student at Stephen F. Austin University, she originally pursued a degree associated with physical therapy, but it didn't leave her happy. A professor encouraged her to check out a couple of classes. A blindfold class gave her the opportunity to experience the difficulties those who are completely or legally blind go through each day and how to teach them.
However, a camp for children soon after that class hooked her. "It combined many of my loves," she said. "I get to be outside moving around, and I like kids." The degree seemed to be a perfect fit even though she didn't start out working with children. After earning her degree, Tonya went to work at Lighthouse for the Blind.
Eventually she joined the Fort Worth ISD as the orientation and mobility specialist. About 14 1/2 years ago, her family moved to Burleson. When the same position opened up in their school district 10 years ago, she applied for and got the job. "It's nice to be literally close to home, in the same district as my children and have the same breaks as they do," she said. Currently, Tonya's caseload includes 17 students at different campuses. The students attend regular classes. Tonya's efforts help them get where they need to be. Some students require multiple visits per week while others may need only one interactive session each week. Lessons include cane travel, crossing streets, going into a grocery store, making purchases plus more. For some students, she may eventually teach them to ride a bus so they can go to work.
They set goals and work each week to achieve them. Because of early childhood intervention (ECI), some of her students come to her as young as 6 months old. These babies with visual impairment need help learning to crawl or learning something exists beyond their fingertips. Tonya gets to teach them. ECI contracts with the school district, so they serve ages birth through 22. In some cases, a student may come to her as a baby, and she works with them until graduation. Tonya is also involved with the assistive technology program for the school district. Assistive technology is anything that will help students with disabilities do their school work. It may be loading computer software for those who are visually impaired. It can also be word prediction software or switches to help students gain access to classroom computers.
Tonya looks at different types of software to determine what best aids the students. "Every part of my job is fun — except the evaluations and paperwork," she said, laughing. Each student is evaluated somewhat on a yearly basis, but every three years, Tonya must do a re-evaluation and determine where a student is and what he or she needs at that stage of life. She believes the team approach in the Burleson ISD increases success. Occupational, physical and speech therapists, as well as a vision teacher all office together with her.
The arrangement enables them to work as a team and figure out what works best with each student. Sometimes a simple change of physical position may positively alter outcomes in other areas. When one student graduated, it represented a triumph for Tonya. He wanted her to be a part of it, to see him walk across the stage and cheer for him with everyone else. Another of her students started with Tonya in the third grade. In spite of many physical issues, this young lady pressed forward, not letting her blindness or anything else keep her from accomplishing goals. She will graduate from high school this year — a major achievement. Tonya loves seeing their progression. As the students grow older, they add more into the mix. "It looks like we're having fun," she said. "And we are, but they are also learning a lot." When Tonya isn't working, she enjoys spending time with her family. Her son, Tyler, is a senior in high school this year, and her daughter, Tara, is in the eighth grade.
Her husband, Todd, works as a rehabilitation counselor. They spend a lot of time playing and enjoying each other. Whether camping, fishing, boating or simply eating dinner, the family understands the importance of being together. They are also very involved with church activities. Tonya recently accepted an invitation to sit on the board of a new organization called Our Little Blessings. When a friend at church had a son with many physical issues, they discovered very little help available as they tried to navigate through the system. They didn't know if any programs existed to help them with insurance, bills, providing the best for their son or even appropriate daycare. In response, Tonya and his family developed the nonprofit organization. They plan to hire a counselor and liaison to help families. The ultimate goal is to open a daycare for special needs children when both parents must work. Such a center requires a staff nurse and therapists.
Through the beginning stages, several people in the community have stepped forward with expertise necessary to make the organization successful. Tonya's excited to be part of the endeavor with more opportunities to apply her degree. Recently recertified, she attends conferences and seminars for continuing education credits. Each month she fills her calendar with appointments to meet the needs of her students. Daily, she continues to take students outdoors, to stores or downtown Fort Worth where they can learn to function in a seeing world. Sometimes they remain indoors learning basic concepts such as right and left. Or they go out on the playground and practice climbing. Each activity opens eyes to a future where these students can contribute to society and achieve any goal they desire. Tonya stands by ready to help them, rejoicing over every accomplishment big or small. She makes a difference in their lives, and they bless her in return.
Editor's Note: For more information on Our Little Blessings organization visit www.ourlittleblessings.org.
Written by Lisa Bell.