WEATHERFORD, TX — "I have not retired," Jim Morrow said. "I've redirected." As Bob Buford stated in his book, Halftime, Jim spent the first half of his life on success; the second is for significance. Ironically, his passion includes encouraging people, redirecting them to achieve a higher level than they ever dreamed possible. Jim volunteers with many organizations including Rotarians, his church, the Center of Hope, Crossroads Youth Ministries, Bridge Academy and Weatherford GED program, as well as Texas Agrilife Extension, where he gets to teach parenting classes. "I get to teach, not as a professional anything," he said, "but as a dude who messed up so much."
The Center of Hope holds a special place in his heart. What began when his church volunteered to serve a meal quickly grew into something larger. The center was in the middle of a construction program when Jim walked through the door January 12, 2009. Jim swept floors and hung pictures, close to the ceiling, he admitted with a laugh. "No one moved them, and they're still hanging. I consider that an accomplishment," he said. Jim served as director of the Weatherford Center of Hope for a short time, then they asked him to develop a program titled Hope for Tomorrow. The Center of Hope provides services for economically challenged families and individuals, providing food and help with utilities at times. Hope for Tomorrow offers mentoring and classes for individuals who desire change. In many cases, no one ever told these individuals they could succeed at anything.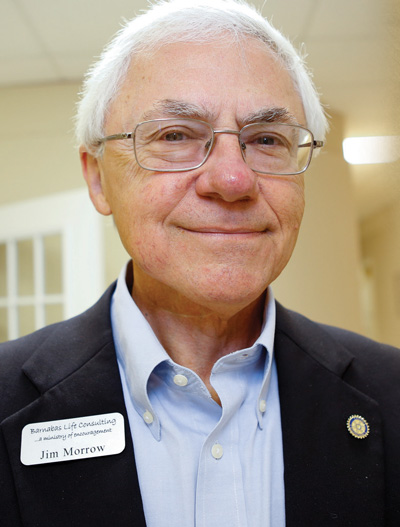 Some of the men Jim has mentored during the past five years have recently graduated from Weatherford College. These men, who once relied on the Center of Hope, now have careers. Although they may still receive food stamps, the families are moving toward self-sufficiency. Jim's passion was ignited through this program, but his passion flames from working with youth in Crossroads, The Bridge and GED classes. "We figured out if we don't work with them in their teens, they'll be at Center of Hope looking for help as adults," he said. They seek to impact young men and women as early as possible, letting them taste success. Using what he learned about appreciative inquiry, he looks for the very best within and encourages it. "No matter how deplorable, how run-down, how worn out an organization or organism is, there's still something good to be found within that organization or organism," he said. "That's appreciative inquiry." His experiences led to Jim's personal ministry, Barnabas Life Consulting. "It's the neatest job I've had in my entire life — walking around town encouraging people," he admitted.
Many people have stressful jobs with no outlet. They may not have anyone to listen. He goes in, affirms a job well done and listens if they want to talk. In exchange, his clients may pay a modest fee. "I never hesitate to ask them for payment. It isn't about the money, it's about their self-esteem," he said. "Pay is pretty light, but the rewards are tremendous." After 33 years as a successful business owner in Richardson, Texas, Jim sold the business and relocated to Sugartree with his wife, Sheila. With children and grandchildren in Abilene and Belton, Parker County seemed the perfect place for life after retirement. They built their home in 2006, living there on weekends. Following Jim's stroke in 2008, the couple moved there permanently. While they were still living in McKinney, a neighbor came over one night asking to fertilize the yard. This man, who had retired at 58 with plenty of money, had nothing to do with his days. "Before you retire, you have to have something to do," Sheila told Jim.
Jim Morrow poses with Rashana Buttolph, Pam Murdock and Holly Goetz, who volunteer in the pantry at Center of Hope. "And golf doesn't count," Jim jokingly added. At that point, Jim implemented a 10-year plan. He enrolled in a master's program at Abilene Christian University for organization and human resource development, where he learned to manage 501(c)(3) organizations and developing, rather than using, employees. Before then, Jim didn't know how low he ranked when graduating from college. While the university initially indicated he wasn't a candidate for graduate work, some professors went to bat for him. His success in the business world and passing of certifications courses convinced them he could handle graduate courses. The school admitted him — on probation. "At 58, I entered the program on probation. Got a hat and shirt because I was the oldest matriculator that year," he said, laughing. Nevertheless he made all A's. He cited two reasons. "I was committed with a reason to be there, and I learned how to use cookie diplomacy." He often visited with professors. Most of them were younger and valued his business experience and life wisdom. Jim struggled with a form of dyslexia and had done poorly throughout school. When he entered college, he met four upper classmen, all with challenging backgrounds. They mentored him. One in particular, Jerry, also had a learning disability. The two spent one to two hours every day studying in the college library. All five men became highly successful after college, including Dan, who gave his life in military service. Jim credited these men as the reason he finished college, which led to his successful career.
"I am forever indebted to them for taking time to make me a different person," he said. "I want to pay back what these men, and so many others along the way, did for me."
Jim is always in learning mode, helping develop programs for the Weatherford ISD and spending several days each week at the different places where he volunteers. A survivor of throat and tongue cancer plus two strokes, he chooses to pour into people who simply need to know they have value.
"It's just so ironic how God worked. Everything I learned in my master's work translated," he said. "I wanted to get a master's degree, so I could work for the Master." He has transposed his learning into caring and development of men and women.
When Jim looks at young men and women in the youth programs, he sees himself with the pain he knew as a child. "These young men and women come to respect me. They may not like me, but they respect me," he said. He tells them they are precious to him, words some of them never heard before. Over time, the toughest person in the room longs to hear Mr. Morrow speak those words. He may never see them again, but they will never forget him.
"I'm not looking for any major rewards," he said. Out in the community, Jim often hears, "Mr. Morrow." He turns and sees someone from these programs, a redirected life. "That's enough," he said. "That's significance."
Written by Lisa Bell.