WAXAHACHIE, TX — A Scout is helpful. A Scout is friendly. And of course, a Scout is courteous. These are the first three points to the Boy Scout oath. Anyone who has earned their Eagle Scout Award has repeated this oath until it's etched permanently in their brain. For many, it becomes a compass they follow the rest of their lives. For others, as the years turn into decades, it becomes just a voice from their youth. George Brozowski wears the oath on his sleeve, because he carries it in his heart.
George's experience with scouting began like most. "My dad was the leader of Pack 29 in upstate New York," George said. "My brother was in Cub Scouts. It looked like a lot of fun, and I didn't want to miss out." And so began what would become a lifelong passion for George. "We had a great scoutmaster. His name was Stanley Mikrut," George shared. "I don't think he ever knew the affect or influence he had on all of us boys." With Mr. Mikrut, George and the rest of Troop 29 grew into men while hiking the Appalachian Trail and learning leadership skills from the great leaders around them.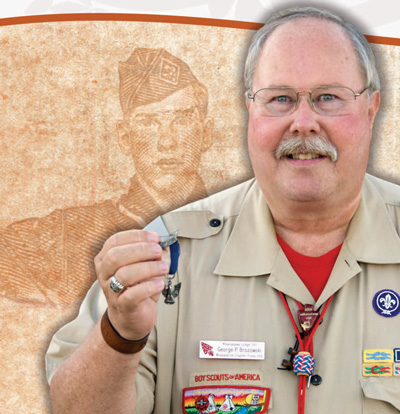 Sadly, Mr. Mikrut passed away shortly before George received his Eagle Scout Award, but he was never forgotten. "I remember looking up and saying, 'This is for you,'" George said, clearly emotional about the man who had been such an example. For most Scouts, earning the rank of Eagle Scout is a well-deserved end to a long and sometimes hard trail. George didn't know it at the time, but for him it was just the beginning. "I guess I was about 20 years old at college when I heard that my old troop didn't have any adult leaders who could get off work to take the boys to Scout camp. That just wasn't acceptable, and I couldn't let it happen," George remembered.
So George became involved in spreading the program that had given him so much. "I was dating my future wife at the time, and I remember sitting in my tent reading the love letters she would send during that first leadership experience." As George started a family, his bond with scouting seemed to grow along with his children. Over the years, he performed tasks ranging from troop committee chair to den leader to Cub Master. His job with the government working for the EPA also grew.
This responsibility eventually moved George to a new position at the Dallas office and a new home in Waxahachie. But Scouts across the country are all the same. They all need willing adults to make the program possible, and George just wouldn't be George if he wasn't involved. "I went through Wood Badge, the most intense adult leader training Scouts offers not long after I moved to Waxahachie," George said.
And there was never any lack of opportunities to put that training to use. A common thought indicates that in most organizations, 80 percent of the work is done by 20 percent of the people. Scouting is no different. The more George became involved, the more was asked of him. But a Scout is helpful. A Scout is cheerful. George gladly worked at each task with the attention and enthusiasm it deserved. "People who aren't involved in scouting don't get it. But people who are see it right away. We're not just making men. We're making leaders," George explained. "Leadership comes easy for our boys, because we've made them do it. The adult leaders don't really lead. We design a quality program. We make sure it's safe, and then it's the older boys' job to lead and get the younger boys ready for when their time comes."
This strategy has paid off for scouting time and again for many years. "Part of what made men like Neil Armstrong to government reports, 181 of the men who have traveled to space were Eagle Scouts, 16.3 percent of West Point cadets are Eagle Scouts and 18 current state governors and 189 sitting members of Congress are Eagle Scouts. A Baylor University study found that Eagle Scouts were 56 percent less likely to drink on a regular basis, and 58 percent were more likely to exercise at least 30 minutes a day. The same study showed that Eagle Scouts were 56 percent more likely to work on community improvement projects, and 92 percent were more likely to become involved in environmental projects. Will any of the over 400 boys George has helped on their path to Eagle Scout become a congressman or a governor? Who knows? But George, who firmly believes that once you're an Eagle Scout you're always an Eagle Scout, has helped prepare them for whatever path they will walk as adults.
Related articles