The age of retirement was several years away for Bob McCommas, a high school business teacher, when the desire to fulfill his creative talents began creeping in. Like many retirees, Bob knew he would like to travel, but that would not always be feasible.
A trip to a local woodcarving store inspired Bob to pursue an artistic endeavor. Nearly two decades and over 75 Santa Claus caricatures later, Bob still hasn't found a day to just sit in his recliner. "You don't want to wait until you retire to start thinking about what you are going to do with your time," Bob said. "Traveling in retirement is great, but you can't do it forever. At some point, your body or money won't let you. So get a hobby." In 1996, Bob attended a workshop where he made a carving of an Old West bartender, with the help of his instructor, the late Claude Bolton. After that workshop, Bob came home and carved his first solo piece, on August 4, 1996 — a lanky Santa Claus figurine. While it isn't the most impressive carving he has made, he is most proud of what it represents.
Bob tried something new and stuck with it. When talking to someone who is considering learning the hobby, Bob will pull out his first Santa Claus and put it next to one he created a year later to show how first attempts are nothing on which to judge ability. "Anyone can carve wood," Bob stated. "I want my work to show that. Sure, some people can pick up a piece of wood for the first time and make a masterpiece. For the rest of us, it isn't that easy. When I started carving, I was told it would take me carving a thousand eyes before I would be able to carve one correctly. It takes time." Bob specializes in cowboy caricatures but makes Santa Clauses because of his wife, Anne's, love for them. Each year, he carves and paints her a new one to add to their mantel. Many of Anne's favorites are not put up at the end of the holiday season. Walking sticks are also a favorite carving project.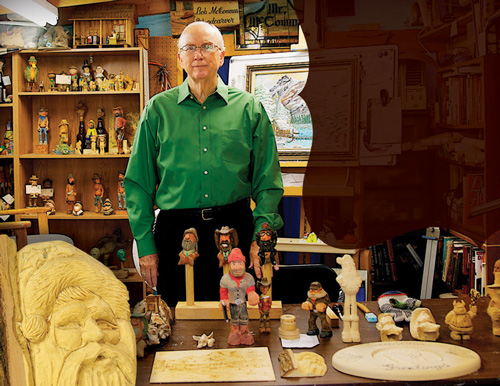 Each walking stick Bob creates has a theme and special topper. Bob's imagination pours into these walking sticks, and he has made everything from a tough, combat Marine and snarling 9/11 Uncle Sam to a motorcycle rider and the Easter bunny on top of a carrot walking stick. He has carved dozens of these over the years. "Some of my favorite pieces Bob creates are relief carvings," Anne said. "He takes a piece of wood and carves a scene into it and then paints it. They look like paintings, but when you look closely you will see all of the details he carved into them." During his first visit to the woodcarving store, Bob asked a salesman what tools he needed to get started. He left the store that day with the only three things he would ever need — a knife, a V-tool and a gouge. Now, nearly 20 years later, he has an entire workshop filled with tools. "There are a lot of different tools for carving, but the three basic ones will get you by for a long time," Bob said. "I was lucky enough to get a salesman who didn't try to sell me everything. He also pointed me on the right track to finding out where to take classes." Every Saturday morning, for three hours, Bob would travel to Fort Worth to learn how to carve from Claude Bolton, one of the original founders of the Caricature Carvers of America. His woodcarving education also took him and Anne on cross-country trips for many years. Bob would attend seminars, while Anne hung out with the other wives.
A group of "usuals" began showing up at each event, and the McCommases made friends from all over. They enjoyed these trips so much they attended several conferences where Bob already knew how to do what was being taught, just so they could vacation with their carving friends. "We would go to Missouri, Colorado and Fredericksburg, Texas, every year," Bob said. "During these trips, we made many friends. It really is a great hobby for anyone looking for one."
If Bob's week is not busy, he can start and finish an entire carving. However, he and Anne are always up to something, whether it be church, working out at the recreation center or running day-to-day errands. As a school teacher, Bob was on his feet for most of the day. Now, he enjoys going out to his workshop and carving or oil painting. The workshop also holds all his books, in case he doesn't feel like working that day. Anne always knows where to find him when it's time for dinner. "We always joke that she sends me out here, so I won't get in her way," Bob smiled. "It's where I like to come to read and create. I'm planning on taking up some music hobbies next." Aside from carving, Bob's other mission in retirement is to advocate staying busy.
He tells his friends who are close to retirement to find a hobby and to keep trying new things. When Anne retired from school teaching, he convinced her to take up creating stained glass art. To aid in his advocacy, Bob turned his workshop into a teaching studio, after he had been carving for 10 years. He invited the men from his church to come out and learn how to carve. For eight years, the men have been coming out once a week to carve with Bob. "I told them to give it a chance," Bob said. "They could come out and see what it was about before they went out and purchased the equipment. I provided a safe working environment for them and taught them a few things. Now, it's a time for us just to sit and carve together." Bob's masterpieces are not for sale. Although he finds it hard to part with the pieces, he has given some to family and close friends who seem to cherish them. Each of his pieces has a story and hard work poured into them. His plan to find a retirement hobby turned into something more inspirational to those around Bob.
Now that he knows what he wants to do, he will keep doing it for as long as possible, while inspiring others to give carving a try. "I'll keep carving," he said, "until my eyes won't let me."
Written by Sydni Thomas.
Related articles