RED OAK, TX —  Brian Caudell has found his niche in theater and acting, and he loves sharing it with others. "The biggest passion I have is theater," he said. "It's what I've done year after year." Brian has lived in the Red Oak area for 11 years and graduated from Ferris High School three years ago.
During the day, Brian can be found remodeling homes, but most of his free time is spent working with Waxahachie Community Theatre participating in plays and musical productions for Ellis County. At age 14, Brian began acting through an individual program before beginning — By Callie Revell to work with his personal acting coach, Darla Bicknell. His first push into the world of theater came from his parents. "My parents have always told me I'm dramatic. One day, they said, 'Go try this,' and I did and loved it. I couldn't get away from it," Brian confessed. As Brian begins his fourth year working with WCT, he looks forward to becoming even more involved with the productions. "I help with any show I can. When I'm not on stage, I end up doing a lot of the tech work and stuff like that," he explained. "It's been a lot of fun."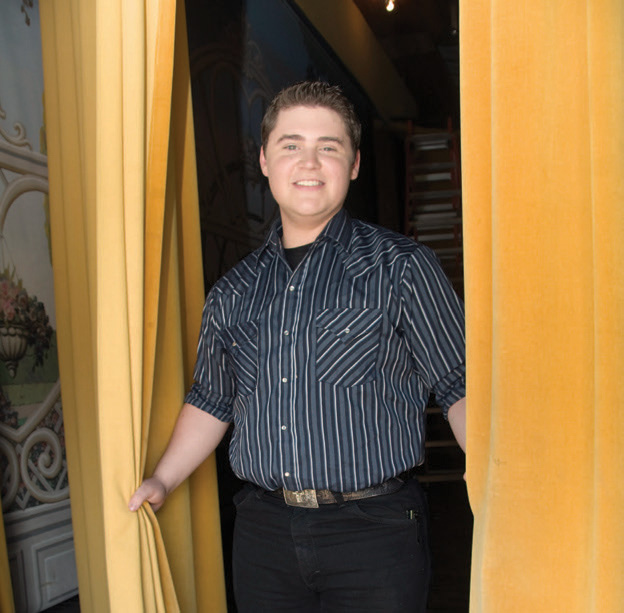 Brian recently finished a run as the male lead in the production of the famous Broadway musical, Guys and Dolls. "My favorite role, so far, has been Sky Masterson, and it has probably been my most challenging," Brian explained. "It's the one that stretched me the most." However, Brian is not just an actor or singer. He has also directed a show, served as an assistant director for several shows and does technical work for almost every production. "The way I was taught growing up with this whole acting thing is if you don't know every part of drama, you're not an actor," Brian said. "I thoroughly love every part of it." The adrenaline rush of being on stage is one of Brian's favorite parts of acting. The wonderful feeling of making someone laugh is another special part of acting for him. "Hearing laughter is beyond compare to anything you could ever ask for," he said. He compares the feeling he gets when he hears laughter to the rush of being at the summit of a roller coaster when you begin to descend.
For Brian, the ability to bring joy to others is what makes all his hard work worthwhile. According to Brian, community theater is important to the actors and the audience alike. "First and foremost, for the actors, it is our escape from our life outside. It gives us something to do. It keeps us busy," he said. "But the second part is the escape it gives the audience. A lot of frustrations take place during the day. I can't speak for everybody, but in my mind, one of the most influential things that can happen in your life is the ability to take a breather and just laugh, cry or pay attention to something else, and put your focus off of the daily routine. I think that's how theater benefits the community." Brian seeks to inspire not only audience members who see him act but other actors as well. "I'm also a personal acting coach and vocal trainer. I've seen a lot of people come and go who think they're just not good enough," Brian said. "It's not about how good you really are at the beginning. I mean, it matters more as you progressively get into it, but when you're first starting, no one expects you to be perfect."
Brian understands many people fear speaking in front of crowds and insists working with a theater group promotes personal confidence in all aspects of life — from a professional interaction with a boss to a personal conversation with a friend. Brian believes in the positive effects of theater, and that it is a cause which should be supported. There are many ways citizens in Ellis County and the surrounding areas can support community theater. "Come see a show," Brian said. Ticket sales are important for the theater to have a budget to continue putting on productions.
Each of their major shows see several hundred in attendance, but Brian hopes ticket sales and show attendance will continue to grow in the coming years. "The most important thing is to come see the show," he explained, "because we don't really have a show without an audience." The 2013 season, so far, has included the play Taffeta Memories, the musical Guys and Dolls, the children's showcase show The Mysterious Case of the Missing Ring and Rodgers and Hammerstein's Cinderella. The Christmas show will be The Best Christmas Pageant Ever. Another way the community can support its actors is by recognizing their effort and hard work. "One thing that sticks out in my mind is when I would walk through Wal-Mart and people would stop me and say, 'I saw you in that show. Can I have your autograph?'
Just letting us know, as actors, that you recognize us and you see us —that gives us the courage to get into another show," Brian admitted. Theater brings culture and creativity to a community in a way that many activities aren't able to do. WCT has been putting on productions for 34 years and, with the support of the community, will continue to do so. Brian encourages aspiring actors and singers to take a risk and believe in themselves. He also emphasizes the importance of personal courage. "There's one line that comes to mind, from the movie We Bought a Zoo," Brian said. "It's stuck with me ever since it came out."
The quote from the 2011 movie directed by Cameron Crowe and starring Matt Damon is: "Sometimes all you need is 20 seconds of insane courage. Just literally 20 seconds of just embarrassing bravery. And I promise you, something great will come of it." "All you need is 20 seconds of courage to change your life," Brian reiterated. "It's beyond true. I'm living proof. If you're an aspiring actor or singer, take a risk. The only risk you'll ever regret is the one you don't take."
Written by Callie Revel.