MIDLOTHIAN, TX — Uh, oh. Santa is in trouble. His entire operation is busted, and he is now broke. If Santa has no money, then where will the supplies come from to make the toys and presents? If there are no toys or presents, then there will be no Christmas! Oh dear, who can help prevent this catastrophe? Believe it or not, Santa and his entire toy-making machinery came up with a great idea. And this December, the third-grade class at busted, and he is now broke. If Santa has no money, LaRue Miller Elementary School, directed by music then where will the supplies come from to make the teacher Amber Grant Perez, will sing and perform as toys and presents?
If there are no toys or presents, they show everyone Santa's solution to save Christmas. then there will be no Christmas! Oh dear, who can "Santa and company have to figure out something to do, help prevent this catastrophe? Believe it or not, Santa because if they don't, they are going out of business," Amber and his entire toy-making machinery came up with a stated. "So, the entire toy shop goes on the road to Branson, Missouri, where they have a hoedown country music jamboree to raise funds." This years' program is titled Santa's Holiday Hoedown. "I like to pick funny programs," Amber smiled. "I like the parents to be entertained, and I want the kids to like it. If the kids don't like it, then it will be harder to get them to work on it and practice it. We work on the program once a week for 8 weeks. The last week, they practice every day. If it is something they don't enjoy, it makes my job really difficult, and it's miserable for them."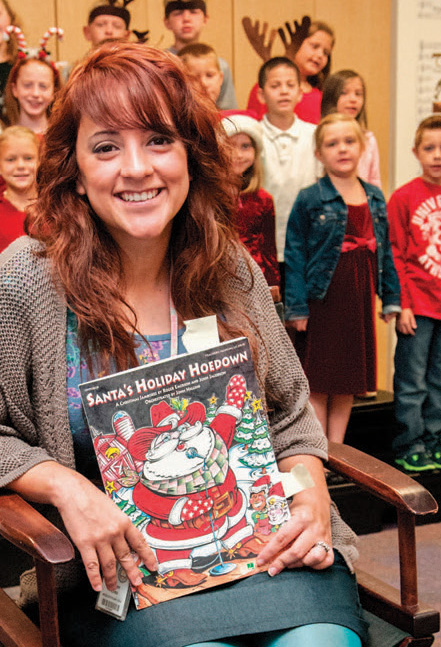 Getting a grade school play together takes a monumental effort, and Amber has several people she relies on for help. "I have a team made up of all the special teachers, the art teacher and gym teachers. They help me put the set together and help with sound, lighting and behavior. Sometimes I'll make backdrops, or they will. Some props are from previous years. Even my dad has made some of them. I get props wherever I can get them," she laughed. As for the costumes, most of the time they are fashioned by Amber and the parents.
Amber recalled times in the past when she had to make all the tutus or reindeer antlers for a play. Sometimes, though, she will just tell the parent what character their child will play, and they get creative coming up with a costume. This year's outfit will not be your typical Christmas gear, since everyone will be dressed in cowboy boots and hats. For Amber, one of the enjoyable parts of putting on a production every year is allowing parents to see a little bit of what goes on in music class throughout the year.
She also demonstrates and showcases to parents their children's abilities. "The biggest thing with these kids is they are way more capable than what we give them credit for. I've had parents question whether second-graders could memorize lines. I say, 'Yes, you just have to get them to try.' I want parents to know I am pushing their children to reach their potential, and they are enjoying it. They are learning how to perform in front of people, and that builds their confidence. If they want a solo or speaking line, then they have to try out in front of the class. If they can't sing in front of the class, they might not be able to do it in front of a large group of people. Even if they are scared, I encourage them to try because that helps build their confidence. Sometimes it helps me find that little gem who can really sing." Even with all the self-assurance and encouragement, bloopers do sometimes happen. "When they freeze up or forget during the performance, it makes it even cuter," Amber explained. "I haven't had anyone get upset, but I've had some whisper, 'What's my line?' while they were on the stage. I had one child who was nervous about his speaking part, but when he practiced in class, he was flawless. He would read it like some dramatic actor. But once he got on the stage, he would freeze. I would say to him, 'You can do it. You can do this!'
The night of the performance when he got to the microphone, he took a deep breath and let it out, and then said out loud to himself, 'Whew! I can do this! I can do this!' Everyone in the audience burst out laughing. He said his line perfectly and everyone clapped." Amber tries to get the point across to the kids that in the middle of the play, they shouldn't ask her what their lines are. She encourages and directs them to just make something up and keep going if they forget. This is Amber's third year teaching, so she has had to handle many mistakes but also gets to celebrate with those little gems of talent that pop up every now and then. She was a gem herself as a little girl who loved to sing. "The reason I love music is because of my music teachers," she shared. "I sang in church and school when I was little and did my first solo in fifth grade. I used to be so afraid to sing in front of others, but my mother would encourage me. Each time I tried, I became less fearful. Now it's not so scary."
Amber's older brother had musical talent also and played in the band. Wanting to be just like her brother, Amber joined the band in middle school and played the French horn. "I really liked it," she said, "so I stayed in band until I graduated from high school. We made it to state competition my senior year in high school at Waxahachie High School."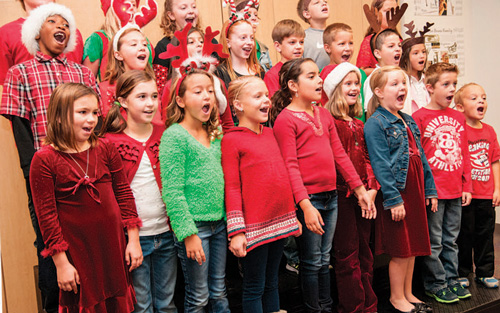 In college, Amber continued her love of singing and playing an instrument. "I just wanted to do something musically. I always enjoyed helping other students with their music homework. So, at first I majored in music ministry. Then some people told me that when I helped tutor them, I was a really good teacher. I went on to get my bachelor's from Southwestern Assemblies of God University in Waxahachie and just finished my master's program in May at The University of Texas at Arlington. Both degrees are in music education. "My mom was a teacher's aide, and I was able to see how she was with kids," Amber explained. "She would always encourage them to do their best. That's how I try to treat my kids, too. Every music teacher I've had has been good. Most of them love what they do, and the kids can see it. I want the kids in my class to see that in me."
Written by Betty Tryon.